Who are we?
We are a complete Ideas and Digital Solutions agency comprised of 65 under the age of 25 year old. A home of midcaps, our vision is to be the best Digital Communications Company in India.
Started by 4 guys, we've been around for almost 4 years now and in that short period of time we have established ourselves as one of India's finest digital agencies & done work with some of India's biggest brands.
What's in the name?
The name is everything. The name is our biggest conversation starter/ ice breaker.
We got our first client only because of our name. Hell, we got our BIGGEST client also because they loved our name among other things.
Also, you've got to be FOXY enough to be able to deliver smart solutions and you've also got to be a MORON to be able to dumb things down and put them in perspective.
That philosophy holds true especially for the web and social .
Also, in case you didn't notice, FoxyMoron is also an OxyMoron.
What we do?
Website Design and Development - (Intranet Design and Development)
Application Design and Development - (Facebook, mobile devices and tablets)
Game Design and Development - (Facebook, mobile devices and tablets)
Social Media Campaigns - (Media Buying , Facebook , twitter , Google+ and other Social Networking sites)
Offline Services include - (Logo Design & Development, Banner Design , Campaign Conceptualization and Creation, Brochures)
Search Engine Optimization
Basically anything a client needs on Digital, we're able to deliver. At most times, very effectively.
Why we do it?
We love being social. We love giving whacky ideas to our clients. We love having the responsibility to ENGAGE with millions of consumers.
We love technology. We love Art.
We love all things written well and all things nice.
We love that we're in small ways, changing the way marketing is done, everyday.
We like being the underdog. We like, sometimes, being the Moron and most importantly, we love the high when our work is recognized for Being Foxy.
How we evolve?
Honestly, we set ourselves challenges everyday. While everyone does the usual of following trends, subscribing to the best blogs, training etc. , we think our biggest strength in terms of ability to 'evolve' is the fact that we set ourselves challenges and commit to doing things we're not always SURE we can manage.
So we set ourselves unachievable tasks. We commit our heads for that. We dream it. We do it. And that's how we evolve.
Social responsibility in social media
Is very very important.
Eg. If you are an alcohol brand, don't let people under 21 see your Facebook Page.
Have disclaimers where needed for all brand related contests across brands.
Don't flout rules.
Don't encourage anti social norms.
These are just a few things but overall, this is very important.
Need of the hour
Social Networking Laws!
Bigger Digital Budgets!
(To Clients) Push Us for Better Ideas!
(To Clients) Don't put your bullshit ideas above our awesome ones :p
(To Other Agencies) Don't Poach – let organisations blossom
(To Social Samosa) We need a formal Social Media Association of India
(To Social Samosa) We need the Social Samosa Awards (we can imagine the trophy already)
We learned the hard way
That Politics can ensure that an account you're doing great work on can just slip away.
We did some of our best work with a brand. The group that houses the brand decided that they need to work with an 'established' agency even though their current one was doing game changing work.
Someone up there probably exchanged a lot of money. Politics in business is a dirty game. And it's a reality.
Did we just share that?
So we pitched to this guy who was filling in for the marketing manager. He probably didn't know anything about Marketing. He looked up and finally gave a * nods head look *
After that he just got up and left.
We then looked at his card it said 'Acting' Marketing Manager. Weirdest Designation EVER!
Also this happened during an interview for one of our candidates. This guy wrote an online PR release and then we asked him who he would pitch this release to and how. He said he didn't know.
One of the interviewers got up and said, what man, its like you stripped someone naked but didn't f&%k them!
The guy was dumb founded but then he just laughed.
We do crazy things in and out of FoxyMoron.
Also, during our early days we had the graphics team and social team still looking to get along.
To have a cheeky take on the social team, the graphics team made a poster. It went something like this….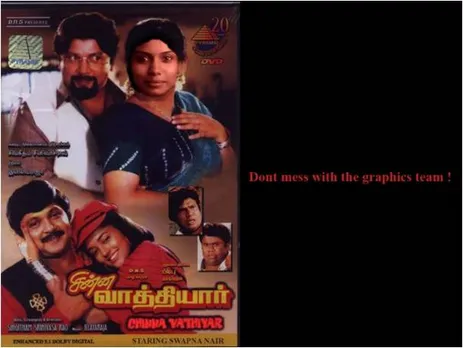 (that's Swapna, one of the oldest Foxes)
The SMM Team Reverted back with a bang. 
They had their own version of this.
The graphics team then got back with a bang. That's Pratik below. One of our founders.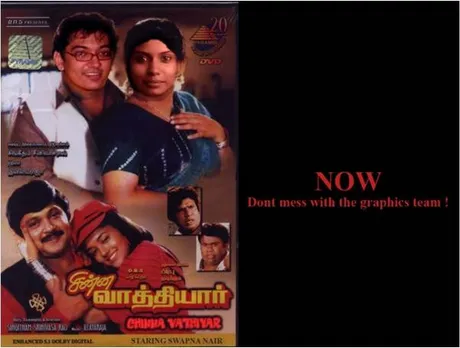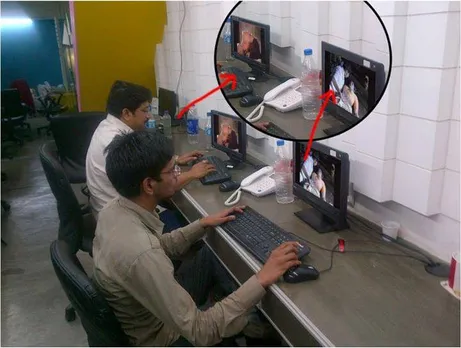 Recently the Graphics Team also had a stunt to play on THEIR version of what the coders do when they're working late nights.
They work with us
Cadbury Group ( CadburyBournville, Cadbury Silk, Bubbaloo, Bournvita Quiz Contest, Eclairs)
L'oreal Group (Maybelline , Lancome , Ralph Lauren Fragrances, Diesel Fragrances, Armani Fragrances, L'orealProfessionnel, Garnier Men, Garnier Pure Activ , Vichy)
Fosters India
FCUK
Femina
The Comedy Store
PVR Pictures
AXN India
McVities India
Vip Industries (Skybags, VIP bags )
Impresario (Mocha , Smoke House Grill, Smoke House Cafe)
High Street Phoenix
Castrol
To name a few....
Industry as we foresee
More competition. More Clients. More great work. Someone will finally figure out mobile.
We'll still be doing awesome work.
A day without Internet
Is like Urban India without Rajnikanth Jokes.
--
View Case Studies and jobs by FoxyMoron