Everyone is abuzz, talking about the Lakme Fashion Week that happened over the weekend. Since it is closing in on the 6th of March we decided to take a look at some not very big, yet quite interesting Indian Fashion labels and stores on Facebook and how interestingly are they using Facebook pages to their advantage. While it's the easiest medium for most designer labels to reach out to their audiences and fans, it's also important that they keep their users engaged.
While everyone knows her as a fashion biggie, many follow her on Facebook as well. With about 14000 fans she has certainly kept her audience engaging by giving them tit bits of her fashion, photos and videos before anyone else. Not a lot of engagement in terms of any freebies or giveaways, but certainly keeps her fans engaged by letting them know what's happening around the brand. Besides that, they certainly need to talk a lot more besides just showcasing their brand.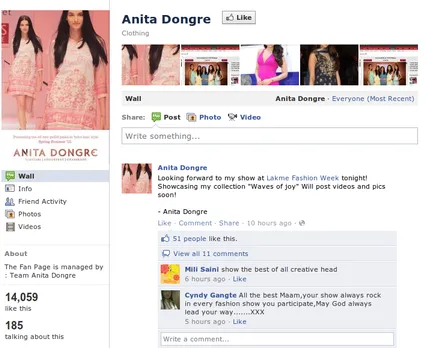 Now this one, albeit a simple one, has at least got a landing page to welcome it's fans. Even as we speak about Timeline launched for brands and the landing pages becoming obsolete, till that happens, they have something to add to the aesthetic value of the page. Even though there are less than 1000 fans on this page, they are always updated and have certainly showcased some of their collections. Again, they need a better content strategy  as everything cannot be just about the brand.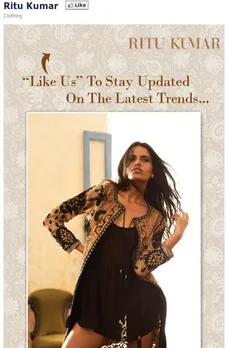 Now, this is certainly one of the pages that has really interesting content. With great content in terms of their diverse photos and really amazing collection of their fashion extravaganza, they also showcase their latest events, such as Lost & Found. Something to give their users to come and interact with the brand and reach out to via Facebook. We even love their DP, though, could be a lot better in terms of communicating their brand message, it's quite innovative and different to stand out from the crowd. Most importantly, an interesting thing one might notice is they have integrated 'Facebook Places' to their page. The '10' Were Here indicates the number of people checked in on Facebook places to their store. Something that very few brands in India have done.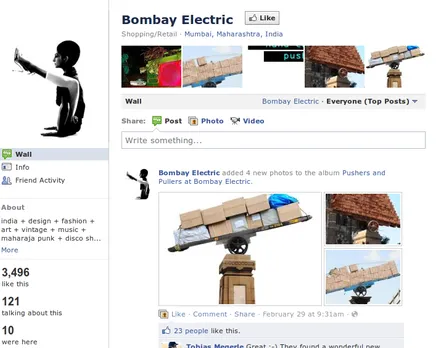 The page seems to be relatively new but looks quite good and promising. It seems like they already know their stuff. Why would an Indian Brand that hasn't launch yet use Facebook pages? Using Facebook Pages to launch a new product is a great way to start. With the new timeline and features like milestones, the users can be taken through the whole brand journey right from the start. Users will also feel more connected, knowing they were a part of the launch, attached to the brand from day one. Karmik has some of the biggest fashion designers in the industry contributing their styles. That means content can be sourced from as many stylist brands. They already have a contest running "Karmik Showstopper" and are giving out passes to the Lakme Fashion Week. A fantastic way to promote the show where the brand is being launched. This also displays great offline online integration.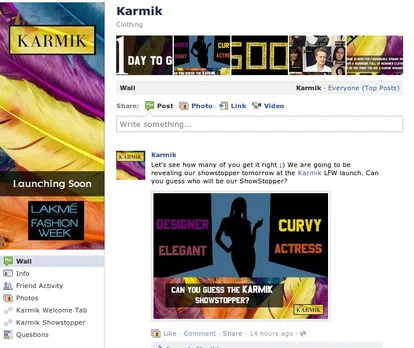 Now, of all the brands, this has to be the most popular and happening. They've even got the Timeline for Facebook. Though, not the best of the cover photos going by the ones reviewed by Ankita in her article, this brand has certainly kept itself updated and knows what to post on their timeline. Again with a huge number of fan base compared to other fashion brands in the label scene of India, they do know how important it is to keep up with the trends.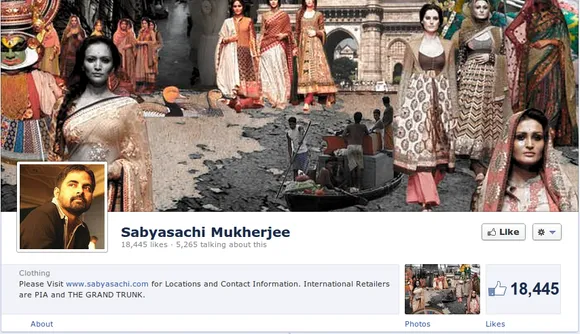 While there were some other brands and labels too that we explored, these were some of the interesting ones. Any ones that you think are worth recommending?