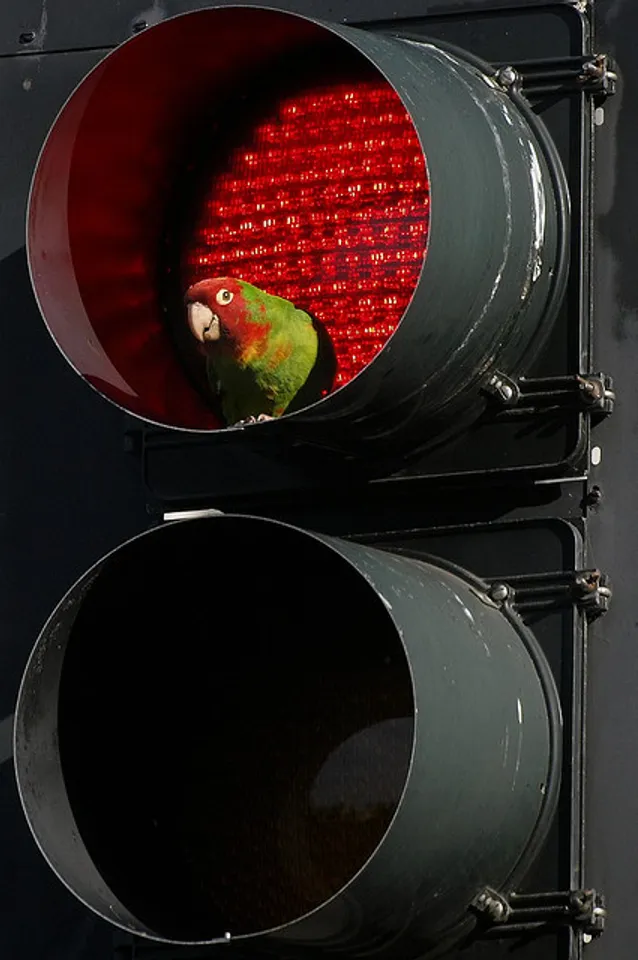 "Police Walon Ki Na Dosti Achi Na Dushmani…"
I don't remember which film this dialogue is from but it has strongly etched itself in the public imagination since the dialogue was spoken for the first time on the silver screen, or may be much before then.
It appears, the last thing anyone wanted to see on Facebook was police. No one ever wanted to see police around when they were busy sharing funny videos, crazy photos, and copied status update. But what if police did the same?
This may sound incongruous but police has gone social, social as in social friend and not foe. Delhi Traffic Police (DTP) and Hyderabad Traffic Police (HTP) have created a fan page each on Facebook, which has attracted many socially engaged followers, who comments, likes, and shares status updates on these pages.
But why go social?
Police has a low social equity, regardless of the work the department do. One reason behind such a low social equity is the "closed door" policy of the police department. No police department in India has gone out to public and tried to establish a relationship with the public it represents. The lack of communication inevitably created distrust. Going social on Facebook has helped DTP and HTP bridge this communication gap. In the following paragraphs, we will see how much it has helped.
People's response
People, at large, have responded favorably to the attempts made by DTP and HTP. They have lapped the idea and started interacting with the pages. They have not only liked the page, but have used the platform to actively engage with DTP and HTP by liking the posts, sharing updates, posting comment there, and expressing disappointments.
How the pages fare on Facebook
Let's examine both the pages on the various parameters to see what DTP and HTP are doing right and what needs more work.
Number of Fans
Delhi Traffic Police Joined Facebook page on April 29, 2010 and Hyderabad Traffic Policy came onboard on September 19, 2010. In total the DTP page has more than 103,000 thousand fans of which around 3,000 people actively participate in discussion on FB, and HTP page has 23,551 fans, of which around 2000 people actively participate in the discussion. And a close look at the engagement suggests that people are more engaged on the DTP page than they are on the HTP page.
Nature of Posts
A majority of updated done by DTP is in the form of long paragraphs, and even when it posts images, videos or links, they are accompanied by a solid paragraph each, which contains city-specific information. On the other hand, a majority of updated on HTP page is visual – images, cartoons, and videos. HTP appeals more to the visual side of the brain (right brain), whereas, DTP appeals to the analytical side (left brain).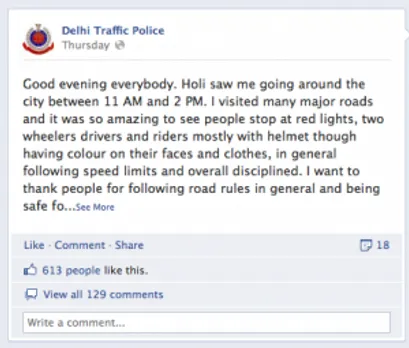 A random post from DTP wall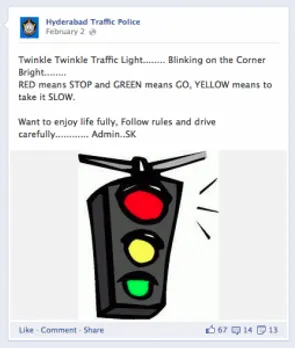 A random post from HTP wall
How engaging are the pages
The level of engagement on DTP page is much higher than the level of engagement on HTP page. DTP appeals to the analytical side of brain by posting long engaging status updates, which are specific to the city traffic condition, whereas, HTP has more generic updates.
Average posting frequency
When it comes to frequency of updates, HTP has gone over the board, which may be the reason behind the lower interaction. Of late, HTP has posted around 5-10 updates every day, which is way too much. Update frequency of DTP is appropriate. It updates the page 2-4 times a day.
Real estate use on the HTP Page
HTP has made a proper use of cover page by posting an image of local people. In the image, people are shown waiting for the red light to turn green, and remarkably they all are waiting behind the Zebra Crossing.  This image will be a motivating factor for Hyderabad-based drivers who are fan of HTP page.
Apart from the cover image, the real estate use on HTP page is not appropriate. The about section is missing, and application boxes could have been used in a better way. It should wok on the placement of apps. Key apps should be placed above the top, and  page admin should use attractive thumbnail images in the applications.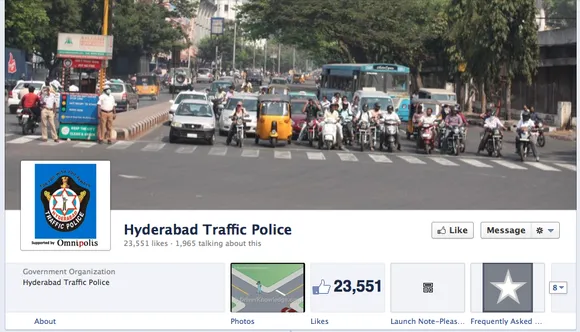 Hyderabad Traffic Police Facebook Page Cover
URL of Hyderabad Traffic Police FB Page
Real estate use on the DTP Page
The cover image on the DTP page is missing. It could have used some nice graphics there. About section has been properly used. DTP, like HTP, has also not made a proper use of application boxes, and the app box section that contains extended info has a good number of dead links.
One remarkable app in the DTP page is "Offence and Penal Section". It contains overview of various penal sections and fine amount for each violation, but this app is hidden. It should be brought above the fold and a nice graphic should be used to attract attention.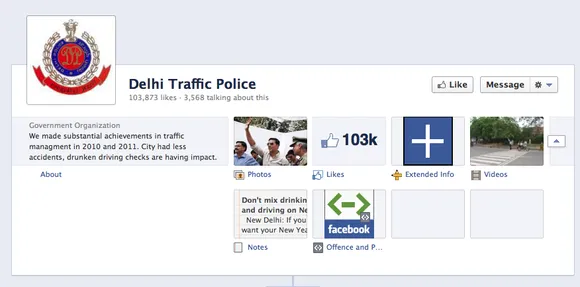 Delhi Traffic Police Facebook Page Cover
URL of Delhi Traffic Police FB Page
Key learning
Long paragraphs engage fans in a better way.
Add meaningful text even when posting images, videos or links. People read the copy.
Targeted updates (city specific, in this case) work better than generic update.
What needs to be improved
DTP needs to use cover image.
HTP needs to populate about section
Both of them need to rethink the use of App boxes.
HTP should work on nature and frequency of updates it posts.
The level of engagement on these two fan pages raises a question about the truth in the quotation used in the beginning of the article. It appears people do want to befriend police, if police department is willing to open up.
This brings us to the end of Part 1. In the concluding second part of the case study, we shall look at the Twitter and Blogging activities of DTP and HTP, and will analyze their efforts to engage with the audience and will see how successful they are, and what needs to be improved.
Featured Image Courtesy: ingridtaylar