When I think of Kolkata Knight Riders (KKR) the first thing that comes to my mind is its chant "" target="_blank">Korbo, Lorbo, Jeetbo Re", which I parody as Korbo, Lorbo, Jeetbo na to tease my wife, who being a Kolkata bong is a diehard KKR fan, and a SRK devotee (hope she doesn't read this). But this is not all to the meteoric rise of KKR, which despite its dismal performances in the past versions of IPL, except one, has been successful in holding everyone's fancy. Thanks to its all-powerful marketing machine and Shahrukh Khan, KKR is always in the news, whether it wins or loses.
I got the taste of KKR's marketing machinery and its phenomenal success when I started researching for this article. No less than 5 different Facebook pages and 4 twitter profiles dedicated to KKR appeared in Google when I tried finding one each for each platform, but in this article, I will analyze the official pages only. Analyzing profiles created by the team's fans fall outside the scope of this article or the series.
Tools of Engagement
KKR is using all the major social media channels to a great effect, and it has even closed the social media loop by integrating blog and gallery in its portal KKR.in. The IPL team has hired 22feet, a Bengaluru-based digital agency to design their social media strategy and let's see how it fares.
Facebook
One look on the fan page of KKR gave an indication of how much effort the agency is putting in maintaining the fan page of the team. The real estate has been properly used. App boxes have also been branded and all the important items have been kept above the fold. For now, the app bar is looking good, but as the season progresses, I'd like to bring the blog element in place of KKR team. For the simple reason that by then people will already be aware of the team constituents and will look forward to get sneak peeks in the teams dressing room and players' life and their interpersonal relationships. The about page section has been nicely used where a direct call to action to follow KKR on the Twitter has been placed. The point of integration has been nicely used.
KKR fans are very much engaged with the posts, and giving sneak peaks into the team appears to be the central theme of the page. You can find players talking about each other and support staff here.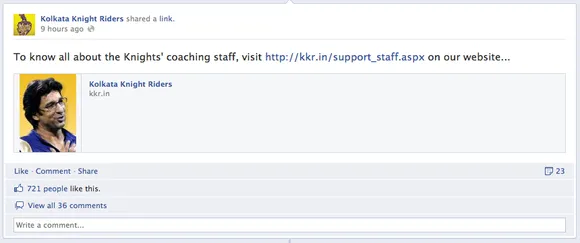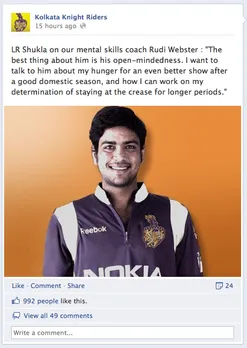 In total, the page has around 794,000 fans, which is growing at the rate of 8771 per week and 44,083 per month, as per the stats by SocialBakers. And 28,600 people are actively engaged with the page.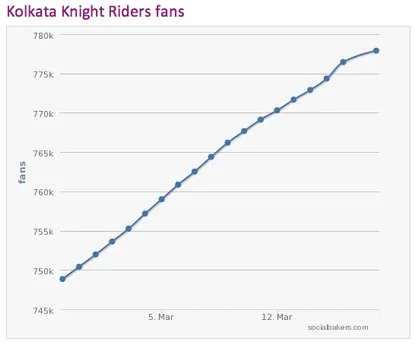 On Twitter
Hash tags: #KKR
KKR, like Mumbai Indians, are making a full use of social media. It is using Twitter as well to the fullest mixing all kinds of tweets: from images to promotion to announcement to ticket sales. KKR followers are more engaged with the team on twitter than the fans of other IPL teams. 


In Twitter, two things KKR is missing out on are:
Use of its hash tag and other has tags like those of players and of IPL, and
Not optimal use of all the available features.
It has done a proper use of about section by promoting its Facebook page in there. KKR has more than 70,000 fans on twitter and people are actively engaged in discussion on this platform.
On YouTube
Apart from uploading the new KKR team ad, nothing had been done on the video front, but if we take cue from the last season's use of YouTube, we can hope to see more activity on YouTube. The profile has been properly branded and as per the SocialBakers' stat, the video viewing has increased in the recent months, and so has the number of subscribers.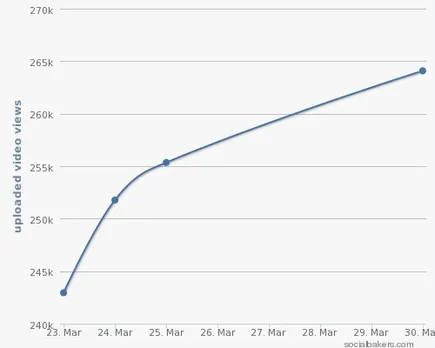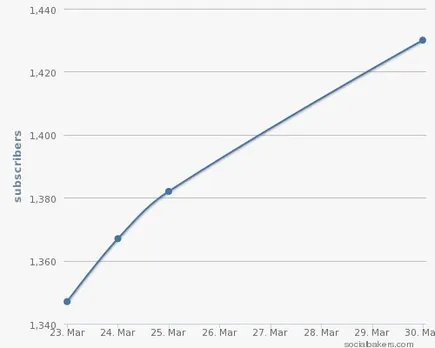 What else
Portal URL: kkr.in
KKR has closed its social media loop by integrating blog and gallery on its newly launched portal kkr.in, though nothing much has done with the blog or gallery. We can hope to see more content in these sections as well as on the website as the season progresses.
The objective of the portal appears to develop connection with KKR fans by providing them information on every aspect of the game.
Connecting thread
Social media profiles as well as website of Kolkata Knight Riders are thematically consistence, and from what I have analyzed, the central theme appears to give fans an insider access to KKR dressing room by giving sneak peeks into the team and support staff and their interpersonal relationship. Like Mumbai Indians, KKR is also trying to tap into the human side of the cricket players.
The stage is all set. KKR has also announced the arrival of Shahrukh Khan in Kolkata on April 05, and its marketing machine has already started humming. Only thing that KKR needs to make the party rocking is to start its journey by winning matches.
Will it be able to live up to the expectation of its own tagline: Korbo, Lorbo Jeetbo?