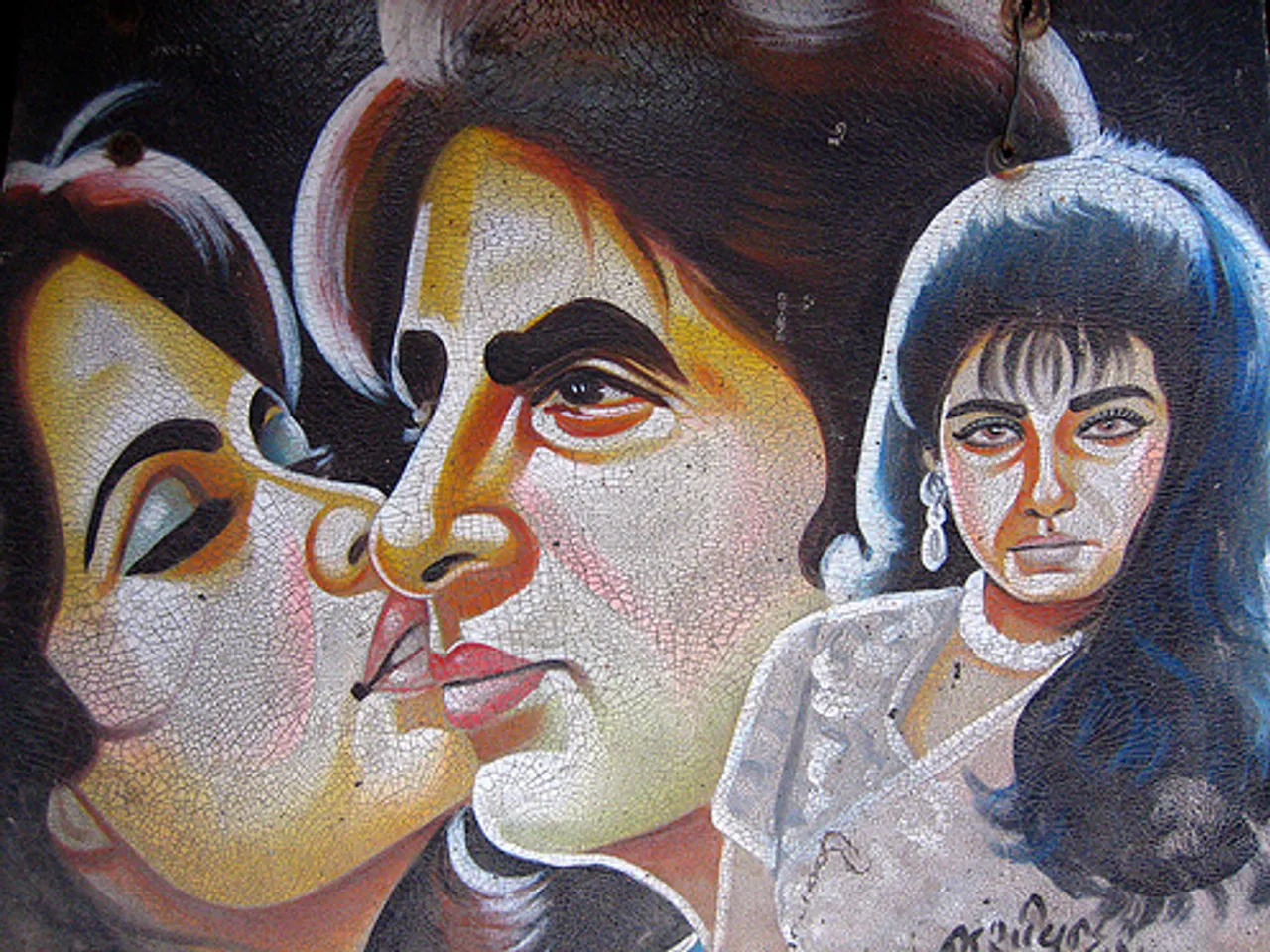 What really gives a typical Bollywood movie its Masala? Social Media.
Besides writers, producers, actors and the crew, there's another block of interest holders that keenly drives crowds to the multiplexes - Social Media Managers. The big digital boom of the recent times has ensured that makers and the marketers of the Indian Film Industry keep pace with it. Bollywood is using Social Media extensively and SM has now become an integral part of marketing budget of any Bollywood Movie. The true 'Bollywood Social Media Masala!'
Actors, producers, writers – everyone who's anyone – is thronging to virtual venues like Twitter, Facebook, Orkut and Blogging sites to voice their opinions and actions. This day, in age when we've all seen, followed and interacted with individuals like Anurag Kashyap, Amitabh Bacchan and Priyanka Chopra digitally, how could movies be so far behind?
So what kind of conversations are responsible for leading the forefront for the ho-hum that movies demand these days? For starters, here are a few talking points: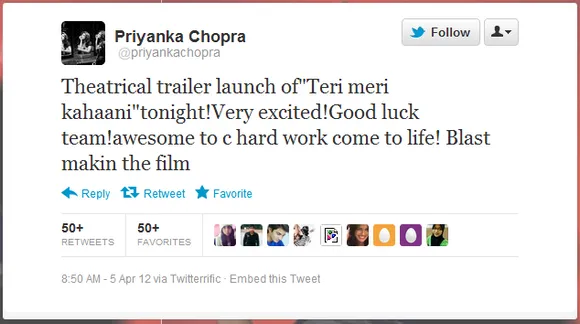 Teri Meri Kahani - The conversations on Social
Rolling Camera
All movies these days have at least one person in the crew who has a significant following (yes, we are talking about virtual!). Right from the time the film is signed this one person leads the way for conversations that are to follow. A million re-tweets, favorites and replies later, we see the movie being talked about the way it's meant to.
You would've caught Priyanka Chopra time and again talking about her soon-to-be-released Teri Meri Kahaani on Twitter, but is doesn't just stop at being a monologue.
Recently, the twitterati also saw promotional tweets from Aamir Khan for his new TV Show - Satyamev Jayate.  The first tweet read – "Hey Guys... Team #SMJ is now on twitter and will keep you posted about my first TV show 'Satyamev Jayate' Follow @smjindia Love, a."
The first show  aired on 6th May, and it definitely stirred up the television audience. Within hours, the official website servers crashed because of the hits the site managed to get. Aamir, even before making his first move on TV, had a hot Twitter property that allowed him to keep his fans updated with the show.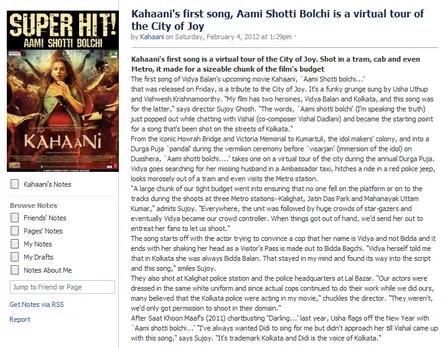 Kahaani - On the sets.
From the vanity van
Gone are the times when cinema buffs used to wait for their favorite monthly magazine to catch up on Bollywood gossip. The news hungry fans now, have this incessant need to know everything instantly. That's exactly where all such conversations act as fire starters. Marketers of Kahaani realized this and timed it perfectly to promote their movie using their Facebook page. Here's an article that would have ideally found its readers in a Filmfare or Cine Blitz. On the contrary, what was experienced was a totally new-age phenomenon.
Realizing this, several Bollywood blogs have also made this a special content feature on their site.
The day before Paan Singh Tomar's release, we had Twitter Celebs like Salman Khan and Anurag Kashyap tweeting about their experiences at the preview. Salman Khan even went to the extent of saying that Irrfan Khan would surely get the National Award for Best Actor – again, a perfect case of Social Media upping the conventional magazines.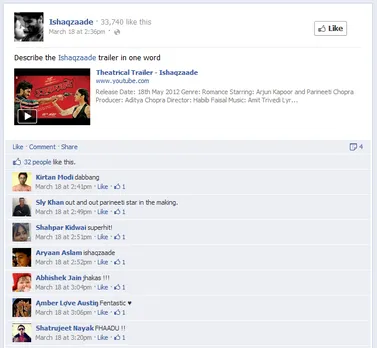 The Pre-Launch Buzz
First Cut
What do you think work best when it comes to arresting your audiences' interest? Trailers. The online audience these days looks forward to catching up on movie scenes or trailers much before the movie is launched. These fare reasonably high on interaction quotient and are highly share-worthy.
Videos and trailers of most of the 'socially active' movies like Kahaani, &list=PL99FCC69ACDA0769A&index=4&feature=plcp" target="_blank">Ishqzyaade, " target="_blank">Zindagi Na Milegi Dobara etc saw extensive 'shares' on various platforms much before the movie was released, primarily owning to their exceptional use of one liners.

A humorous take on all things Bollywood.
Reviews
Come Friday and people across media are hunting for stories that lead to another story. And what better way to promote it than putting it up on Social Media for viewers to see, read and ingest? Post movie releases, reviews are the most sought after fuel for conversation. Even the newspapers have a special section dedicated to reviews every Friday. But what's seemed to have given easier access to these reviews is Social Media.
As a matter of fact, there are dedicated bloggers who've made this their 'modus operandi'. The Vigil Idiot is one such blogger who things slapstick or sarcastic humor gives him and the movie he is ridiculing, a big advantage. His set pattern being – stick figures with minimal detailing.
Freebies
Now here's something that works extremely well for anything – from bathing soaps to TV soaps. So how can movies stay far behind? Volkswagen recently started a Facebook contest – where users could be given the opportunity to cast their VW Polo in an upcoming movie that stars Saif Ali Khan, Kunal Khemu and Vir Das. All the users have to do in return is put up pictures of their Volkswagen Polo along with a little write-up characterizing their car's 'personality'. A win-win situation for all – the Brand, the Sponsor and the Users – as all three of them are knotted together seamlessly even before the actors are called on the sets.
As things are progressing and the way 'Bollywood' content is spreading on Social Media, people are looking at newer and more engaging ways to celebrate movies. A few have gone beyond what was ever imaginable. Remember RaOne and all that was done digitally? Blogs, YouTube, Facebook, Twitter and a microsite constituted its eco-system and the audience, its caretakers. Some like Onir, went a step ahead and invited crowds to fund his project "I Am" through Twitter and the response he got was an eye-opener for most of us.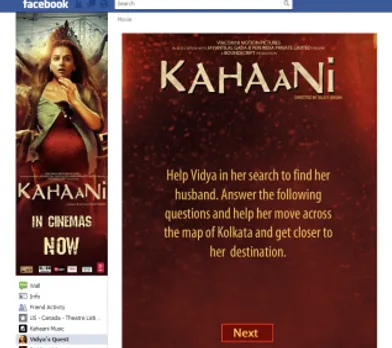 The Facebook App for Kahaani
There are also some movies like Kahaani that introduced elements of the story line to users of Facebook.  Users were exposed to the plot through an interactive application that narrated the story in a never-before experienced manner. Using this app, they could uncover the story, and go on their own quest.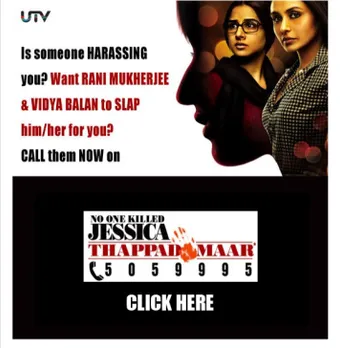 The Dial-in helpline for No One Killed Jessica
A similar example would be No One Killed Jessica – a movie that maintained its stand as a clever take on a popularly known Indian political crime. On social media, they created an app that allowed women to call up on a number and report against people who've been harassing them. After umpteen calls and hundreds of videos, this application emerged as a place for women that allowed them to stand up for their right and voice their opinions.
Digital Posters
Another recent phenomenon that has seen wide use for getting eye-balls is – Digital Posters. With little animations and snippets of the 'hero' background score, these run like little 30-second videos and are a mix between trailers and Movie Posters. Enough to hold the audience forever? We're not sure. But we do have to admit, these again deserve +1 over traditional movie posters for their innovation and stickiness. You can check a couple below.
Social Media is now being seen easily swish-swooshing along with all the other marketing campaigns of Bollywood. Carrying forward the persona of a movie on channels having the strongest audience connect has become imperative. These platforms bring together the movie, its creators and the consumers together on one common platform. Simpler still, it is Bollywood's way of saying to its audience – This is our movie and you're our star!