During the college days, my marketing professor always used to stress on the importance of the purchase funnel model and that was one question which was definitely there in the exams. And once I started working I had seen a lot of presentations referring to this model.
But with a new era of digitalization, can this linear straightforward model still be used to gauge consumer behaviour? In my curious research I came across this study by Facebook & Forrester called 'Building Brands For The Connected World'. It's an interesting study on how the customer journey and the role of the brand has changed in the connected world. In my opinion, such a model is good enough to analyze consumer behavior in the digital era.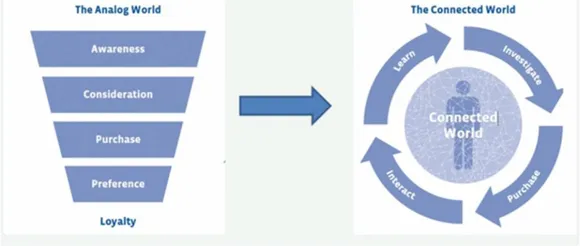 Here are some important pointers from the study"
To succeed in the connected world, marketers must create connected brands: brands that continuously engage with people when they want, where they want, and how they want
The Connected World Has rerouted The Customer Journey- From a Linear funnel to the continuous process of exploration and interaction.
—The journey is not isolated to just one person at a time — the entire connected world influences it.
The Blueprint for Building Connected Brands
The study further went on to say how a connected brand should continuously connect and engage with people when they want, where they want, and how they want through social media. It suggested the following six actions to build a connected brand.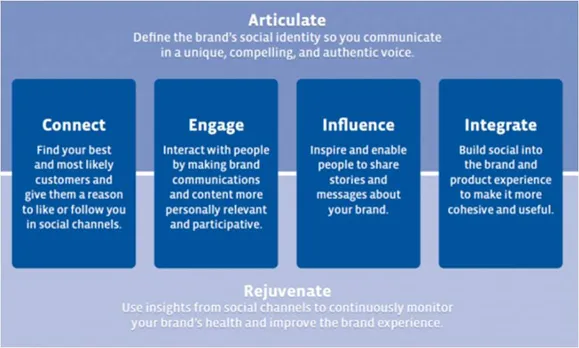 Try to understand the blueprint from an Indian perspective and how indian brands are doing so in the connected era.
Articulate Your Brand's Social Identity
The study suggests that first and foremost the companies should identify components of the brand it can communicate via social media. The report has a suggestion on how to do this.
"Apply a social lens to your brand identity by asking 'What about my brand is inherently social? Why do people engage with it and why do people want to talk about it or share it with their friends in the real world?"
Case study: What is so social about Stayfree a sanitary napkin brand and why consumers should engage with it and why would people want to talk about it. If we look at Stayfree the brand, it believes in empowering women and help them change the way they live or overcome difficulties. The difficulties could be in any form – physical, mental or social but the brand will help them overcome it. So the thought of empowerment is what the brand is inherently social about and this should be the brands core social identity to be taken forward.
Connect By Establishing A Presence on Social Channels:
Building connections via social media requires that a brand create a hub. So your hub could be on facebook, twitter, youtube or a combination of all. But creating a separate hub requires a lot of investment and the consumer time gets increasingly fragmented across various hubs. While you probably can't be everywhere, your brands need to identify the best places to connect with their fans and followers. In india, facebook seems to be the biggest hub with 45 million users. And a lot of Indian brands have successfully used Facebook to create conversations and engagement with their fans.
Case study: A good example of this could be Mumbai Indians facebook page in which they are trying to bring cricket stars closer to the diehard fans. They have created a separate tab via which users can follow his favourite star from the MI team list, get personalized updates, know more about the stars and get the inside stories too. Below is a video of a personal message from Sachin Tendulkar to his fans
Engage:
While building a hub gets you started in the social media space, more importantly how you go on to create engagement and build conversations with the users is what will make make the difference. While building conversations, brands have to make sure that they stay human and true to the user conversations and not just try to force their branding message in users interactions
Case study: A good example could be Chi kitchen and bar in how they deal with their prospective users on twitters. The above conversation shows how the brand has smartly got and build a rapport with a prospective consumer.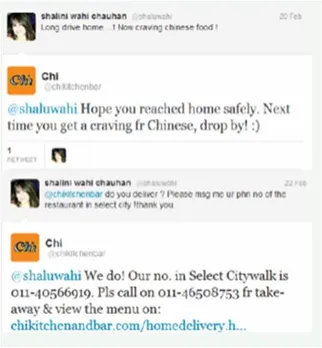 But there are lot of brands who need to learn and make sure they don't become too intrusive in consumers life. Eg Pepsi- For its new campaign 'Change the game' pepsi keeps on intruding  users conversations with their branded messages. Such kind of intrusion has led to a lot of backlash from the twitter community.

Influence
Getting people to talk about brands with their friends and their followers is one of the biggest opportunities for marketers to influence and engage their potential consumers. For this the brand needs to create favourable content, allowing the brand to create a special moment in consumer's life and if possible use paid media to increase the distribution of stories people are sharing about the brand. Also having consumers as influencers can help the brand in time of any sudden crises.
Case study: Royal challengers Bangalore
RCB understood the importance of influencers from the early stages. They allowed their fans to be a part of their team by having special contest like chief blogger, Chief photographer etc. This helped the brand to get a lot of free media coverage as they in return covered the tournament online, shared behind the scenes anecdotes and photos.
The biggest point of influence and fans support came during the jan 2011 auction when they decided not to buy back Rahul dravid. This led to a lot of outrage among the hardcore dravid supporters. An angry mob of Rahul Dravid fans had trolled RoyalChallengers.com showing their displeasure. But passionate Club RCB fans retaliated strongly, defending the team and driving out the mob. This just goes on to show how passionate fans can have a strong influence even in time of major crises.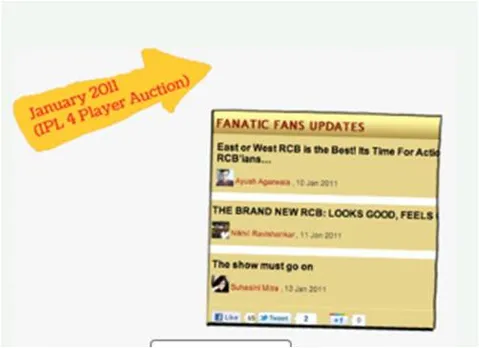 Integrate
Social media gives marketers the opportunity to turn any brand experience— from a TV spot to a branded event to the product itself — into a social experience. Lot of Indian brands have already embarked on to this journey. Tata docomo and Micromax did it with logo outsourcing. Vidhu vinod chopra is using the digital platform to get scripts for his new film. Parle Agro, the food and beverage specialist, used Twitter, to find out from shoppers and retailers the areas in which its Hippo snack brand were currently not available. Hero MotoCorp, the motorcycle manufacturer, has asked netizens to upload videos accompanying a piece of music by AR Rahman, the composer, the best of which are then used in its "hum mein hain hero" television advertising campaign. Lays Chips used social media to create new flavors. Below video shows how social media is being taken forward into different aspects of marketing.
Rejuvenate
Social media can be a very important tool to monitor brand health and improve the brand experience. Social media has created the ultimate focus group. What are people already saying about your brand? Have people misinterpreted your message? Are the comments positive or negative? And use this as a good opportunity to improve the brand experience. Nowadays lot of free tools like Monitter, Icerocket, Social Mention are available in tracking consumer interactions with brands
By the look of it, lot of indian brands are doing it right in building connected brands. But like stated earlier building connected brands is a continuous process and definitely not a one night stand. If we follow the above six steps it will help in the long run to have a deeper  relationship with consumers. Connected brand is definately the way to go in this digital world.
Reposted from here
Featured Image courtesy Kennymatic