No other team has given as big IPL stars to the cricketing world as did the winner of the first edition of IPL Rajasthan Royals (RR) in from of Yusuf Pathan and Ravindra Jadeja. In 2008, the Midas touch of Shane Warne has turned a minnow into a title winner. Leading from the front, the skipper had spun RR's way to the victory in the same way he stunned batsmen with his sharp turning balls. Since then, Rajasthan Royals didn't even come closer to that height.
In this article I am going to review the social media strategy of the giant killer. In this article we may not concern ourselves with the on-field performances of Team RR, but we will surely take a close look at how well it played on social media.
Tools of engagement
Rajasthan Royals is using all three major social media platform we have covered so far in the series. Now we have to see if the team has given its social media effort, a royal touch or not. As usual. Let's begin the analysis with Facebook.
On Facebook
On RR's Facebook fan page, the illustrations of RR players in a huddle sets the tone for engagement, which is complemented by its profile image that has its tag line "Halla Bol!". So far, things look great on the fan page. After seeing some not-so-good Facebook cover page of IPL teams, RR Fan page came rushing in as a gush of fresh western wind.

In total, RR had 311,659 fans, of which 16,852 were actively engaged with the page at the time of writing. Although the growth rate of "total number of fans" has been riding swiftly on the rising curve, its engagement curve has been nothing less than a wild rollercoaster ride starting from around 20,000 mark in the 3rd week of April to 16,000 in the last week of May. There have been many ups and downs on the way.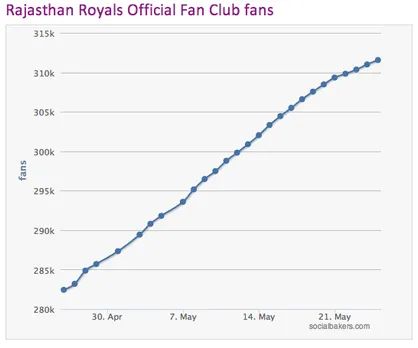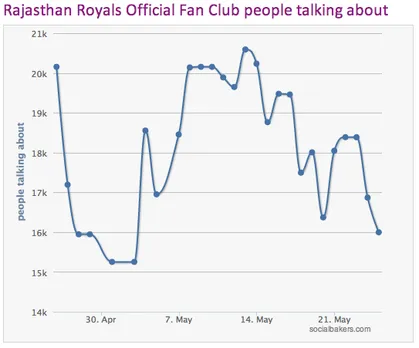 The about section has been judiciously used. RR has talked about its 2008 victory and provided a link to its homepage in the about section, which is good to build a communication loop. On the right-hand side two app boxes labeled "The Locker Room" and "Join the Royal Army". The right app boxes are also optimized for fans' engagement, particularly "The Locker Room", which is a weekly newsletter sent to people who subscribe to it.
Posts on the wall
As IPL season 5 is over for RR, the team has chosen other ways to engage people on social media. The team is talking about Food festival in Jaipur and sharing specific series stats with fans (like best bowling figure, incredible ton, etc.)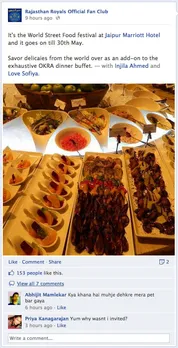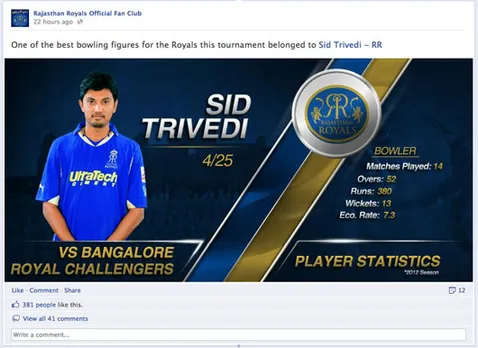 With its posts, quizzes, and match updates, RR has taken engagement to an altogether new level. Unlike other teams, which has merely reported the commencement of a match or development within in a nice and engaging way.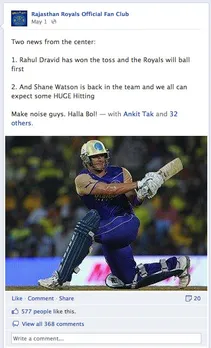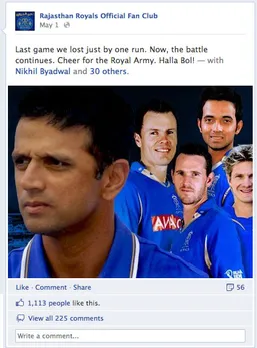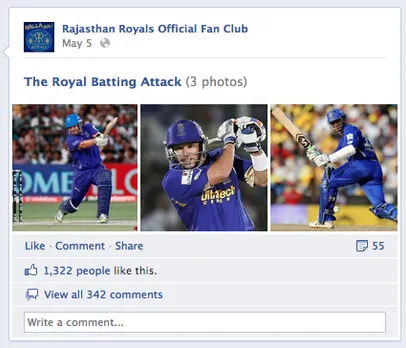 Even announcements of the forthcoming match have a royal touch on RR wall. The team has sowed the seed of engagement in each of its announcements.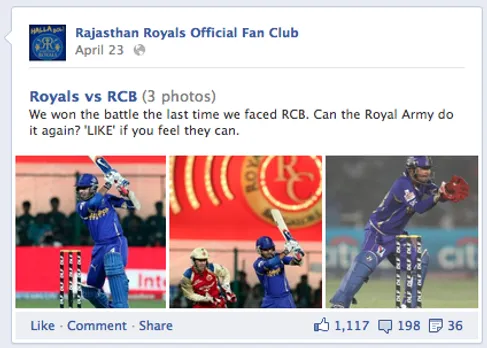 The team has given its royal touch to sponsors as well. The following two updates are glaring examples of how RR helped sponsors get the biggest bang for the buck.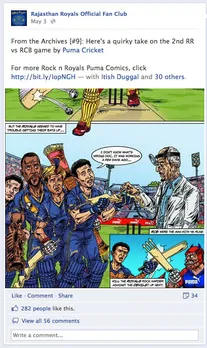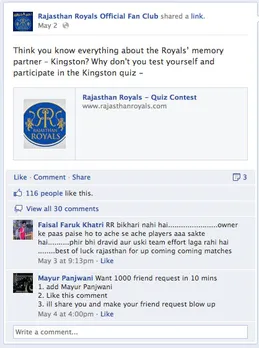 It appears, Rajasthan Royals have carefully taken each step on Facebook making it perhaps the most optimized fan page owned by any IPL team.
On Twitter
Hash tags: #RR and #Hallabol
Rajasthan Royals has continued its brilliant branding work on Twitter as well. Just a look at the twitter profile of Rajasthan Royals will tell you how well-optimized every section of RR's Twitter profile is. It is a classic case of copybook implementation of social media branding from its background to its profile section.
The moment you will land on RR's twitter page, you will notice the entire Royal Army waiting to greet you. This is such a relief from the bland backgrounds we have seen so far on the twitter profiles of some other IPL teams. Another thing you may notice is the URLs of RR's every social media profile and website embedded against the dark blue background, which blends with the blue color of the background. The colorful logos of YouTube, RSS, and SMS Gupshup stand out from the page.
And when you look upward a friendly-looking verified status will greet you followed by series of URLs, each connecting other three pillars of social media engagement (Facebook, YouTube, and Website) with the twitter page. Team RR has used the bio section optimally.

The story of a nice social media engagement continues to its tweets as well. The team has seeded some engaging tweets which has got people talking about it. RR team's owner, Raj Kundra's involvement with the team on tweet has flared up the conversation.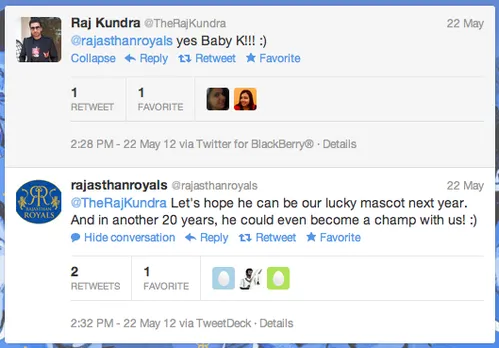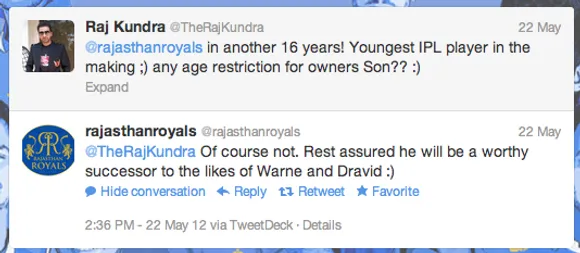 Rajasthan Royals
The team has also used hash tags and retweets judiciously and even sent replies to its follower's tweets.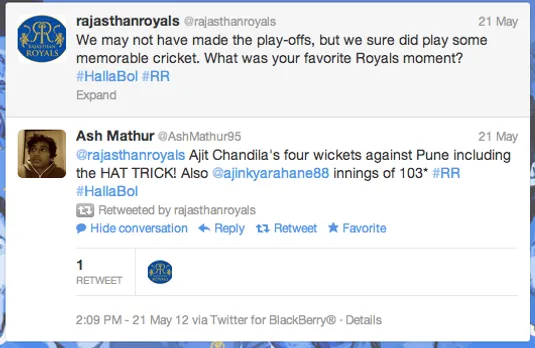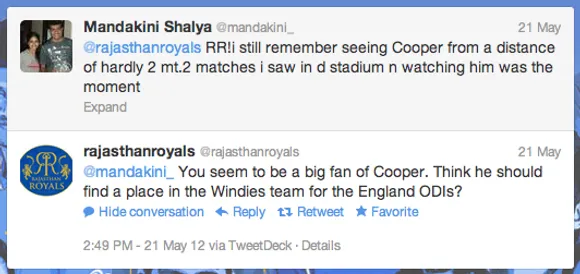 Twitter profile of Rajasthan Royals is also well optimized, and at the time of writing it had 41, 309 followers.
On YouTube
Branding on YouTube is also in lines with the branding of  Twitter and Facebook, And the team's YouTube channel links back to the rest of RR's social media profiles and website from the header. The team also has posted some exclusive videos of players, support staffs, and events on its channels, but it has failed to get eyeballs for the videos.
Total video views of the channel do look impressive (796,789 views), but none of the videos got more than a handful of views. In total, the channel has 493 subscribers.
Fan Zone
Unlike the Fan Zone of Deccan Chargers, which only had the name Fan Zone and no real content, RR's Fan Zone is very well done. It has done a good job in securing some good-quality user-generated content. And when it is mixed with Puma Comics, Hall Bol Forum, Winners Hall, Fan Poll, Fan of the Week, Video of the day, and Player of the Week, it creates a nice-tasting cocktails that makes fan go gaga about the team.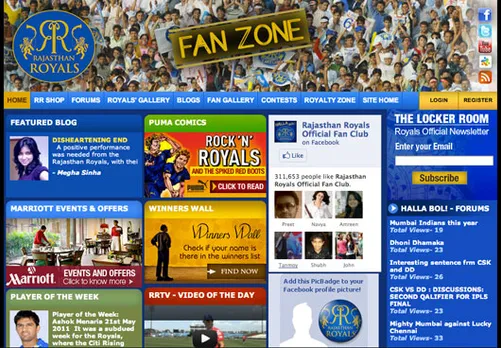 Conclusion
Rajasthan Royals deserves an accolade for a special performance on social media. It has done remarkably well on all the social media channels, except YouTube, where it needs to work a little more to get eyeballs. In IPL 5, the team has set a benchmark, which every IPL team should look up for their next year's social media activities.