Deccan Chargers (DC), the winner of second season of the Indian Premier League (IPL), makes the bottom of the point table in IPL 5, with just Pune Warriors ranking below it. Sangakkara's men didn't lived up to its fans' expectations and won just 4 matches out of 16 it played. The season 5 of IPL is over for them, and now it is time for the team to do some soul searching to see where it erred, but in the meantime, let's look at the social media strategy used by the team before the series and during the series to understand how it fared in its fans' engagement.
Tools of engagement
DC has a presence on all 3 major social networking websites I have been analyzing in this series, but we need to check how strong a presence the team has on all these channels. We will also analyze the "Fan Zone", which is there on DC's website and which carries a blog, graffiti board, and Chargers Club for individual and corporate. Let's move forward and dive a little deeper to understand the social media strategy of Deccan Chargers.
On Facebook
At the time of writing, on Facebook, DC had around 232,871 fans, of which 6,369 fans were actively engaged with the team, which is abysmally low. Although the number of fans has increased, in past several weeks, engagement level has fallen down from around 11,000 in the first week of May to around 6,000 in the last week.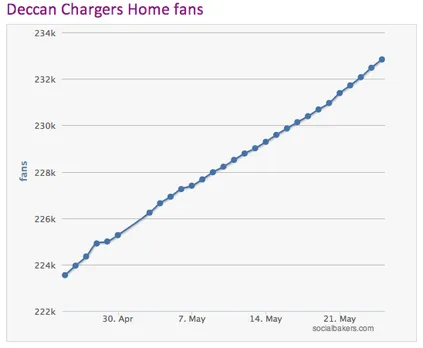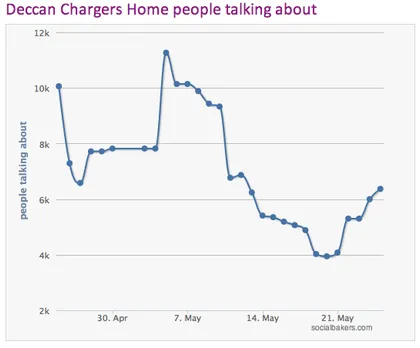 And nothing else but the less engaging content of DC's Facebook fan page is responsible for it. Facebook page of Deccan Chargers is now done nicely, and it becomes evident the moment you step in and see its cover page. Even the about section is under-optimized, and there is hardly any special tab in the  application tab bar except for one tab labeled "Terms and Condition", which looks out of place on a fan page.
Apart from couple of posts, like the one about donation for Saving a Child's Heart Initiative, there is nothing much interesting on the Facebook page. The content is very average because of which the engagement level is very low.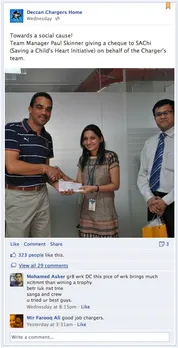 One positive thing I noticed on its Facebook page is how Team DC has announced forthcoming matches. Match announcement post is probably the most interesting thing on DC's wall.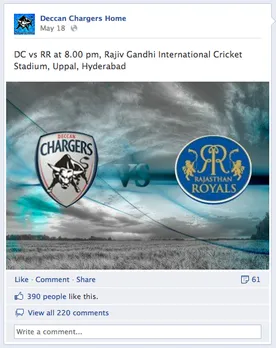 Facebook initiative of Deccan Chargers is not very impressive. A lot of works needed to be done, and I hope before the next season, DC will think over it and improve its Facebook fan page. Not much thought has went into it.
On Twitter
On DC's twitter profile, the first thing that attracts you is the blue tick sign beside its name suggesting its verified status. It is comforting to see that the team has gone to a certain length to get a verified status. This is probably the high point because a sad story of poor social media usage of DC continues afterward. The bio section would have been used in a better way and tweets should have been thought upon.
In fact, DC has been very lazy in tweeting. There are very few original tweets. Most of them are retweets. Retweeting your followers' tweets is a good way to engage your fan, but if that is the only tweet you do then there is a serious issue with your campaign.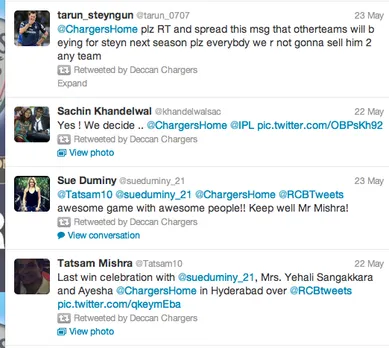 And even when DC did some fresh tweets, it was about updates on Facebook, where, as we discussed above, very little happened. In the analysis I found little use of any hash tag.

In total, it has 33,107 followers on Twitter. The team needs to do some soul searching and rethink its twitter strategy.
On YouTube
In total, DC has 32 subscribers on YouTube and collectively all videos have been viewed 19,514 times. The team has merely 9 videos in its YouTube channel and almost none of them were created for web. I went on to sample 6 videos uploaded by the team and I was pretty disappointed to see that the description section was empty in all the videos.
Fan Zone
This is what  DC call one of the section of the website where supposedly majority of engagement would happen. When you hover over this section, a small menu will drop down displaying four sections: Corporate, Chargers Club, Graffiti Board, and Blogs.
The first two sub-sections are about premium membership of Chargers Club, which, I must mention, is not free. The navigation link "Chargers Club" will take you to a page where individual memberships are sold and the link "Corporate" will take you to a corporate package of the same club. I find it hard to understand why this was tucked inside the Fan Zone? Its presence there is misleading at best. When I got over the initial hiccup, I went to the "Graffiti Board" Section where DC fans left message for the team.

The only thing disappointing in this section was the background against which each message was displayed.
Moving forward, I went on to the "Blogs" section, but when I clicked on the link, I was taken to a page, which looked like an entirely different website with different navigation, color scheme, etc. To say the least, I was disappointed to the core.
Conclusion
Team DC has failed to leave a mark with its social media effort. There are few things right about its social media efforts. The strategy seems missing. The branding is not there. And even there is no visible effort to engage people on any of the social media channels discussed above.
In my analysis I found that Deccan Chargers has not only made the bottom of the IPL point table, but it also didn't do anything worth noticing on social media. Team DC should do some soul searching and use this medium properly to engage people online.