Microsoft launched a private beta version of their social network in late 2011. On May 20th So.cl was launched by Microsoft in a very quiet way. A company which I have the deepest respect and which has truly changed the world in the past 25 years in the field of technology has decided to venture in to Social Media.  Why?
So.cl was floated as a Student Social network and has tried to include search in social network, an innovative feature in itself. If we remember, back in the day,  Facebook also started as an exclusive social network for Harvard students, but it had more of a fun element rather than a serious educational element.
Going forward, some of the features of So.cl are truly innovative and can become popular.
Social Search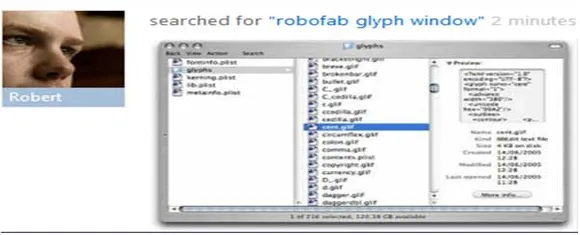 A first look at this feature seems to be privacy failure. People can share what they have searched by adding it to a post but they can also restrict what they wish to share with the world. This feature covertly promotes Bing, a Microsoft search engine. Bing realized that they can't take on Google directly; hence these are few tactics Bing has been exploring.
As we are accustomed to Facebook`s layout, we are not able to adjust ourselves with a core feature added at the top of the page.
The social search functionality gives preference to friends rather than words which are being searched, similar to Google+ search.  The added functionality over here is that we can add a link to post from search items found in the search and share it publicly.
The social search lacks the feature of category searching. It doesn't ask the user where he wants to search the content from. It doesn't ask whether he wants it from his friends or from brands or from a particular geographic location.
The social search has an option of "Riff", in which a user can add more search results ,links, photos to the same post.  The riff function makes the search stream more complicated and ends up confusing the user with too much information.
 Video Parties

The first impression we get of Video parties is that it may be a Google Hangout but it is not. Video parties, a unique feature for any social network can be considered as  the best feature of So.cl. Video Parties is where people can share videos, one after another related under a single topic. The collection of videos one after another is really engaging for people who love to showcase the videos they find on YouTube. The video which is being played cannot be forwarded or reversed by anyone. The video also lacks volume control. People can only change the sequences of videos being played. If the video party gets annoying the user can mute it. Even if the user is out of the party it somehow plays in a small screen on the right side top.
The video parties are further divided into parts such as my recent parties, my friends' parties and popular Parties.  It could have been better if they had localized popular video parties. The localized popular video parties would have been more relevant to the users and would have brought more engagement.
Video parties also have a chat functionality built in where users can with each other.
Interests & Explore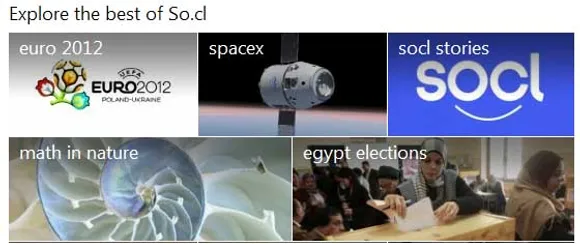 This feature is maybe inspired from Google+ or Facebook Trends. The representation of interests in a Metro UI manner makes it more attractive than the ones on Google Plus, Facebook and Pinterest. Localization of this feature would help a lot from the user perspective.
When a user tries to explore one of tiles in 'explore', it fetches social search results which are done by other users. It also has riff functionality with it.
 Share on So.cl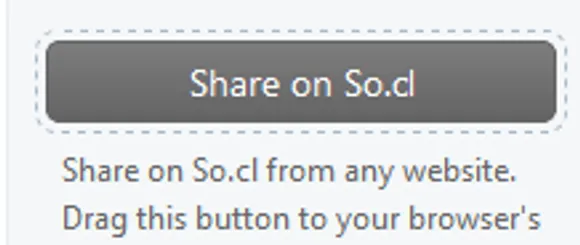 Share on So.cl tool is actually a social share tool, which is similar to a drag drop tool but actually works the other way round. Another aspect of this tool helps people share more on So.cl.
Conclusion
The current release of features focuses more on individuals than brands. So.cl can be an All in One Social Network for everyone. The true essence of Social Network lies in the virility component and user behavior component. Whether So.cl can be a formidable competitor to bigwigs or will it be a niche social network, only time can tell.
PS: So.cl doesn't have a like button, it has Smile button.
Image -John-Morgan