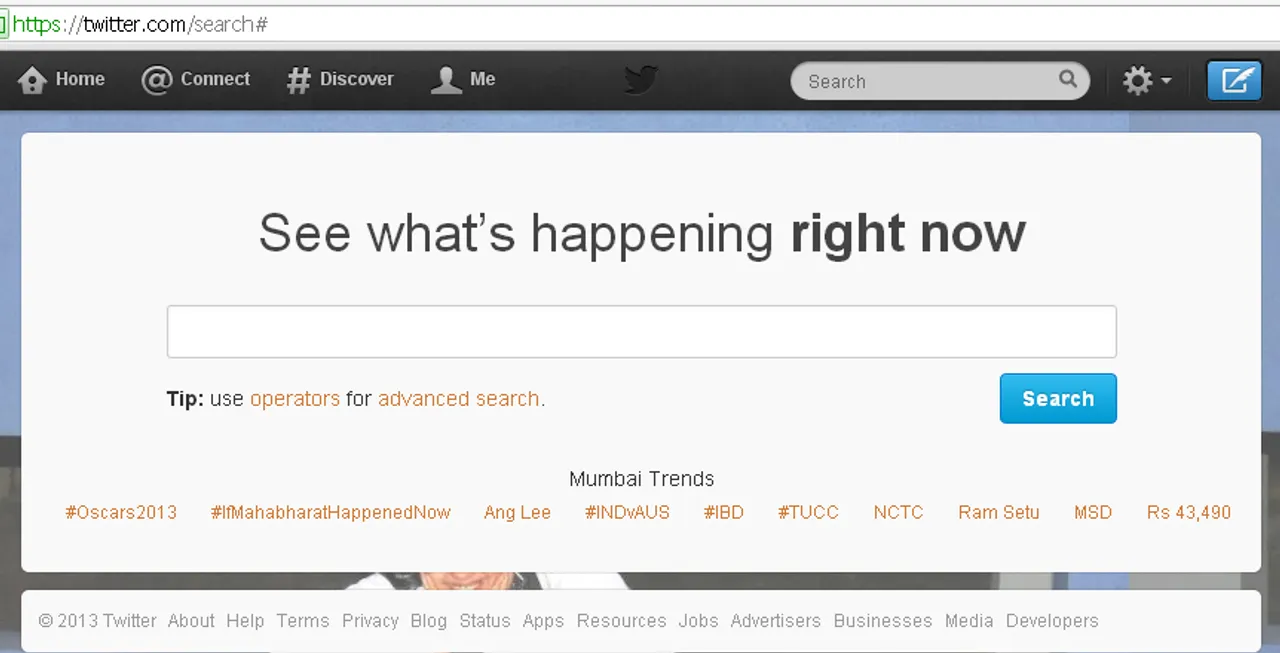 With the availability of massive content in the online world, and plethora of information at our fingertips, the importance of "Search" is growing rapidly. Search has thoroughly changed the way the human race behaves, like wise big players like Google, Yahoo!, Bing, Facebook have been investing in search technologies. Twitter too is trying to overtake these players in the search race.
There is a tremendous amount of real-time big data available on Twitter and it is evident that Twitter is slowly making sense out of all this scattered information. It is investing a lot to develop a Search Product of its own.
Back in 2008, Twitter had acquired Summize - a search tool, to keep up with emerging trends in real-time. This was an important step forward in the evolution of Twitter Search. Since then, Twitter has invested heavily in real-time search.
You must have noted that Twitter already has "Related Queries" and "Spelling Corrections in Search"
Twitter also uses personalized search by detecting the searcher's preferred language and location. Its ranking function accesses the social graph and uses knowledge about the relationship between the searcher and the author of a Tweet as a relevance signal during ranking.
Although Twitter would be a late entrant in Search, it can still capitalize on its Second-mover advantage, following Facebook's Graph Search. 
The best part about Twitter search is its real-time search technology. Earlybird is the core engine of Twitter's Real-time search.
Every tweet with its unique URL becomes searchable within seconds. Consider this example:
When Osama bin Laden was killed:
Helicopter hovering above Abbottabad at 1AM (is a rare event).

— Sohaib Athar (@ReallyVirtual) May 1, 2011
When events occur, people instantly Tweet about it, search for it. As a result, Twitter has built a real-time human computation engine to identify search queries as soon as they are trending. These queries on the other hand are sent to real human evaluators to be judged, into their into their back-end models.
Google too integrates real-time search technology for blog posts and news content, but it emphasizes more on popularity of the content rather than real-time search.
Here is is an example that will help you understand the basic difference between the search algorithm of Google and Twitter. Last night I saw people tweeting about "bomb" at "Raghuleela" mall. I was not sure if it was true and hence I decided to find out.
As they say, "When in doubt Google it out" But for the first time, Google, you disappointed me with old news!
Google has to crawl into other website to index their content and rank them in its search engine unlike Twitter's real-time search ranking within itself.
On the other hand, Twitter search gave a faint idea of what was going on.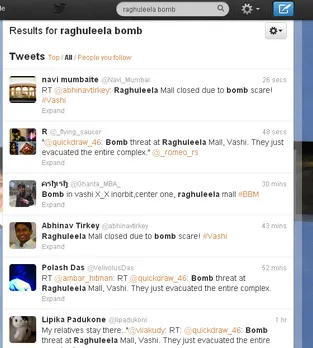 Current events trigger a lot of Tweets around the topic. Although, not all tweets are accurate. Some are spammy, some have slangs and swear words, others have emoticons. As a result, we cannot rely on the credibility of the source of information on Twitter. Twitter search can certainly improve upon accuracy, relevancy and credibility of the source and it is already working on it.
The real-time feature on Twitter helps us stay updated on current events.
Therefore, it is clear that real-time search is Twitter's priority as the shelf life of the tweets is less.
However, you can toggle between "Top", "All", and "People you follow" in Twitter search results so that you find relevant results of high value for your query.
Recently, Twitter had rolled out the anticipated feature to download Twitter archive. It had also redesigned its apps for iOS and Android to makes it easier to search and discover tweets.
Soon, it announced a significant upgrade in its search. Twitter finally starts including older tweets in search results.
All these features seem to indicate Twitter's strategic move to be in line with other search platforms like Bing, Facebook, Google products.
In addition, Twitter rolled out its advertising API, delivering brands a favourable chance to target tweets at a definite set of audience. It seems as if Twitter is already building a platform to monetize its search product.
If you think that Facebook graph search or Twitter search will be the next Google, then I would certainly disagree.
Come on! You would'nt search "Countries that formed the Triple Alliance in World War one?" on Facebook or Twitter, Would you?
Google focuses on credibility, relevancy and search experience.
On the other hand, Facebook Graph Search is a convenient access to peer recommendation and Social Search.
Queries change very quickly on Twitter. Therefore, with only 140 characters in a piece of content, Twitter Search focuses on Real-time information.
Key Takeaways:
Twitter finally starts including older tweets in search results depending upon the engagement, like favourites, retweets and clicks, to determine which Tweets to show. If you are a brand then make sure you generate competing tweets that rank higher.
Beware of negative tweets that receive well a response. You never know, it may become the top tweet in the trend
#MyKaiPoCheDream is to start a social media agency , name it "Can I have your money please?" and get clients like @chetan_bhagat

— Tinu Cherian Abraham (@tinucherian) February 4, 2013
3. Leverage Twitter Search to hunt for business opportunities and lead generation.
4. Include Branded hashtags for your marketing campaigns to seek business specific conversation in search. There is a possibility that other brands could get visibility over your brand in the search.

5. Leverage Twitter Search to draw real time actionable insights about your audience.
6. Twitter is real-time in its core. Stay relevant and be timely.
Thereupon, Twitter is developing models to adapt to new search trends. It is has been constantly moving in this direction.
In Dick Costolo's words, "The Biggest Misconception About Twitter Is That You Have To Tweet To Use Twitter"