A Facebook page for business is a boon, primarily because it's free! However, Facebook pages also offer designers a multi-pronged approach to promotion and word of mouth without even asking them to sign-up for paid advertisements. If you are a new designer and are looking to use Facebook to promote your work, then this post should help you do exactly that.
Here's a look at how Facebook has become a creative platform for Indian design:
Showcasing Your Work
As a designer you want people know what you do. Letting your work speak for itself through pictures, posts and status updates is the best thing to do. There's power in images and you can use Facebook photo guidelines to set up a profile photo (of your logo or brand name), cover photo (of a new range you have come out with) timeline photos to keep fans updated about work in progress.
Telling a Story
Stories fascinate and interest everyone which is precisely why telling a story about what inspired a collection or design is bound to generate much more interest than simply posting a photo and expecting people to express interest in your work. I have not come across many designers using this concept though.

HandsofIndia Online Sale
Announcing Deals and Giveaways
You have a delicious offer few can refuse?  Products at great prices?  A good deal that gives value for money?  Then Facebook is the place to do. Malyada and Ramya, the duo behind "HandsOfIndia", a for profit social enterprise committed to the revival and promotion of weaves and embroidery from all over India used their Facebook page to promote their first ever online sale which ended on 26th May, 2013.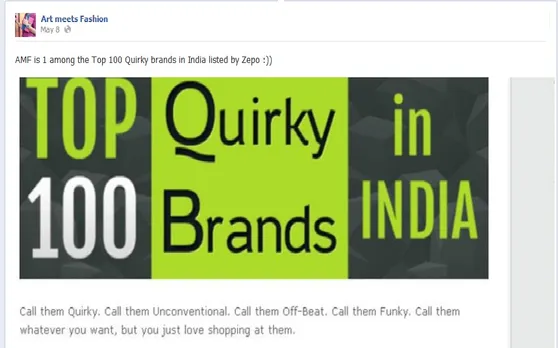 Sharing News Snippets
Sharing Success Stories, Press and Related Coverage
If you have been featured in the news or on a blog then sharing it on Facebook is bound to generate interest among fans. When Art Meets Fashion, run by Aarti Verma was featured among the top 100 quirky brands in India by Zepo and she shared the news on Facebook. While it might seem like blowing your own trumpet, it is really far from it.  Sharing such news snippets makes people notice the good work you are doing.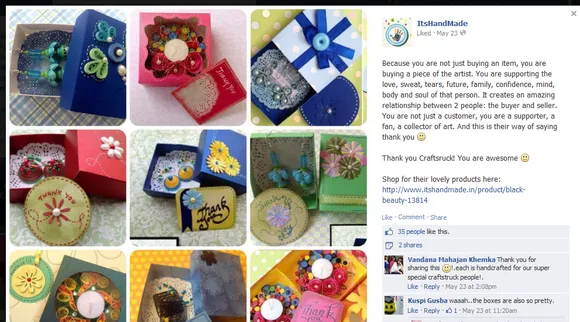 Itshandmade features Craftstruck
Promoting Other Artists
Yes, your Facebook page should be about you and your work but ever thought about how you can use it to promote another artists work?  Recognizing good work done by another instead of only focusing on your own will definitely go miles and help you earn brownie points. Itshandmade, an e-commerce venture dedicated to selling products designed and crafted by Indians often posts small features on the creators of products that are up for sale on its site. As an Indian design hub in the digital space it is doing its bit to promote designers on board with it.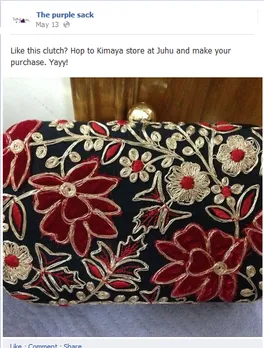 Purple Sack retails at Kimaya
Let People Know About New Retail Points
You offer a product or design stuff but where do people find you if they want to buy or even simply go have a look? Use your Facebook page to let people know your retail points. When The Purple Sack, a venture that has some unique bags, clutches, scarves and stoles (among other artsy stuff) for sale started retailing at Kimaya, they shared the news on their Facebook page.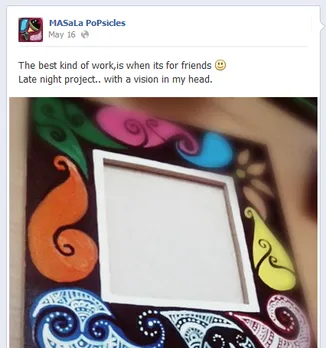 Sharing Work in Progress Masala Popsicles
Work in Progress
Who says everything you share on Facebook has to be about completed pieces of work?  Sharing work in progress keeps customers who have placed orders with you updated about the status of their orders. It also takes people through the process of how a product shapes up. Masala Popsicles, another brand which creates functional art shares work in progress pictures which I feel work towards generating interest in their products.
As a design in India is experiencing burgeoning growth, many designers are using Facebook to promote their work. However, some thought and creativity spurred by the desire to stand out in the crowd is what makes promotional endeavors worth noticing. How you use a Facebook page to promote your design venture as you bootstrap or walk the tight rope of promotion on a limited budget is really up to you.
I would recommend that if you are an Indian designer looking to make your mark on the web then a Facebook business page will definitely help you do that. How much of an impact you make depends on your own creativity.