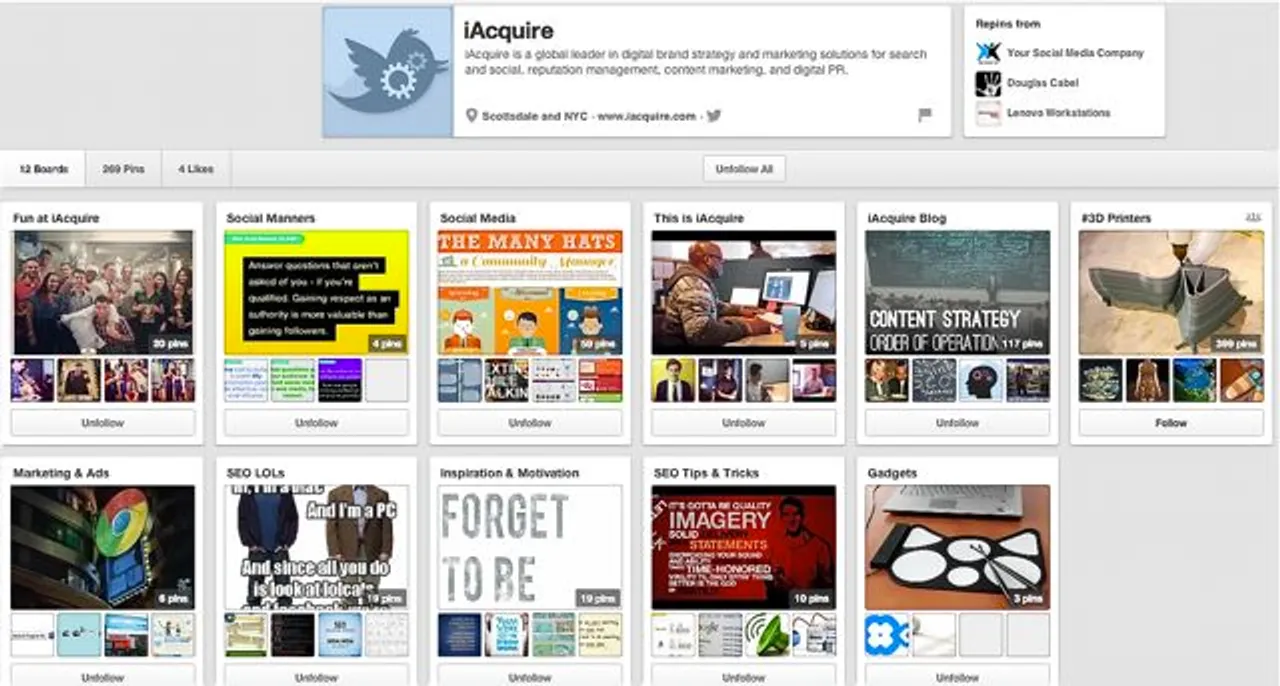 Be social. We, small businesses and entrepreneurs get it this way. Acquire likes on Facebook. Tweet on Twitter. Join Google+ circles. Ignore Pinterest! Ignore Pinterest?
Don't Ignore Pinterest
Pinterest is that perplexing platform for fashion bloggers, 20-something girls dreaming about their wedding and stay-at-home moms crafting their days away. Mashable.com explains that in 2012, about 82 percent of active Pinterest users were women. Women, in general, engage more in social media and spend more time on social media networks.
Women see platforms such as Facebook and Pinterest as digital spaces for social and community interaction. If Pinterest and all those passion boards primarily attract women who care about home décor and healthy dinner recipes, then where's the need for businesses to engage in this social space?
Find Your Pinterest Need
If you have a product to promote, keep in mind women are responsible for about 85 percent of consumer purchases. Pinterest equals free marketing. From family-owned bakeries and online clothing boutiques, to yoga studios and natural food companies, businesses can target and establish relationships with customers using "pinnable" images that appeal to a specific audience.
Besides direct product and service marketing, another tactic for successful marketing on Pinterest, involves creating an environment that fosters positive associations with a company. The umbrella of positive Pinterest associations excludes shameless self-promotion and includes community building and networking.
Network on Pinterest
Digital marketing and SEO agencies, for example, don't sell tangible products that would necessarily appeal to a Pinterest audience of matriarchs. SEO agencies, public relations firms and consulting companies can use Pinterest as a networking and branding tool.
Digital PR Firms can use Pinterest to post pins that are SEO-related and, sure, promote the company blog. But this type of company can also brands itself on Pinterest by creating boards such as "Fun at xyz agency" and "Inspiration & Motivation" that share personal insights into the forward-thinking company's culture and influence hard-working, ambitious individuals. Pinterest serves as another channel to humanize brands, enabling a more genuine connection with consumers.
Small Business Pinterest Pointers
Once you've discovered your Pinterest purpose, whether it's to market your products and build a community or network and brand yourself, create a social media plan and model. "Marketers, though, should be careful not to haphazardly join Pinterest without a strategy," notes Forbes.com. You'll need to nurture your Pinterest page with content that's not only "visually stimulating," but valuable and interesting to your followers as well.
Acquire and engage Pinterest followers with the following pointers:
Pin sweepstakes and give-aways. People like to win free things.
Post more than your own content. Nobody likes a narcissist.
Follow others and re-pin. Befriend the competition. (Keep your friends close and your enemies closer.)
Share your pins on Facebook and Twitter and add Pinterest buttons to your websites. Call it digital word-of-mouth marketing.
Be consistent. Avoid rapid-fire pinning and then abandonment. Balanced social activity is good.
Humanize your company. Have fun and get creative with your boards.
Optimize your pins with keywords and #hashtags in the description. You might as well get in some good SEO.
Interact with followers by commenting and crowdsourcing. Fans like to be acknowledged too.