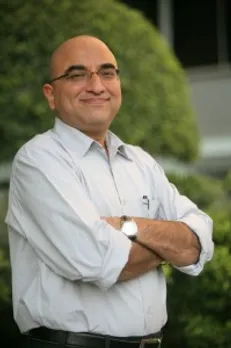 One of the most active tech & B2B brands in the Indian social media ecosystem, Intel India, has been taking long strides to out-do its competitors. It has managed to strike a balance between engaging the community while deriving real business results.
In this interview, Mr Sandeep Aurora, Marketing Director of Intel South Asia, opens up about Intel India's social media strategy. Read this interview to find out how a corporation like Intel can effortlessly fuse social media with its CRM and B2B sales.
What are your objectives for being on social media?
Today a majority of our population comprises of Millenials. These are people who are born into a generation of technology.
Following a survey called the Innovation Barometer that Intel recently conducted across various countries, this generation is also slightly more willing than their oldest cohorts to anonymously share personal information if it helps to improve experiences. Indian Millenials, in particular, are slightly more willing than U.S. millennials when it comes to sharing their birth date (72%), GPS records (55%) and purchase history (56%). In short, today's Millenials share practically everything online! Today media like Facebook, Twitter, Instagram and Pinterest have emerged as 'The' platforms for building a relationship between a brand and its target audience. Social media, today, is not just a tool but a way of life and therefore if any brand has to have a meaningful relationship with its consumers, it needs to have a strong presence on these media platforms.
Our basic objective is to establish Intel as a thought leader in the technology space and create a platform that engages the audience with relevant and interesting content on a consistent basis. To achieve these objectives; we have defined our social content mission with a two pronged approach:
Celebrate technology, and
Showing power of technology to change our global culture
What social media strategy do you follow to achieve these objectives?
Our social media strategy is three-fold:
To stimulate demand for Intel-powered products by sharing interesting content revolving around the products that makes the complex simple.
To increase the positive awareness of the Intel brand through tech leadership, innovation, education and CSR.
To sustain and grow an engaged community, receptive to our product/brand messages, by being an entertaining source of technology that celebrates the smart in our community.
Unlike other B2B companies, you have a huge community with +2.5 million on Facebook and +20k on Twitter. How do you keep these communities engaged?
Building a community on social media is the easier task, keeping them engaged is anything but. We see our online communities as our evangelists, users who believe in the brand to deliver the best technology solutions and keep them abreast with the rest of the world.
Online communities thrive on quality of content and to keep them engaged, we devise our content strategy in a way that not only focuses on sharing product knowledge with them at regular intervals, but also relevant and interesting factoids that relate back to the brand messaging and are share worthy. We use theme based content focused on different user groups within our community like "Just Coding" – a series of posts based on geeky developer jokes for the fun side of coding or "Ergonomics" - how to sit correctly and be productive, a series of work related ergonomics that was a huge success when it came to engaging with our audience.
It also helps us fortify our position as technology thought leaders on whom our community can rely for information related to our innovative products and adds value to the community by sharing knowledge with them.
How does social media help Intel in driving B2B Sales?
Our content is designed to share as much knowledge as possible, it is our way of giving back to the community by keeping them informed about technological innovations available to them.
We create content to generate demand for PCs in the online space. We want the world to own an Intel based device.  Across quarters we communicated to first time buyers, we drove home the point with creative expressions of connectivity, education and entertainment. Our core messaging behind all these campaign remains - Whatever you do, do it with a PC.
This in turn has helped us nurture brand evangelists within the community who in turn not only spread the brand's overall value proposition to the end consumer but also to the businesses who face these consumers. It is these businesses that carry forward the relationship with the consumer in order to bring them the latest and best product innovations that Intel has to offer.
Facebook and Twitter being different social media platforms, how does your content strategy differ for both?
We realise that we cannot bombard our audience with too much of information. Facebook and Twitter being very different from each other, the communication strategy also changes accordingly. Facebook is all about story-telling. It's a known fact that a picture is worth a thousand words. Creativity, thus, plays an important role in engaging the audience.
Visual story telling allows us to share and converse with our audience, sharing our knowledge with them, and learning from them in order to bring them the best solutions that Intel technology has to offer. In the end, it adds to our knowledge pool as well as that of our online community.
Twitter, on the other hand, has a very different set of audience. We share facts, talk about various Intel initiatives that make a difference to the lives of millions in the online as well as the offline space to drive discussions.
An example would be the conversations generated by the Girl Rising initiative where we spoke about the need to educate girls and how it affects the community at large. Our community members participated in the conversation with a lot of enthusiasm and we believe it made a difference in the thought process of a lot of those who participated in sharing their knowledge to make a better world.
How often do you use contests to promote yourself on Facebook and Twitter?
Every brand needs to understand that there has to be an objective behind any contest that is conducted. We have a content strategy for all the digital campaigns and we analyse if there is a need for a contest or not.
We plan contests according to our content strategy, the recent example is the #MyCoolNewPC contest which focused on generating demand for new PCs among our audience.
Please tell us more about the Click Karo Dream Contest. What was the objective behind it, what platforms does it cover and how has the response been from your community members?
"Click Karo Dreams" contest was organized by Acer where community members could login to the Facebook application and share their dreams with other users. They were asked to get their friends to vote for them on the application and the winners were chosen based on the number of votes they garnered. The contest was open to Intel India community members as well and generated a lot of conversations and engagement for Intel India.
What are the KPIs (Key Performance Indicators) you analyze to calculate your ROI?
We primarily look at the engagement that is generated through our content along with sentiment tracking for our brand and products on all forums. Our strong communities on Twitter and Facebook provide us with platforms where the brand messaging is shared along with insights derived from Intel's research on technology over the years, thereby driving a healthy engagement with the community at all times.
How do you integrate Social Media with your CRM processes?
Customer Service is always apprised of all conversations on social media that are related to products. We constantly monitor interactions and mentions on social media and all queries related to Intel products are immediately flagged off to the regional head of customer service. These queries and mentions are then responded to in a very timely fashion.
We try to ensure that the response time in such cases is kept to a bare minimum at all times. For that, we have identified and placed internal processes so that all queries are addressed to by the right person, sharing the correct information with our community members.
What social media tools do you use to monitor the conversations of the community spread over different social media platforms?
We use proprietary tools to check our activity across the digital platforms. Apart from the platform enabled tools like Facebook Insights, we use third party tools like SprinklR to keep a check and track of conversations and sentiments around Intel brand.
How does Intel India embrace technology to collaborate and engage with their internal team?
Intel's internal communications are fully integrated with our social media outlook and we keep conducting campaigns for internal stakeholders as well. Especially, the Jobs team and our Software group are active and use the medium to interact with the community regularly. We often share job openings at Intel on our social channels and utilize the reach of our community to shortlist the best and most innovative candidates.
Do you use Social Media beyond marketing purposes? Can you shed some light on this?
We see our online community as our brand evangelists. We believe in nurturing our relationship with them by keeping them updated with the latest news, innovations in technology space and interesting facts about technology in general. We share our knowledge with our community. In return, we get to learn a lot from them and in this process of sharing knowledge; we add value to their lives by adding to the knowledge pool of the entire community.
Please introduce us to the team behind Intel's social media efforts?
Every country that Intel operates in has individual teams that understand the pulse of the market and support the global social media center of excellence at Intel. At Intel India, we have dedicated resources managing social initiatives supported by a set of agency partners who help us achieve our KPIs.
Do you have any action plan in place for a social media crisis? If yes, what does it involve? If no, how do you plan to face such a situation?
Intel has a set of social media guidelines that we follow for every activity that we undertake on this media, be it a marketing activity or just a post. All of our agency partners are fully apprised of these guidelines and we conduct regular training for them to keep them updated on these guidelines and any changes that are introduced at regular intervals. We get to learn a lot from our online community.
Our interactions with them help us anticipate and stay prepared for a crisis situation that may arise. Therefore, as of now we have not had any social media crisis. In addition, we also keep a very transparent and focused approach to the media where we do not comment or speculate on competition or the industry and hence are able to maintain a regular and good social presence.
Any tips from you that can help B2B company to survive on social media.
In the ever evolving social media ecosystem, it is imperative for brands to share intriguing and relevant content, respond in a timely fashion and ensure a personalized engagement – these are the keys to success on social media. The idea is to create conversations and connect with consumers on a deeper level.
With the online community leading the way in two-way conversation with the brand, it becomes easier for the brand to learn and evolve into what the end consumer wants in terms of product innovation and services. Intel is taking note of the different social media opportunities, beginning to implement new social initiatives and will continue doing so going forward.
Key Takeaways:
Plan contests according to your content strategy
See your online communities as your evangelists
Nurture brand evangelists within the community who not only spread the brand's overall value proposition to the end consumer but also to the businesses who face these consumers.
For Social Media Customer Service, identify and place internal processes so that all queries are addressed to by the right person, sharing the correct information with the community members.