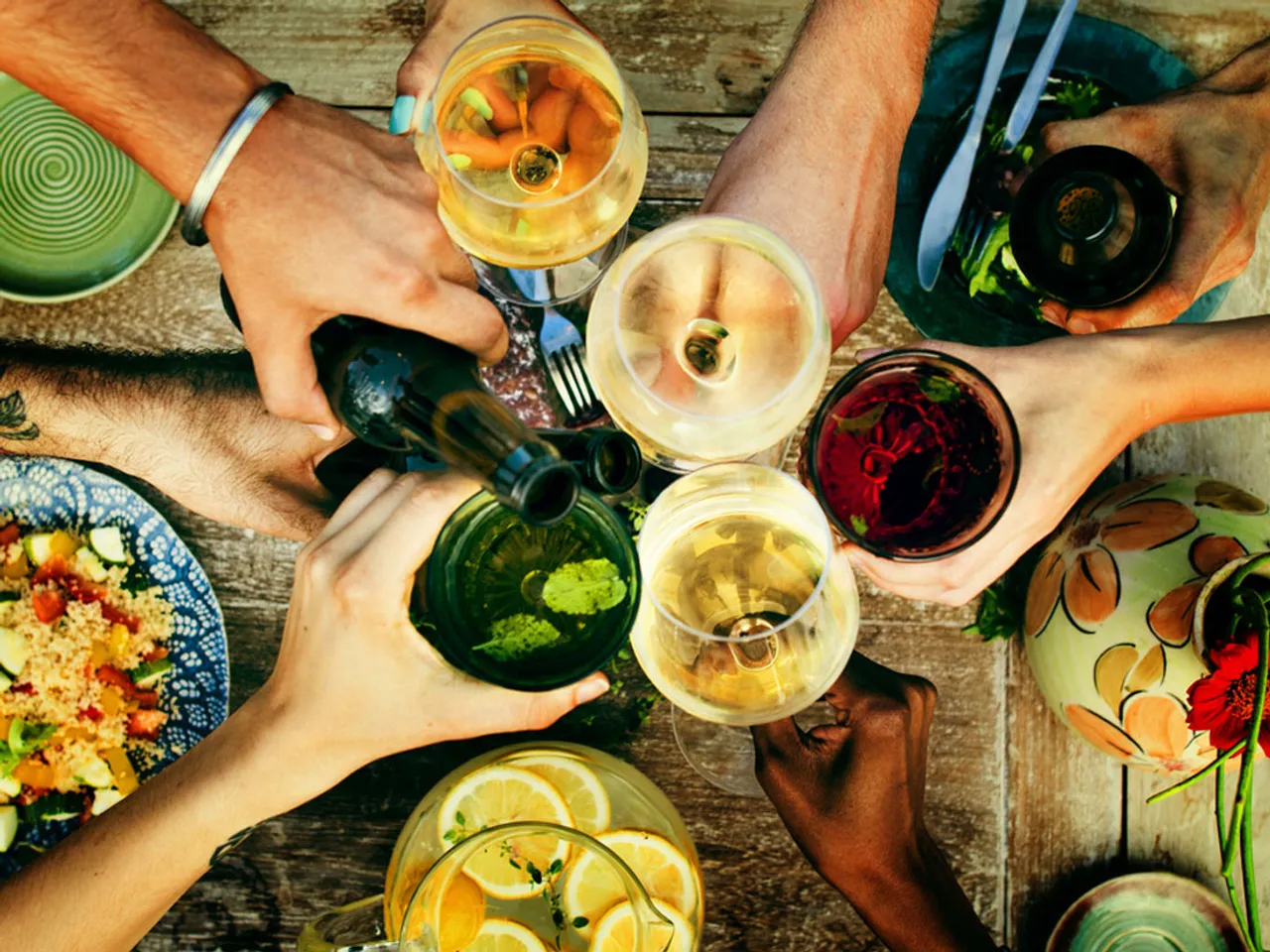 In a span of 3 years, Paper Boat has managed to carve a niche with, memories and innocence at the core of all their communication. Social Samosa takes a look Paper Boat's social media strategy, marking the high points and scope for improvement.
It was a hot summer day; Neeraj Kakkar, Suhas Misra, Neeraj Biyani, and James Nuttall, the founding memebers of Tzinga , the second largest homegrown energy drink, sat over lunch, discussing their product expansion plans. The air was somewhat tensed, since their prior idea of vitamin water hadn't materialized.
It was then that Misra decided to whip up some Aam Panna to go with the food. The idea stemmed from the sinfully satisfying raw mango drink that Misra's mother used to make. Four men, one aim, a lunch, and trip down he memory lane – that was the dawn of Paper Boat in the packaged beverage industry.
The Narayana Murthy backed beverage not only hustled the brew industry, but also, marked the revolution of storytelling across social media.
Kakkar time and again emphasized on innocence and nostalgia being the key factors of Paper Boat's communication strategy. Nonetheless, it is the compatibility of their precise brief and salient storytelling that makes Paper Boat's social media strategy stand-out.
Social mapping
Paper Boat hopped on the social bandwagon immediately after its launch. Since then, the brand has 237,258 likes on Facebook, with a rating of 4.3 on 5 and 2,503 followers on Twitter. Hector Bevarage's brainchild also, has a very strong Instagram game with 13.4k followers. They also have an interactive microsite that conveys the brand's statement – Life is (still) beautiful.
The numerical success can be attributed to a robust content strategy seamlessly integrated with campaigns and creatives.
The Facebook game
The nature of the product and a friendly brand voice that takes you down the memory lane, make Facebook one of the most important platforms for Paper Boat.
Within the first glance itself, Paper Boat's Facebook page takes you back to the textbook days  when animated characters dawned the book for pictorial representations.
Currently, Paper Boat seems to be following a theme of railway or train memories, in which consumers' ideas are converted into illustrations and shared on the page. Each creative represents childhood train instances such as checking weight on railway stations and counting tunnels during a journey. The theme has been adorning Paper Boat's Facebook page since early June and was executed parellelly with Ramzan and Eid as separate themes.
Most of the train related creative have over 3k likes, with some of them garnering as much as 8k likes and thousands of comments. Also, unlike most brands, Paper Boat's Facebook page isn't restricted to CRM and ORM purposes, but indulges in active conversations with its audience.
With the beginning of Ramzan, Paper Boat initiated fast, iftaar, and food oriented childhood memories. The posts garnered positive responses with users wishing Ramzan and appreciating the brand.
Team Paper Boat tends to revert on comments in a day's time and has a very human voice and expression. All of Paper Boat's Facebook communication reminds you of the friend you shared good moments with in the good old days.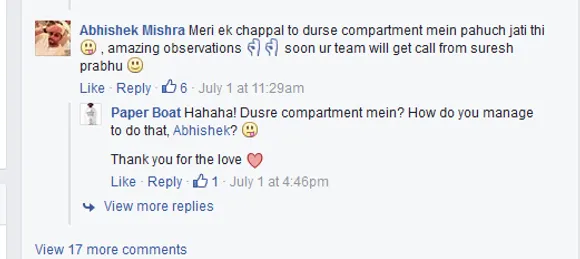 Paper Boat's Facebook strategy largely comes across as theme based – most of April and May saw Paper Boat's association with The Jungle Book at the heart of all communication. June was dominated by Ramzan and Eid, while July saw the railway theme.
Twitter nexus
Offering a Facebook like vibe, Paper Boat's Twitter account too shares the same content. The brand doesn't appear to follow any platform centric strategy for Twitter. The only difference I would say are the smartly cropped 140 character copies.
The train stopping in the middle of nowhere & us getting off! Thanks Saif Ur Rahman for rekindling that wanderlust! pic.twitter.com/lqBlhMExk5

— Paper Boat (@paperboatdrinks) July 19, 2016
Their tone on Twitter too marks a friendly attitude. Paper Boat's most reverts are casual and humane in nature, going beyond the basics of CRM that most brands follow. Twitter is also, Paper Boat's goldmine of user generated content, with consumers reaching out to them with images and conversations.
Thank you @paperboatdrinks for the goodie. The box is as beautiful as the drink. pic.twitter.com/6pvZscwilI

— Sambhav.J (@TheSambhav) July 19, 2016
Most of the tweets garner a couple of likes and re-tweets, giving an idea of the brand engagement through the micro-blogging platform.
Insta-strategy
Paper Boat has one of the strongest communities on Instagram; with 13.4k followers the brand has managed to weave an agile strategy with paid and organic reach.
As opposed to Facebook and Twitter, Paper Boat's Instagram boasts of tailored content and brand voice. The brand gives a sneak-peek of the company culture with innocence at the core. It also goes beyond their memories' proposition and speaks about relatable and trendy topics.
For instance, under the trains theme, in addition to the animated creative, Paper Boat rolled out a series of exclusive photographs revealing the special delicacy sold at every prominent Indian railway station.
These posts worked out well for Paper Boat garnering them a couple of 100 likes on every image. According to data by Unmetric, Paper Boat's image of the famous Vada Pav at the Pune Railway Station garnered the maximum (735) engagement and likes (734).
The train theme also worked well for the brand with #train garnering most engagement, recorded at 575, with 7,965 likes and 161 comments.
The brand also did a couple of posts around World UFO Day, exploiting the editorial freedom that Instagram brings along.
Paper Boat further rolled out a series of videos wherein the employees themselves are seen frolicking to various childhood memories such as playing Majority Wins and Ham Cheese Ham Burger.
A series on – The Economics of Pocket Money also fetched Paper Boat good engagement on Instagram. The creative in this series, depicted mathematical charts around how usually the pocket money was spent.
Paper Boat's Instagram strategy has been churning out great engagement and exposure for the brand. Data by Unmetric suggests hat, Paper Boat gained 1581 followers in the past 30 days, recording a growth of 13.3 per cent.
In an interview with Social Samosa, Kakkar once said – "Going to Instagram is like packing your bags for a day of fun and frolic at an amusement park. So we were prepped for an amazing ride. To keep this ride entertaining, we come up with relatable ideas that can be consumed without much stress and simply brings a smile."
Strong YouTube push
Paper Boat bets high on its agile content strategy. The brand is responsible for some great pieces of snackable video content. With a new release every occasion, Paper Boat has a flavor for every video, and a video for every memory.
The brand's Children's Day video, When I grow up garnered over 42k views, while the Mother's Day ad titled Mom, I am Fine recorded over 34k views.
While the brand has always taken pride in remarkable 20 seconders, the quality of the long format videos has improved over time. For instance, the quality of their recent long video campaigns – Hum Honge Kamyab and Rizwan is much better in terms of cinematography, scripting, and audio than the aforementioned campaigns.
A walk down the memory lane
While most of Paper Boat's campaigns have a strong social core, some of its most remarkable campaigns were out and out social.
In 2015, Paper Boat launched #FloatABoat, a cause oriented campaign aimed at fulfilling innocent wishes. The campaign called out to Paper Boat consumers, asking them to make a paper boat and upload its image on the brand's microsite or social pages. Paper Boat teamed up with West Bengal-based humanitarian service organization, Parivar and for every image shared for the campaign, the brand donated Rs. 20 towards children education.
Here's my little contribution to the #FloatABoat initiative by @paperboatdrinks as a part of my 365 days project pic.twitter.com/z4LkmNfiKQ

— K (@HolyyCow) August 4, 2015
That's how I #FloatABoat @paperboatdrinks https://t.co/I1d88oHa6a

— Mr Coffee Bean (@moreovercoffee) August 3, 2015
Paper Boat further released videos supporting the campaign – the first video featured parents learning to make a paper boat from their kids, while the other video was a tutorial by a kid of how to make a boat.
#FloatABoat was one of the most successful cause oriented campaigns of 2015. The YouTube video received more than 40k views, 231 boats were uploaded by July, 2015 and Paper Boat helped almost 805 children through the Parivar foundation.
The campaign's timing coupled with a supple social push, managed to create a subtle brand recall while achieving their objective.
The beginning of 2016 saw the launch of Hum Honge Kamyab – an anthem that featured entrepreneur-spirit by featuring the best start-up founders (including Paper Boat's Neeraj Kakkar) of the country. With hair-raising audio and awe-inspiring script, the anthem went viral across social platforms. The anthem garnered over a Million views on YouTube.
With both the campaigns - #FloatABoat and Hum Honge Kamyab, Paper Boat managed to connect with the viewers on a level much above the brand. With a little or no direct mention, Paper Boat managed to score big on content marketing with both the campaigns.
Rizwan, Paper Boat's latest video campaign marked a major shift in Paper Boat's communication technique. Rizwan was an amalgamation of Paper Boat's  marquee memories proposition with active storytelling – the video narrated a touching childhood tale with animation, narration, and strong human characterization.
Rizwan too, was a great social success with the video creating positive sentiment around the brand and recorded over 2 million views on YouTube.
Sailing smoothly?
From a bird's eye perspective, Paper Boat is performing consistently with creativity across social platforms. Memory based communication, gets most users to share their own golden moments, creating engagement and positive sentiment.
A core theme also helps the brand create a centralized brand voice (innocence and nostalgia) across platforms which works exceptionally well for Paper Boat. Their TVCs and social communication too are well integrated, allowing the brand to go beyond linear storytelling on social media.
The high points of their marketing strategy would be apt understanding of content marketing, with all their communication being theme based that would resonate with their audience and their Instagram efforts. Paper Boat's pictorial journey on Instagram is fresh, as the brand experiments in content formats and themes.
On the flip side, content on Paper Boat's Facebook and Twitter streams is exactly the same which somewhere doesn't serve the purpose since the nature of engagement on both the platforms is extremely different. While Facebook  gets appreciation and personal experiences, Paper Boat's Twitter handle receives a lot of images and other forms of UGC.
Having created a niche for themselves, the next natural step for Paper Boat would be to own and create a property that their users can connect with. Paper Boat has earned its place on social media, now would be the right time to own it.