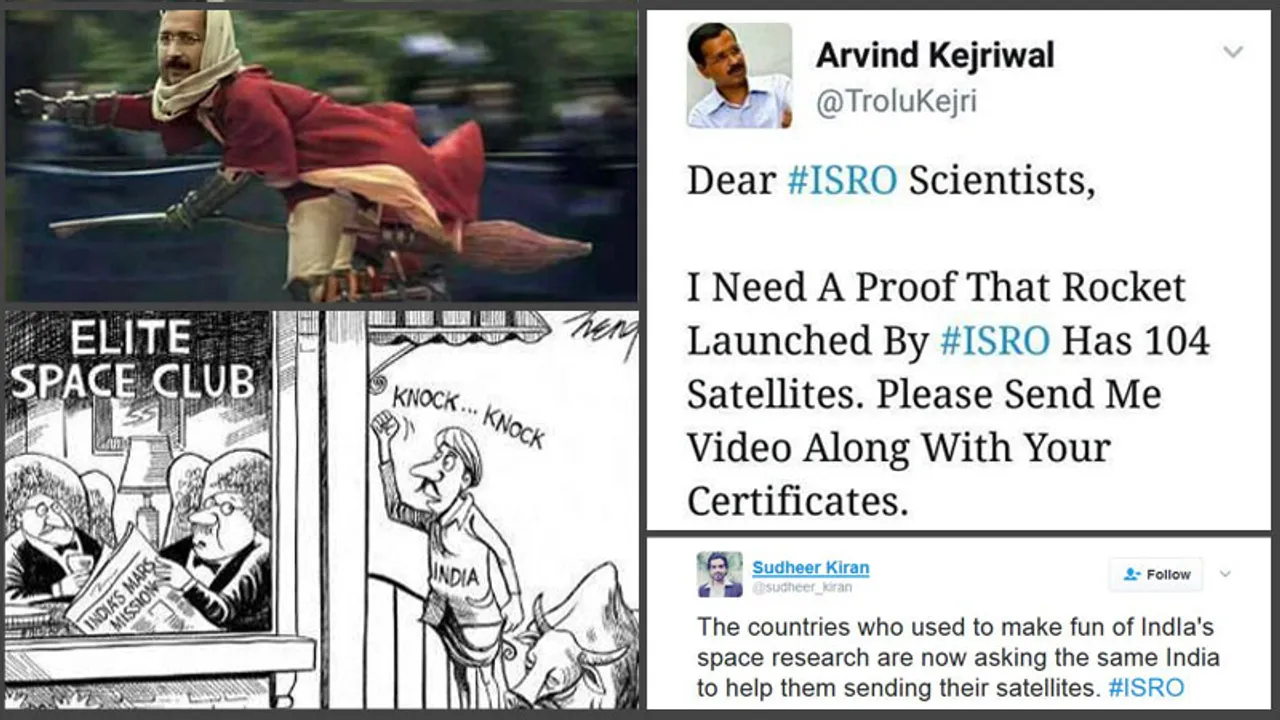 The Indian Space Research Organization or ISRO have forever etched the names of their organization and that of our country into the record books, having every Indian citizen beaming with pride. The #ISRO hashtag has not stopped trending since the morning as we launched 104 satellites into space, AT ONCE!
And when the entire world was forced to stop and take notice of this magnificent achievement, the culmination of years of hard work, dedication, and perseverance, Twitter as usual, did their own thing.
Using this historic moment as a template, Twitterati flooded the platform with some hilarious tweets and memes aimed at regular favorites Rahul Gandhi and Arvind Kejriwal and much more. Check out some of the funniest tweets that we encountered.
1. *slaps knee* *falls off chair* *continues to laugh*
Amitabh Bachchan requesting #ISRO to successfully launch Abhishek too. pic.twitter.com/9ODcbqnr13

— Pakchikpak Raja Babu (@HaramiParindey) February 15, 2017
2. Mute kar do Babu Bhaiya!
Congratulations #ISRO for making history!! 104 satellites in single mission..Enjoyed live telecast.. best thing- No Ravi Shastri commentary

— Paresh Rawal fan (@Babu_Bhaiyaa) February 15, 2017
3. What the…..
#ISRO का एक और सफल प्रक्षयेपन?? pic.twitter.com/Li2es2fpU1

— _1nd1an__ (@1nd1ann) February 15, 2017
4. Upar dekho ?
#ISRO #PSLV #Kejriwal pic.twitter.com/nBP2dRu8B6

— #SHIVOHAM (@sharng_) February 15, 2017
5. Damn right!
The countries who used to make fun of IndIa's space research are now asking the same India to help them sending their satellites. #ISRO pic.twitter.com/7IQZ7rj8hH

— Sudheer Kiran (@sudheer_kiran) February 15, 2017
6. If you travel by local trains, this is going to leave you with mixed feelings.
Are bhai thoda aur andar ho jao ek satellite aur aa jayegi ~ ISRO#ISRO #WorldRecord

— Shashank Shukla (@IamSwashank) February 15, 2017
7. *controls urge to make Bong joke*
Meanwhile at ISRO office

Bengali scientist : launch kiya?
Everyone : haan
Bengali scientist : okay mai akela canteen jaata hu phir

— Pakchikpak Raja Babu (@HaramiParindey) February 15, 2017
8. *flashbacks from childhood*
#ISRO#IsroMadeHistory pic.twitter.com/qA2T0FVTKl

— Gitanjali DS (@Gitanjali_DS) February 15, 2017
9. *cue Thug Life music*
Congratulations ISRO, you glorious rockstars! pic.twitter.com/6jqASVlSLb

— All India Bakchod (@AllIndiaBakchod) February 15, 2017