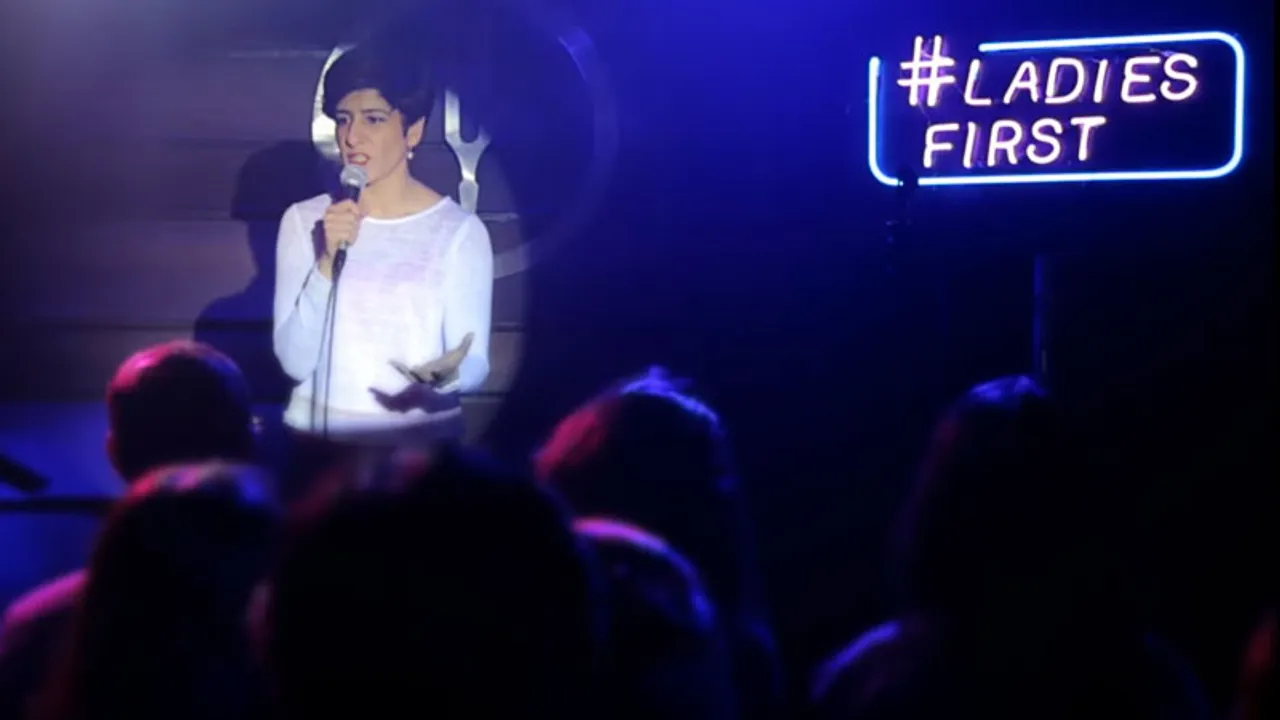 Taking one for the team, American actor Devon Werkheiser once claimed, "Sometimes I wish the girl would make the first move."  Tackling this issue of women shying away from approaching the person they're interested in, Shaadi.com's campaign features stand-up comedian Neeti Palta bringing this issue to our notice with #LadiesFirst.
Making the first move
How many times do you see women making the first move? Almost never! Or to be precise, the matrimonial portal shared that only 25% of the women make the first move while 75% it's the men going first.
Indulging in humor to put forth this message, the brand looped in stand-up comedian Neeti Palta who performed in front of a live-audience, tickling everyone's funny bones around the topic of why women should make the first move and putting out the question, why not #LadiesFirst?
Through her performance, she even addressed the social issues where women who usually do try to make the first move are labeled as being too fast or having a "loose" character. Nevertheless, putting an end to all these speculation and societal borders, she encouraged women to go ahead.
Social media showdown
Already gaining a total of 169, 290 views on Facebook, along with over 4.8k reactions and more than 1200 shares, the video managed to garner attention.
To add on to the buzz, Twitter became a portal where the campaign was extensively nurtured with the contest held by the brand where ladies had to tell why making the first move is great!
RT Final 50 minutes left for our grand #LadiesFirst contest to end.Tell us "Ladies making the first move in a relationship is great because" pic.twitter.com/iFA1ODtrQf

— Shaadi.com (@ShaadiDotCom) February 28, 2017
@ShaadiDotCom #LadiesFirst we can't pretend that airplanes in the night sky are shooting stars. We done depend. We achieve what v want.

— The Red Lipstick. (@D_KohlEyedChic) February 28, 2017
Make hay while the sun shines
Propose with a ring, it's all right and fine@ShaadiDotCom #LadiesFirst

— Kashish (@karmagal91) February 28, 2017
@ShaadiDotCom This is great because then it also gives him some confidence when He make the "second" first move. #LadiesFirst

— Satnam ? (@imSatnam_) February 28, 2017
@ShaadiDotCom Because Women who are go-getters get the better men! #LadiesFirst pic.twitter.com/98DitYsQjq

— Ruchelle Fernandes (@ruchferns) February 28, 2017
@ShaadiDotCom #Ladiesfirst pic.twitter.com/31iXmYzoHP

— Sana (@SanaTokre) February 28, 2017
This time the brand enticed their viewers to participate in this women centric campaign, which looked at empowering them to break social norms. The campaign received an overwhelming response on Twitter with active participation of the followers.
Brand ideology
Considering how the brand has evolved itself challenging the social stigmas attached with marriages, Shaadi.com has dealt with dowry issues with their #NotForSale campaign by their CSR wing ShaadiCares, where the matrimonial site got men to come out and address how they're not for sale. This far-reaching campaign engaged audience with their 'Dowry Calculator' as a sardonic approach to this campaign
Prior to that revolution called #FastForHer was witnessed through their digital endeavors whereShaadi.com promoted equality in marriages by dealing with the customary 'Karwa Chauth' where women are expected to fast for the long life of their husband, and urged men to do the same for their partners.
The difference this time with #LadiesFirst is that they brought in a comparatively contemporary approach to weddings. By looping in a stand-up comedian, the brand looked at the youngsters as their focal target audience and spoke about more relatable issues to the urban crowd who do not face the issues of dowry or fasting at large.
#LadiesFirst held an outlook that looked beyond marriages and in general spoke to women about making the first move, which was at distance to the traditional views or even the traditional campaign Shaadi.com has conducted before.
Going beyond the norms of their ideology but yet sticking to the trends of leveraging a comedian for their brand Shaadi.com's campaign was engaging, valid and relatable. Yet, as we saw very recently how Sprite's #FakeOff with comedian Papa CJ was on very similar lines, as far as the format is concerned, the brand did not do justice to their image of maintaining individualism and innovation.