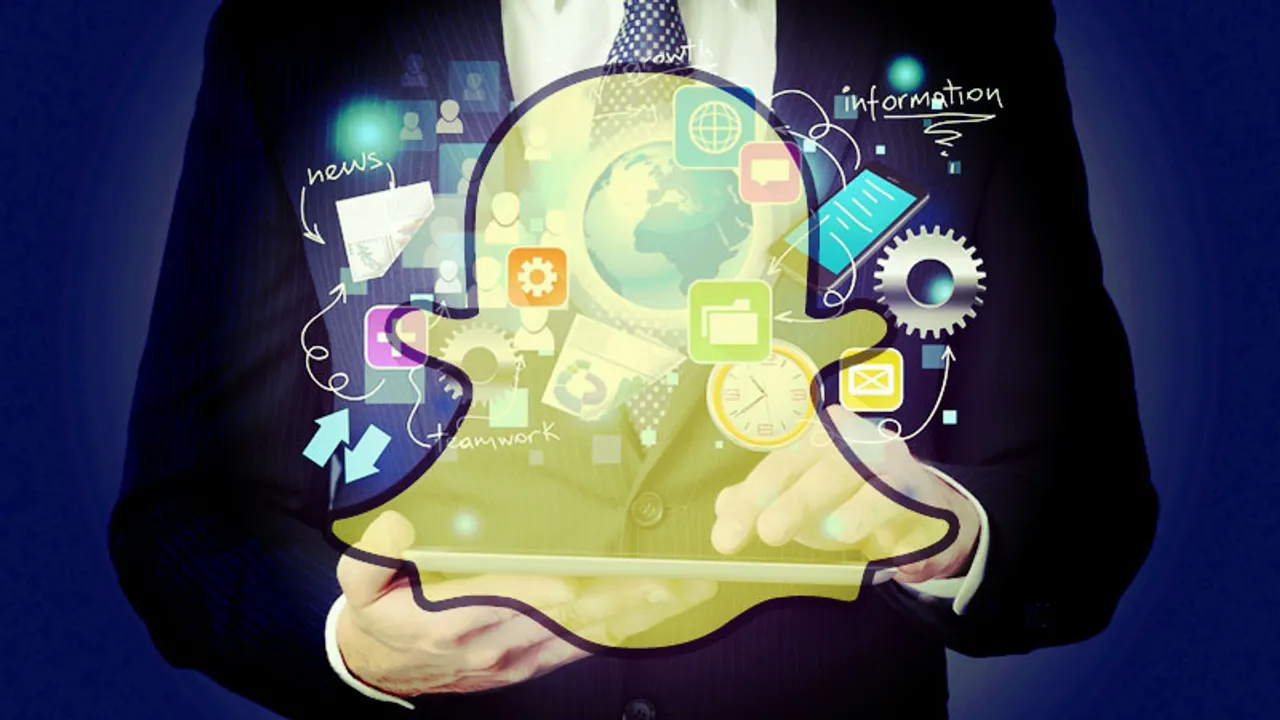 Quickly turning the social media platform trident formed by Facebook, Twitter and Instagram, into a four horse race, Snapchat has grown steadily with more than 166 million daily active users all over the world, registering a net worth of $16 Billion, turning Snapchat marketing into an attractive prospect.
Withstanding an enormous amount of pressure and competition from Facebook and their family of apps, Snapchat has reinforced its position as the undisputed champion of social media platforms for millennials. Snapchat's USP are their iconic and creative filters, and its well guarded privacy factor which keeps user interaction playful and interesting. Brands today, are no longer oblivious to Snapchat marketing.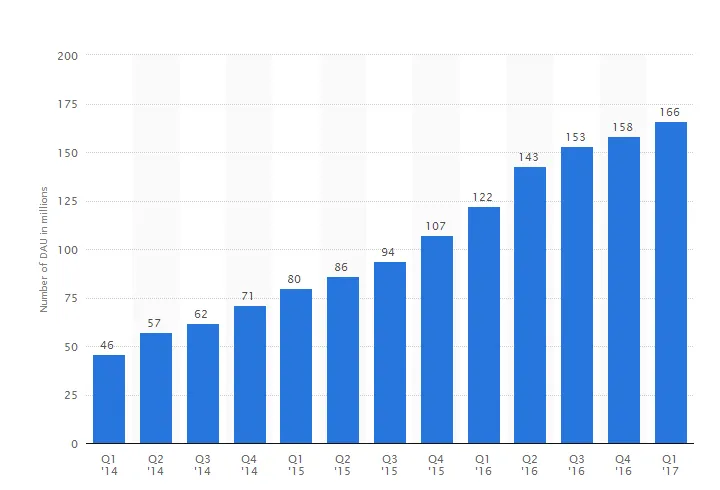 With over 166 million users worldwide, Snapchat is one of the biggest social media platforms. Source : Statista.com
Businesses that at first dismissed Snapchat as a passing trend, have stopped and taken notice of Snapchat's appeal among the youth with almost a third of their users belonging to the age group of 18-24 years. Snapchat too worked with a select number of brands but that has changed.
Both Snapchat and businesses have realized the need to work together, and the platform has opened the floodgates for more advertisers and smaller businesses with the Snapchat Ad Manager and a Mobile Dashboard.
Brands surely have begun to take notice and carve Snapchat into their social media marketing strategy, although most brands fail to tailor their approach, keeping in mind, Snapchat's ephemeral qualities and versatility as compared to the other big three of social media platforms.
1. Add a human touch
The first and foremost error that big brands are prone to, is creating ads that are too mechanical, or 'made up'. Whereas the Snapchat audience loves raw content, with a personal and human touch, something that makes them feel connected to an image or a short video captured from a person's point of view.
Sneak peeks into the workplace, or behind the scenes action from a photoshoot, or during the creation of an otherwise larger campaign makes your Snapchat audience connect with your brand, and makes it more likely for that connection to spill over into buying behavior when faced with the prospect of choosing your business over a competitor.
Creating a fond impression of your brand name in the mind of your audience through Snapchat is perhaps one of the major advantages that the platform offers.
2. Influencers are key
Millennials are more inclined to follow the behavior of their favourite celebrities, artists or sportspersons, and they are Snapchat's most loyal user base. Roping in an influencer such as a Cristiano Ronaldo, or a Justin Bieber (if revenue is not a stumbling block), or niche influencers and rising stars such as the 'Cash me ousside' girl, who became an overnight social media sensation due to one phrase.
In India, standup comedians and web series stars have gained tremendous popularity in the last couple of years. Tanmay Bhat, Biswa Kalyan Rath, Sumeet Vyas, Mithila Palkar, Manvi Gagroo, Nidhi Singh all remain highly popular among the youth, and are very accessible to work with.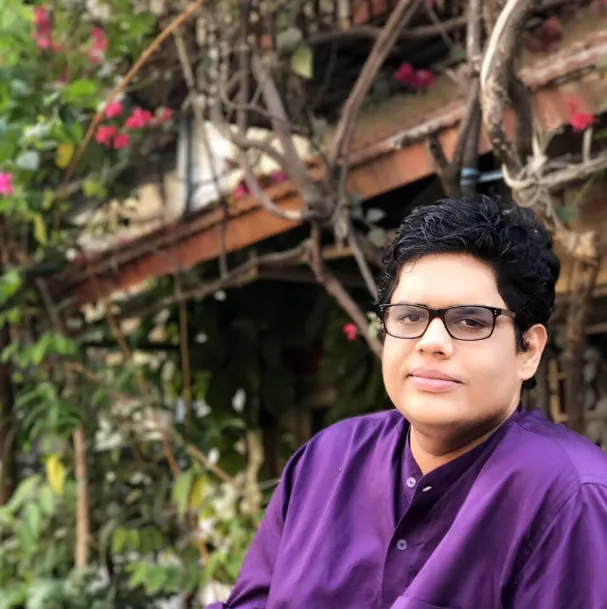 Marriott recently carried out a Snapchat campaign in order to revive their sagging popularity among millennials, majority of whom prefer Airbnb. For their campaign, Marriott collaborated with influencer Jen Levinson, who explored Berlin, and the many culinary delights it had to offer. Source
Jen Levinson is a popular social media influencer with 68.9k followers on her Instagram account. Depicting her journey through the streets of Berlin, trying out different dishes, Jen Levinson reached out to millennials on Snapchat and promoted Marriott's services every now and then.
3. Don't just stay confined within Snapchat. Use CTA to convert
You're promoting your brand on Snapchat with filters and other engaging Snapchat activities, and that is great, but are you converting brand recall into sales or store walk ins?
A number of brands promote deals and discounts through Snapchat, and millennials do love a good bargain. Add a CTA to make sure you reap the benefits of the buzz you just created, by asking your audience to visit your website or your store. Discounts, promotional offers, contests and many more engaging activities on Snapchat are the perfect way to reach out to your audience, and also see results beyond recall.
4. Promote your social media accounts & talk to your audience, don't talk at them
Snapchat users have always complained of one persistent problem, not being able to find new accounts without Snap usernames or QR codes. To make sure your Snapchat audience knows how to find you, share your brands' Snapchat username, or Snapchat QR Code on all your social media profiles like Facebook, Twitter and Instagram.
More than 52% of Snapchat's United States audience belongs to the 18-34 year age group, with a major chunk, 28.5% belonging to the 18-24 year age group, which is A LOT.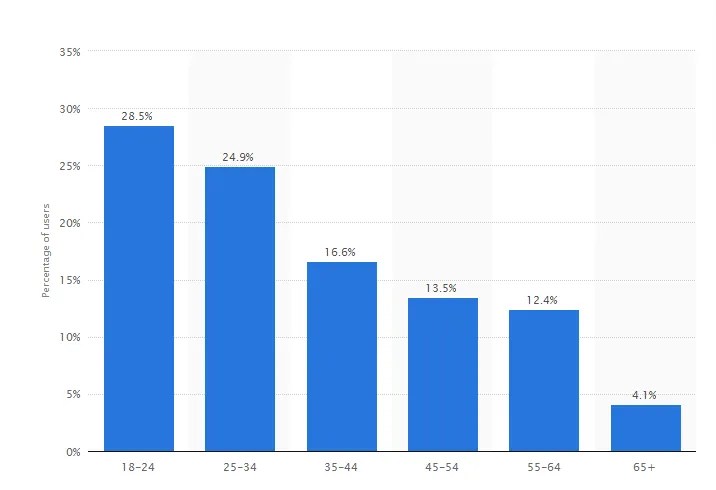 Source : Statista.com
Always remember, conversation is a two way street! So do not go on posting images and videos without trying to talk to your audience. Engagement is achieved when you truly engage with them, by asking them questions, replying to theirs, and keeping things conversational throughout. You have to be a friend, not a corporation in their minds.
BuzzFeed, Comedy Central and iHeart Radio are some of the most popular brands on Snapchat's Discover in the United States. All three brands maintain a youth friendly tone with their Snapchat marketing content.
5. Use Analytics to tweak your approach, and gauge your performance
Take advantage of the tools at your disposal to truly know your audience, and whether or not they find your posts interesting. Although devoid of Facebook, or Twitter's comprehensive analytical tools, Snapchat does offer useful insight that can unearth valuable information for your brand's Snapchat marketing strategy.
How many people viewed your brand's Snapchat story, how many of them took screenshots, and number of Snapchat followers who viewed the story to completion will yield a greater understanding about what is working, and what isn't.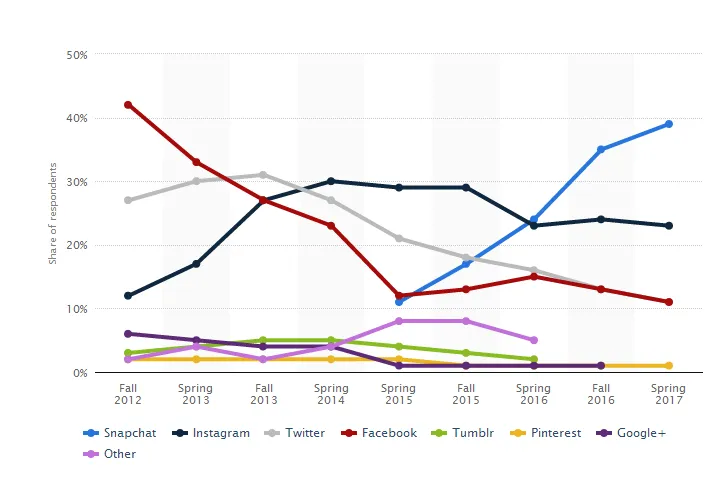 Source : Statista.com
Teenagers in the United States have crowned Snapchat as one of the most important social media apps, above all other apps, and Snapchat has not seen a dip in its popularity since Spring 2015. Teenagers back in the Indian urban areas too are a Snapchat loyal user base, and this is precisely why the formidable minnow in the social media realm needs to feature more prominently in your brand's social media strategy.