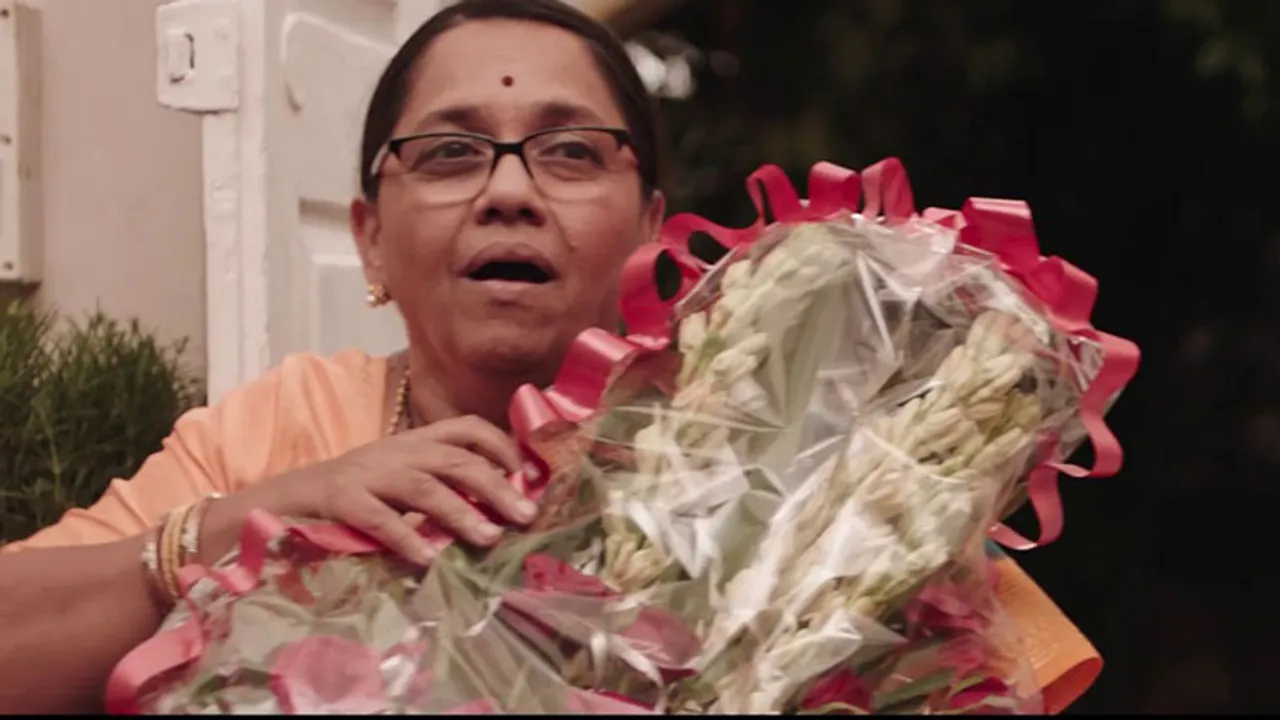 Social Samosa takes a look at the second leg of Amazon India's #MomBeAGirlAgain with expert opinion. 
We know that being a mother is not easy; it often involves silently sacrificing your dreams and passion for the sake of your children and family. What if, one day, these children play an instrumental role in taking their mother down the memory lane and helping her discover the little girl which she once used to be, won't life be beautiful?
After a highly successful campaign last year that garnered nearly 20 million views across social media platforms, Amazon is back with their new rendition of #MomBeAGirlAgain campaign series.
Conceptualized by What's Your Problem Brand Solutions, #MomBeAGirlAgain encourages viewers to help their mothers relive their childhood memories. Comprising of two videos, the first film features a retired woman being reintroduced to her love of music by her childhood friend. It has clocked more than 2 million views on the brand's YouTube channel.
The second one is about a daughter who discovers from her school coach, a new side of her mother. The video crossed a whopping 12.9 million views on YouTube in a short span. It is a 360 degree integrated campaign; the films are being aggressively pushed on radio and on social media.
Amazon India's Creative Insight
Ravi Arun Desai, Director, Mass and Brand Marketing, Amazon India said, "Giving up a passion or interest may not seem like a big sacrifice. But it's not just an interest they give up. They give up something they love to do, a way to relax, recharge and connect with self. They give up a part of themselves! And often, there's limited acknowledgment. This insight led us to our big idea. Or rather some big questions: Is there a way women have to make fewer sacrifices, not give up the things that bring them joy? Shouldn't we, their loved ones, acknowledge their sacrifices, thank them?"
With #MomBeAGirlAgain the brand aims to connect with people on an emotional level and encourage them to help the women in their lives, and their mothers re-discover the joys of their childhood.
Highlighting the creative idea, Amit Akali, Managing Partner & Creative Head, What's Your Problem said, "This is not just a campaign. It's a movement or a clarion call to mothers to welcome their passions and go back to being their little self, to again become the 'Tuffani, Gudia, Golu' they were. It's an appeal to their families to encourage mothers to embrace their pet names and their little girl selves. And it's not just films. In keeping with the What's Your Problem approach, we're reaching out to women through which ever medium relevant, be it radio, digital activation, social media, influencer programs, YouTube mastheads, etc."
Digital Footprint
Amazon has gone all out on social media. The e-commerce brand tapped on Terribly Tiny Tales' (TTT) network, creating a native push for their campaign.
Amazon India further partnered with Humans of Bombay, sharing the story of a real mother and daughter, with the former sharing her inspiring tale of breaking barriers and pursuing her childhood dream.
Social Verdict
The films are being appreciated on social media and seem to have touched the right chord with the audience. Below is an excerpt of few conversations: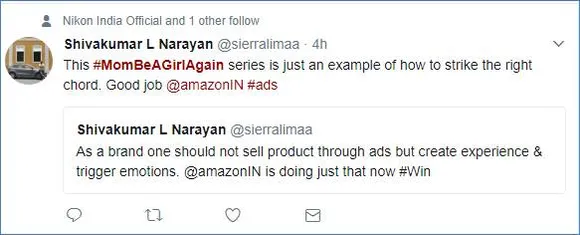 Expert view:
Jagdeep Kapoor, Chairman, and Managing Director, Samsika Marketing Consults was in all praises for the campaign.
In Kapoor's opinion, "The series of ads are heartwarming and nostalgic. They bring out an emotional appeal between mom, kid and her family, and in the process gives a halo effect to the brand. The execution of the TVC enters the heart of the viewers and the brand Amazon effectively stays in the mind of the consumers."
#MomBeAGirlAgain
Towards the second half of 2016, Amazon launched their #MomBeAGirlAgain campaign to celebrate mothers and help them discover the young girl they once were, urging them to follow passions and hobbies which got crushed under responsibilities. It was designed based on learnings of the social campaign
#WhenAWomanShops, which highlighted that "we think women love to shop. But they shop to love". The fact is women, are always thinking about their loved ones before their own needs.
#WhenAWomanShops, which highlighted that "we think women love to shop. But they shop to love". The fact is women, are always thinking about their loved ones before their own needs.
It is great to see, how the brand has successfully managed to extend the proposition of #MomBeAGirlAgain this year as well. The best part of these series is that the products are subtly integrated into the storyline, without appearing on the face.
Amazon campaigns have always connected well with the consumers because of the very relatable and mass insights which the brand usually takes and #MomBeAGirlAgain is no different.