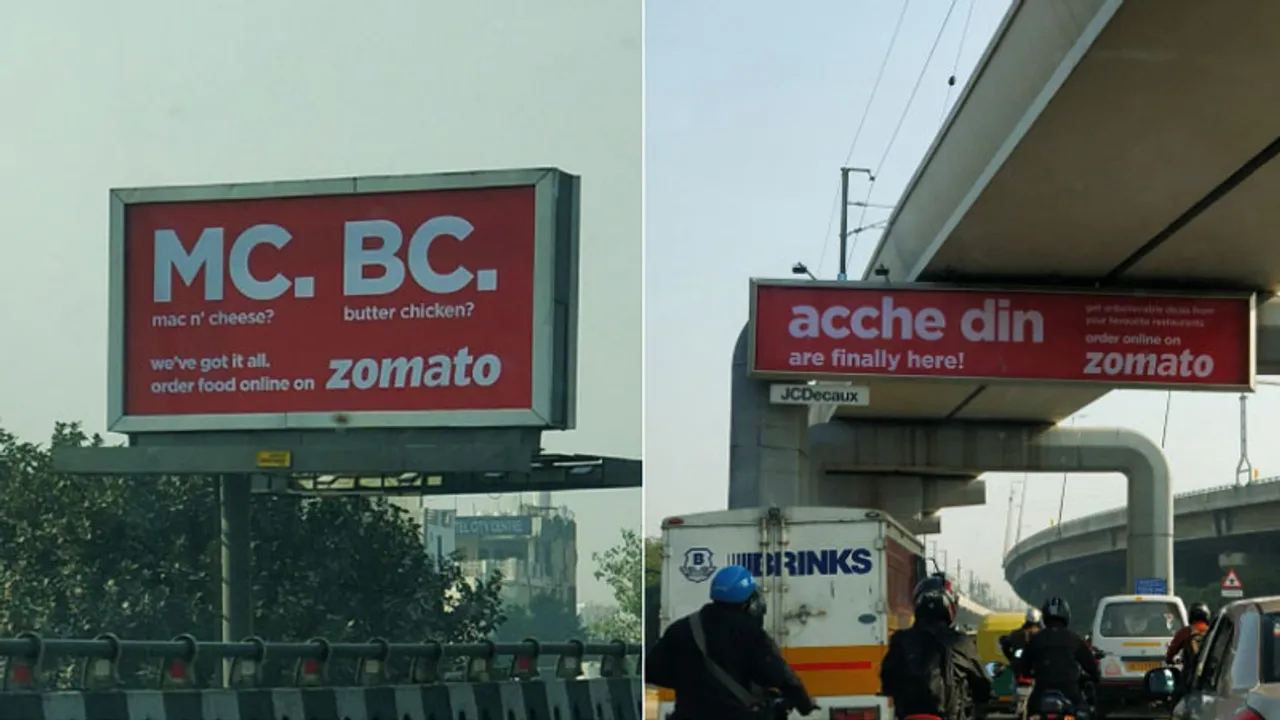 The recent Zomato OOH Campaign has managed to scandalize the industry once again. Sexist or not, the campaign is grabbing eye balls left, right, and center.
If it's been two years and Zomato hasn't come out with a tantalizing campaign, know that something is wrong! But, fortunately not this time, as the food order app went all out with their creative OOH campaign and managed to offend a whole lot of consumers. Already. Yes, Zomato OOH Campaign is the talk of the town.
Unless, you haven't exited your house at all since the past two days, you must have seen the MC, BC, and other such quirky OOH ads from Zomato around you. In this case of course, MC means Mac n Cheese and BC is Butter Chicken. It was followed by a number of other pop culture references, including – Rajini Can't, We Can, Don't know how to say Bolognese? Oonchi hai building, lift teri bandh hai?
Funny mostly, but the MC, BC creative didn't seem to go well as people across the city have taken to Twitter to express their discomfort around the sexist copy. Most flak is centred around the fact that as brand leaders, Zomato should have been more responsible by not normalizing such sexist abuses.
Wish @ZomatoIN would invest more in customer service than ads!
Your app doesnt give live updates FYI, the code is broken just like your automated customer support!#PoorMarketingGimmicks #Zomato

— Divya Sharma Dixit (@StrategistDivya) November 29, 2017
.@deepigoyal this is in real bad taste. It's not clever, it's derogatory. u are a family brand! @buzshilpi https://t.co/JdwSv1j7Aa

— Manish Sinha (@mannsinha) November 29, 2017
What do you say to such a sexist ad....young brands should set an example and not display complete insensitivity to 50% of the population... legitimizing the wrong increases and justifies crime against women. #Sexist advertising #Zomato pic.twitter.com/oVJsmaemwK

— Param Kaur (@param_kaur) November 30, 2017
#Zomato tastes #Poor after this ! https://t.co/pYeXbHJRN2

— Sagnik Ghosh (@sagnikghosh) November 30, 2017
Cheap. Very very cheap. #Zomato pic.twitter.com/ixTjlHnuKI

— Rashmi Putcha (@RashmiPutcha) November 30, 2017
Expert Take
Industry experts too have hinted that Zomato crossed the fine line between creative and appalling, which puts the campaign in bad taste.
The line between irreverent and irresponsible advertising is often a thin one.

This one crosses the line for me. pic.twitter.com/xDENiDakFh

— Ashok Lalla (@ashoklalla) November 29, 2017
The new Zomato outdoor ones are all cool, except the MC/BC one, IMO. Why even have an oblique reference to an abuse & which demeans women

— bhatnaturally  (@bhatnaturally) November 30, 2017
Having said that, there were a number of them who appreciated the creativity for what it was and moved on!
Hee Hee. Cute ad @Zomato. Pretty much my kinda thinkin pic.twitter.com/qoO7IJ7mc3

— Isha (@ishabhansali_) November 28, 2017
Zomato is killing it with their hoardings. Neat ?? pic.twitter.com/WTYfw4DJkS

— Jayesh Ughade (@jayeshughade) November 28, 2017
Outdoor advertising done right @Zomato pic.twitter.com/QeXnqUSMis

— Kunal Mehta (@livingonedge) November 28, 2017
A competitive marketing strategy?
While the online food delivery industry in India, went up by 150 per cent in 2017, so did the number of players, increasing the competition. UberEats entered the Indian markets earlier this year. While Zomato crossed the 3 million monthly food orders mark this year, Swiggy too has been catching up fast with 100,000 orders every day. Another brand to have given tough competition to Zomato has been Foodpand, the brand with immense funding that has been baking on Shahrukh Khan's popularity as a part of their marketing strategy.
With competitors quickly rising, Zomato has always followed the quirky route to stay relevant for the new age audience.  This isn't the first time Zomato has managed to scandalise commoners and the industry alike. Quick flashback, in 2015, the app based company advertised on leading porn sites to leverage the obvious combination of good sex – good food.
Not to imply anything, but the brand has been looking out for Lawyers to hire in their legal team.