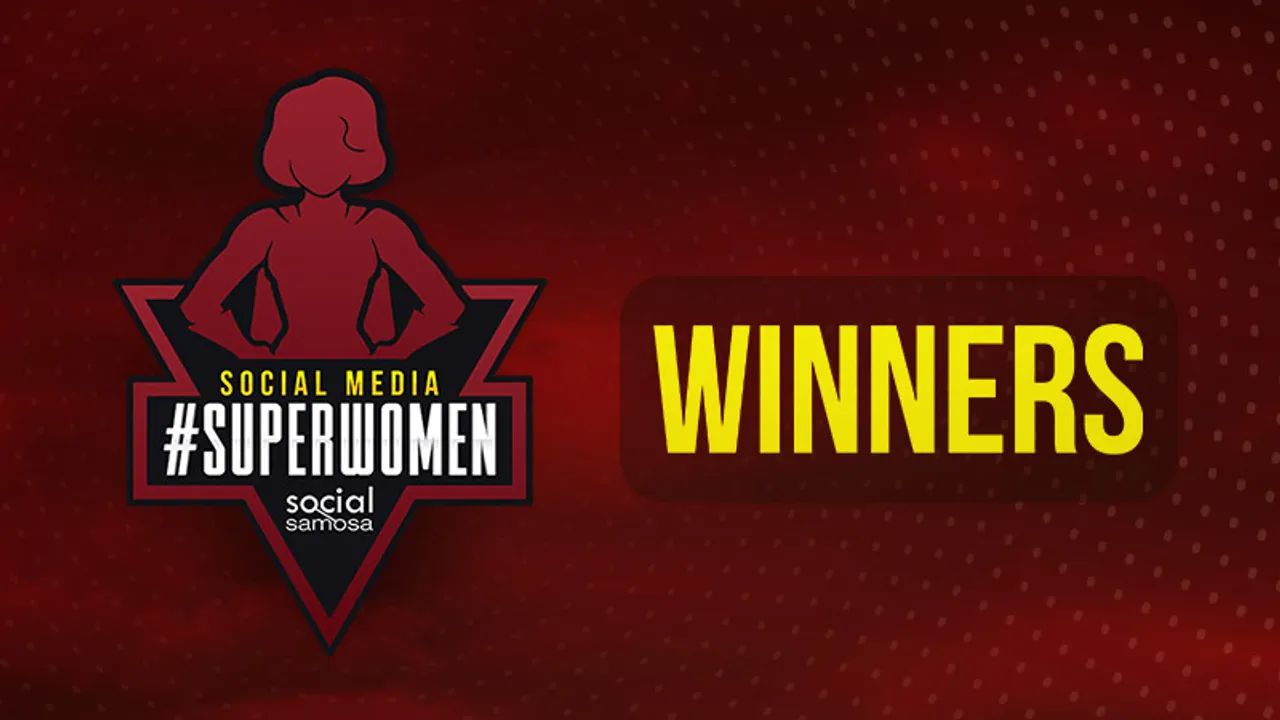 Behold! It is time for a round of applause, admiration and acknowledgement for all the Social Media Superwomen 2018.
The momentous and esteemed occasion of International Women's Day reckons the arrival of Social Samosa's Social Media Superwomen of 2018, our annual drive of commendation for all the accomplished and ambitious women in the industry,
The culmination of an intense and thorough search for some of the most respected professionals, Social Samosa is proud to present the women who have delivered a tangible and indisputable impact on the industry through their work.
Branched into five broad categories; Agency Professionals, Media Leaders, Brand Marketers, Entrepreneurs and Bloggers, these Social Media Superwomen have owned their respective professional fields in the past year and deserve to draw the accolades for it.
Presenting, the Social Media Superwomen of 2018!
Bloggers/Creators
Chef Reetu Uday Kugaji, Food Consultant, Specialty Chef, Food Author & Blogger
Kamiya Jani, Editor-in-Chief, Curly Tales
Mounica Tata, Freelance Illustrator and Cartoonist, DoodleoDrama
Nandita Iyer, Author & Blogger, Saffron Trail
Parnashree Devi, Founder, My Travel Diary
Radhika Bose,  Founder, Yogasini
Rohina Anand Khira, Founder, AA Living
Rukmini Ray Kadam, Editor & Founder Trumatter
Alicia Souza, Illustrative Designer
Malini Agarwal, Founder & Blogger-In-Chief, Miss Malini
Shifa Merchant, Founder, Sassy Shif Says
Brand Marketers
Prachi Salvi, Manager Innovations| Digital Banking| Social Media| Digital Marketing| Brand Communication- HDFC Bank
Priyanka Bhargav, Associate Director & Head - Consumer Research & Insights /Corporate Communications/PR
Myntra
Ankita Chawla, Head of Brand Marketing, ShopClues
Smriti Jain, Manager - Marketing ,  Yatra Online
Junita Bhatia, Marketing & Brand Solutions, ALTBalaji
Shivani Suri Senior Director - Marketing, Flipkart
Entrepreneurs
Anoushka Adya, Founder & Partner, Di-Mentions Studio
Bhairavi Sagar, Director, Onion Insights
Gunjan Aggarwal, Co-Founder, eSquared
Khushboo Jain, Founder & COO, Impact Guru
Payal Gupta, Food Stylist and CEO, Chef Payal Gupta, Foodstyling
Swati Nathani, Co Founder & Chief Business Officer, Team Pumpkin
Zahra Khan, CEO & Editor In Chief, Hauterfly
Sairee, Founder & CEO, Sheroes
Pooja Dhingra, Founder/CEO, Le 15 patisserie
Richa Kar, Founder, Zivame
Karishma Mehta, Founder, Humans of Bombay
Aditi Gupta, Co-Founder, Menstrupedia
Agency Professionals
Manika Juneja, AVP - Operations, WATConsult
Mitchelle Rozario Jansen,  Senior Account Manager, WATConsult
Piali Dasgupta, Creative Director, Publicis Groupe
Prachi Karan, Media Director - West, Isobar
Priyanka Mestry, Associate VP - Design, Social Kinnect
Rachna G Ganatra, Head of Strategy & Business Development, Social Beat
Rubeena Singh, CEO, iProspect
Shradha Agarwal, Co-Founder & COO, Grapes Digital
Surbhi Arora, Group Creative Strategist, WATConsult
Charu Gupta, Business and Influencer Marketing Group Head, Wavemaker
Hurlene Kharbanda, Associate Group Head, GolinOpinion (a division of PointNine Lintas)
Prachi Bali, Business Head - North, FoxyMoron
Shailja Kaushal, Brand Solutions Manager - Video Strategy & Data Insights, Vidooly
Supriya Srivastav, Founder- Purplefilter
Media Leaders
Bhavana mittal, Head of Media, Digital & Communication, RECKITT BENCKISER
Priyanka Shah, Director - Mobile, Isobar
Soumini Sridhara Paul, VP, Hungama Digital Entertainment
Vrutika Dawda, Director, IdeateLabs
Rega Jha, Editor, BuzzFeed, India
Shradha Sharma, Founder & CEO, YourStory
Pooja Sareen, Editor - in - Chief & Co-Founder, Inc42
The winners were selected by tedious evaluations done by our esteemed jury panel, including Falguni Vasavada Oza, Strategic Marketing Area Chair, Online Programs MICA; Delna Avari – Consultant | Mentor; Charulata Ravikumar – Advisor, Entrepreneur, Columnist, Mentor & Always Curious; Neena Dasgupta – CEO & Director at Zirca Digital Solutions and Shormistha Mukherjee Co-Founder and Director at Flying Cursor Interactive.
Social Samosa wishes all the superwomen around the globe a very happy International Women's Day!