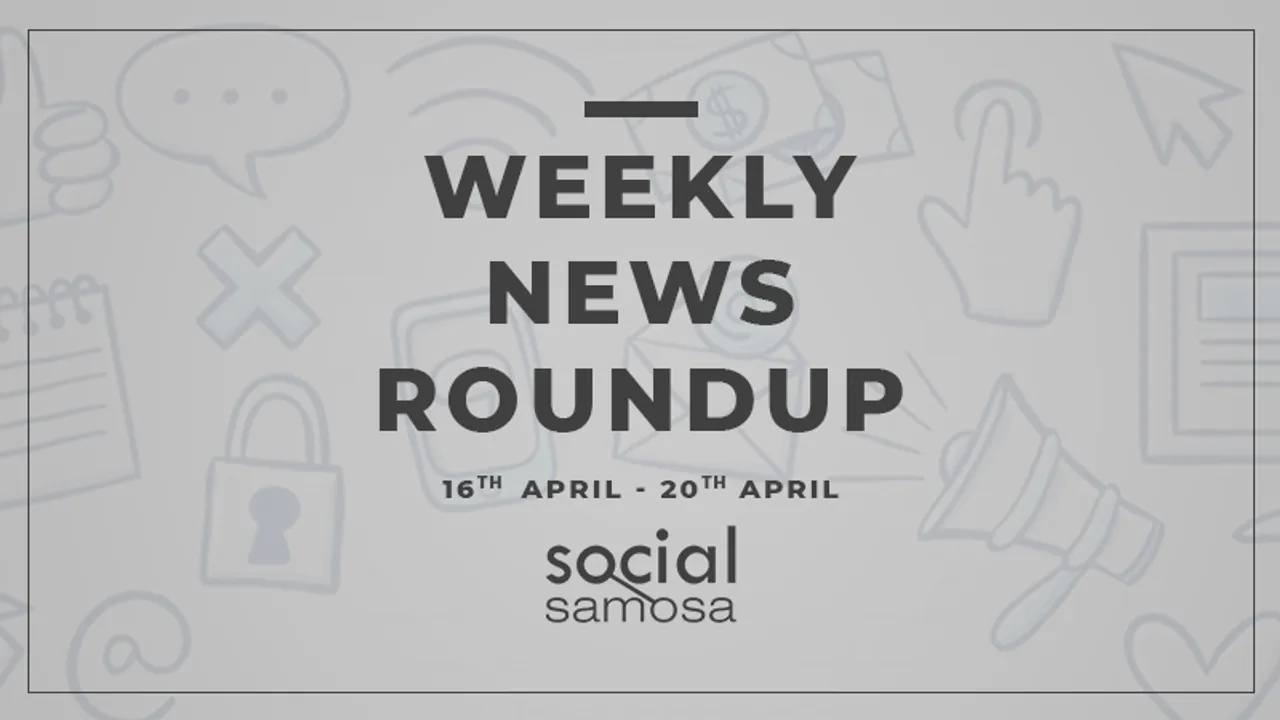 It is never a quiet week in the realm of social media platforms as the tectonic plates keep shifting with new features, products, tests, and other news coming in every day. Here is our weekly roundup of social media news and activity from the industry.
Social Samosa is your gateway to keeping up with the hottest social media news and updates, proceedings and trends from digital marketing industry, brand campaigns and more.
This week, Snapchat dominated the news with a few new features rolled out by the company such as Sponsored AR Filters, adding the ability to make Face Filters on their Lens Studio platform. In other news, IPL and Twitter are experiencing a mutually beneficial partnership whereas YouTube is entrusting QC and censorship for YouTube Kids to a team of human moderators.
Read all the social media news from this week, right here on Social Samosa.
Indian Athletes take #GC2018 and Twitter by storm
This year's Commonwealth Games turned out to be India's third most successful stint with a haul of 66 Medals won by a contingent of over 200 athletes, and naturally Twitter was abuzz with anticipatory and congratulatory messages for them.
The Prime Minister, other eminent personalities and sportspersons and proud citizens wished the best and expressed their elation on Twitter. Read more about it here.
Facebook Stories updates bring 3D Drawing, Boomerang, Poll Stickers
The world's largest social media network may have been plagued by more than a handful of predicaments in the past few weeks, but this hasn't deterred them from pursuing success for Facebook Stories as they revealed some interesting new features for the ephemeral service.
Introducing 3D Drawing, Instagram's famous Boomerang and other creative tools for Facebook Stories users, Facebook made big social media news this week. Read more about it here.
What data does Facebook collect when I'm not using Facebook, and why?
As Facebook users all over the world have been worried about how their data is being collected and used, Facebook decided to address this mass anxiety, confusion and fear by releasing a blog post that shed more light around their data policies.
The extensive and detailed blog post answers a number of queries and attempts to explain how Facebook collects and protects it's users' data. Read the entire blog post on Social Samosa here.
Human moderators to eliminate offensive content on YouTube Kids
After a series of discoveries regarding offensive and inappropriate content propping up on YouTube Kids, the company decided to tackle the problem by opting to employ a team of human moderators who will verify the contents of the videos available on YouTube Kids.
These verified YouTube Kids videos will be offered on an alternate section on the app, and parents can choose between the two. Read more about it here.
LinkedIn launches video for Sponsored Content and Company Pages
Rolling out video for Sponsored Content and Company Pages, LinkedIn claimed that over 50% of B2B marketers find it difficult to reach the right audience of decision-makers while using video.
The company says that video for Sponsored Content helps marketers and businesses make the most of LinkedIn's targeting and measuring capabilities to effectively reach and engage with the right audience in a quality environment using video. Read more about it here.
Snapchat to allow independent creators to make Face Filters in Lens Studio
After allowing developers to use it's newly released Lens Studio platform to create independent, perishable World Lenses, Snapchat is now introducing the ability for creators to make their own Face Filters in Lens Studio.
The company released seven new templates onto the platform to aid creators in building creative Face Filters in Lens Studio, shaking things up and opening the floodgates towards a non-monotonous theme of AR based filters. Read more about it here.
Snapchat introduces Shoppable AR Filters
Brands will now be able to add a compelling CTA to sell products on and within Snapchat itself with the new Shoppable AR filters introduced by the platform today.
Through the Shoppable AR filters on Snapchat, users will now be able to simply tap on the 'Buy Now' button for a product, app or just about anything that can be bought over the internet. Read more about it here.
CSK's team hashtag #WhistlePodu tops IPL buzz on Twitter
The Indian Premier League is one of the biggest and highly followed sports leagues, and Twitter's new emojis for teams are highly popular. Chennai Super Kings #WhistlePodu was the most used IPL team emoji in week 2 as part of the IPL buzz on Twitter.
With each IPL team being provided with their very own emoji and some teams opting for hashtags in their regional languages, the conversation about Cricket on Twitter has been tremendous. Read more about it here.
To read more news stories on Social Samosa, click here.