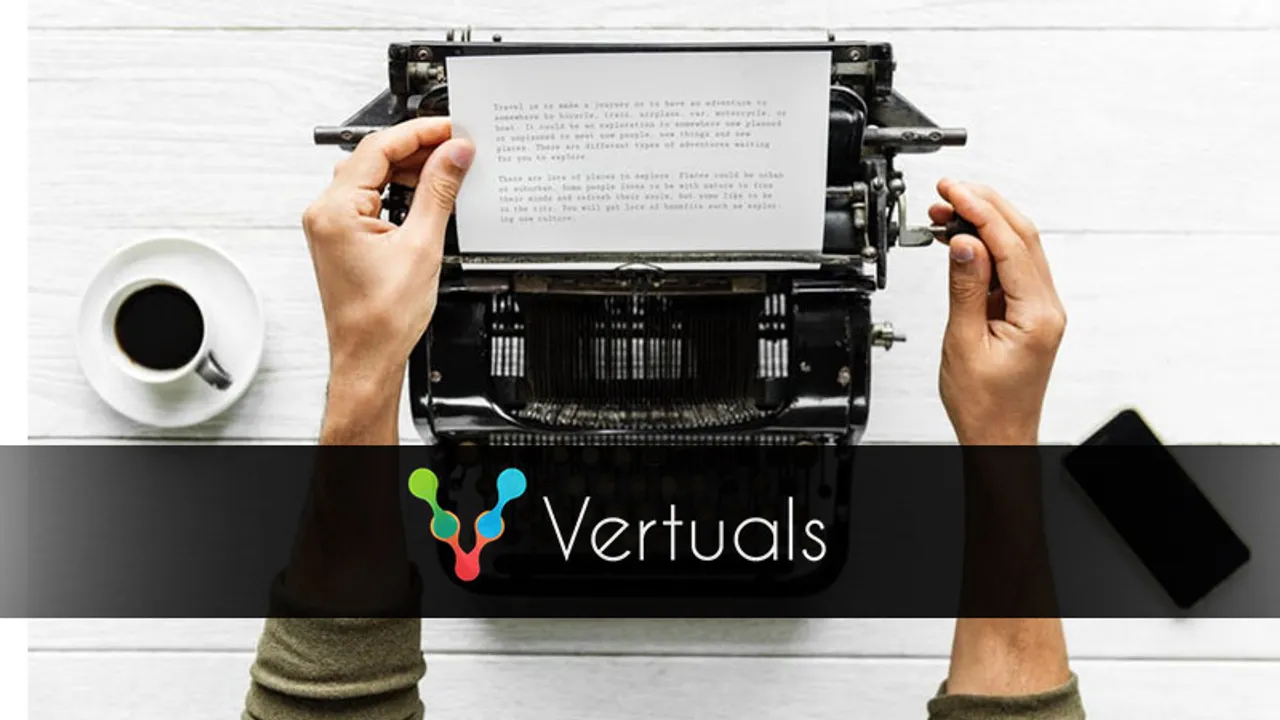 Who are we?
Vertuals is a digital brand storyteller. Besides doing everything in the digital ecosystem in terms of digital strategy which includes content, creative & media, Vertuals specializes in brand storytelling across platforms for web, mobile and social content in video formats. We also focus on creating IPs and branded content for OTT media.
We help brands to market themselves better and connect with their customers using short compelling audio-visual stories told digitally.
What's in the name?
We wanted a new-age name that resonates with the digital ecosystem which encompasses the social media and its content. Our name suggests that we will be ahead of the curve in the virtual world.  It is where every customer is present today and consuming different kinds of content on different media in different formats. Therefore, it requires a specialized content practice relevant to the target audience.  We replaced the 'i' with 'e' in the name Vertuals, wherein "e' stands for the 'ecosystem' which includes e-business, e-commerce, e-books, entertainment (videos), education (videos)and e-mail etc.
What do we do?
With the increasing influx of content, the consumer's brain sorting and grasping mechanisms have rewired. As marketers, we need to get to the point (messaging) quicker and innovatively than ever before we communicate to the consumers, and this places more emphasis on video storytelling to connect with the consumers to bring the story alive. Therefore, we offer specialized content in various video formats including AR, VR, Animation etc., Branded Content & Intellectual Media Properties.
Why we do it?
As the customers life continues to fragment into a series of complex, connected and personalized micro-moments, there is a clear demand for a new type of specialized agency like us whose strength lies in communications strategy which is 'Video-First'.
It has been proved by generations of evidence that our memory supports a storyline. We can retain information much better if conveyed to us in the form of a story. Stories are compelling and universal. They grip us and don't let go off our mind. Through stories, we relate to the characters and become invested in them and their experiences.
Which is why, behind the success of every great brand, lies a great story.
It is here that Vertuals has an expertise in brand storytelling in video formats for the digital customers.
How we evolve?
At Vertuals, we aim to become just that - a new-age creative digital storytelling agency built to solve the most complex communication & strategy challenges marketers face today. We offer our expertise across digital, infused with unmatched insights, proprietary tools, and targeting capabilities for video content. We conceptualize an idea, make scripts, produce great video content & target the brand communications that grow businesses through our digital brand storytelling process.
Social responsibility in social media
Pause Before You Post is what we practice. Social media has grown in popularity over the years, with plethora of options for sharing your thoughts, photos, videos, moments, for interacting with friends and family.
The more it grows, the more we discover about the do's and don'ts of social media. The same rules apply to all social media playgrounds, regardless of which site is your favourite. Let's engage in some best practices for social media use and best practices for social site etiquette.
Need of the hour
Social media platforms are enablers of a class-less and border-less community, but they can also be used against our very basic beliefs in fair-mindedness which protects our data from being misused.
We learned the hard way
The human psyche does not like change. We are all creatures of habit and resist change, whether it is for the better or not. Businesses must evolve to thrive.  We have learned that good ideas can fail. Life is tough, but failure should be an opportunity to learn and improve rather than defeat. Because we also need to attract new clients and keep our existing ones to continue to grow.
As a general principle, we adopt the 'client is king' mantra and whilst we will fight our case if we believe strongly in something as an idea which we propose, we accept that the ultimate decision needs to be made by the client.
An agency is its people and the caliber of the agency is a direct reflection of the caliber of its people. So, we have embedded a work culture which emboldens creativity while also having fun at work.
They work with us
We work with the following clients:
RR Kabel
Fino Bank
Brand Factory
eBay
Eduskills Global
Kalpataru
Hiranandani Communities
Franklin Templeton
Logitech
Excellon
All Cargo
Industry as we foresee
Videography has been on the rise as a communication tactic in the recent past and is poised to represent 75-80% of all online traffic by 2020. Digital video reach is already 2/3rd of TV reach in urban and that explains the dramatic rise in video content consumption. Vertuals is poised to capitalise on this increasing trend.
By 2020, the number of internet users in India will be more than G7 population and users will seek 3 'V's online – Video, Vernacular content, Views and opinions.
A day without Internet
Our company thrives on the internet and it will be hard to imagine a day without the internet even in our personal lives. We connect and communicate with ease on social media platforms. However, a day without internet might mean a lunch trip out with our team.
For a comprehensive list of agencies, click here.