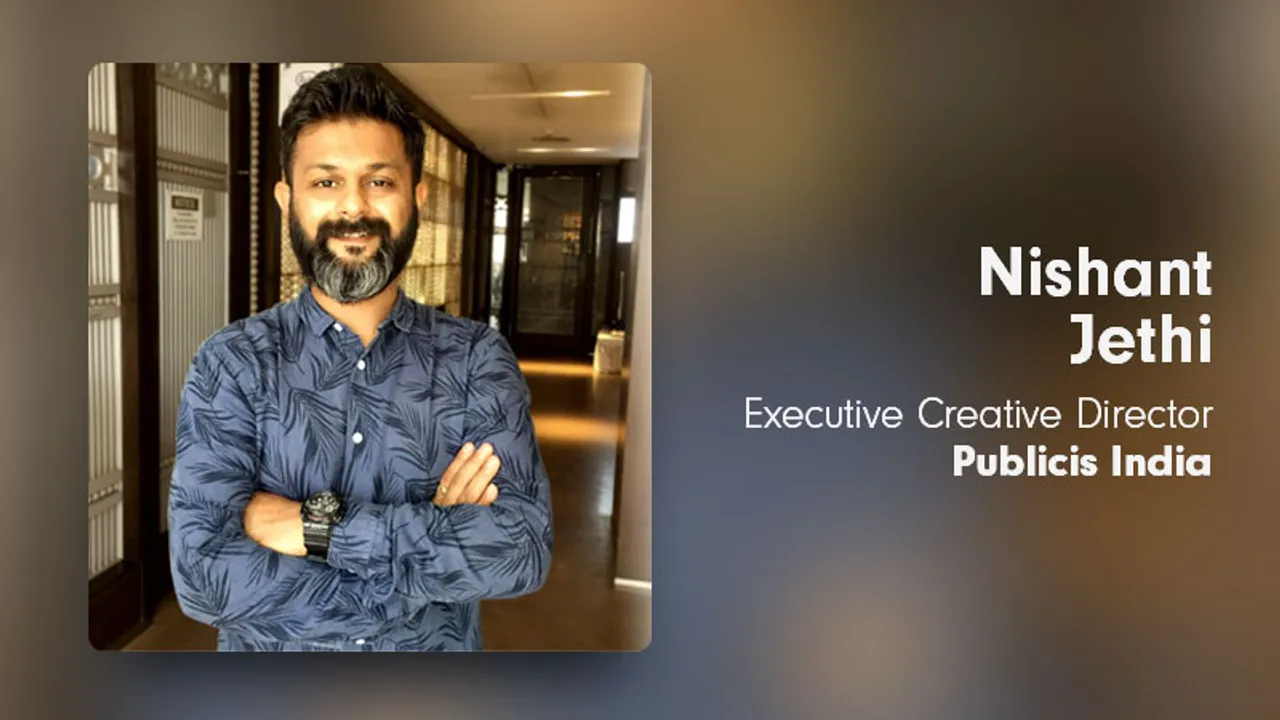 Publicis India announced the appointment of Nishant Jethi as Executive Creative Director. Nishant joins the agency from Ogilvy & Mather where he was Senior Creative Director.
To be based out of Mumbai, Nishant will report to Bobby Pawar, CCO & MD, Publicis India.
Nishant's mandate would be to raise the creative bar for numerous brands that he will work on while overlooking Art and enhancing work culture. His appointment is in line with the agency's mandate to strengthen its creative function across various divisions given the influx of work from multiple brands like ZEE, Citibank, HDFC MF, Skoda, Nerolac, Bharti AXA etc. He will work alongside Ramakrishnan Hariharan, who had recently joined the agency as Head of Creative.
Commenting on his appointment, Bobby Pawar said: "Nishant is probably the sanest crazy man I've met. Beneath his rather sedate appearance lies a mind that zips along strange paths. His unique way to seeing things, great sense of design, a passion for making things with his own hands will help us elevate our game even more. The last time we worked together the agency we were at rocked. This time should be no different."
Sharing her views, Srija Chatterjee, MD, Publicis India said: "The creative function at the agency is being repurposed to cater to the growing demands of Clients that are looking at integrated offerings in an innovative & real-time basis. We have been churning out some really great work in the past few months that are creating meaningful conversations in the marketplace and also aiding brands achieve their desired objective. Having resources like Nishant Jethi into our fold will only amplify the quality of our offering and put us on a higher pedestal to keep delivering more."
With a career spanning over 13 years, Nishant has worked across several leading agencies with an aim to create memorable pieces of work that strikes an emotional chord with the audiences. At Ogilvy & Mather, he was instrumental in putting out award-winning work for clients like Savlon, JSW Cement, Amazon-kindle/Firestick/Echo, Dove, TBZ, Taj Tea etc. In fact, he was part of the team on Savlon – Chalk Sticks that ended up winning multiple laurels across Cannes Lions, D&AD and One Show award platforms. Prior to Ogilvy he was an Associate Creative Director at DDB Mudra and also at Leo Burnett as Art Director. Some of the brands he has worked on during this tenure include Radio City, Bajaj Electronics, ITC Hotels, Reliance MF, Bank of Baroda, Big Bazaar,Inorbit and others.
Highlighting his role and responsibility at Publicis India, Jethi said: "Publicis India has done some remarkable work in the past and it feels great to be a part of this intrinsic culture. I am thrilled to work with Bobby Pawar along with Ramakrishnan Hariharan, since I have worked closely with both of them before, and together I believe we can achieve new heights. I am happy with the team and clientele, and feel super charged for the journey ahead."
Apart from work, Nishant uses his expertise to create meaningful work in the realm of Arts & Design. He is adept at creating hand-crafted wooden toys as the design process of making them involves conceptualising, sketching, wood cutting, painting – skills that come naturally to him.