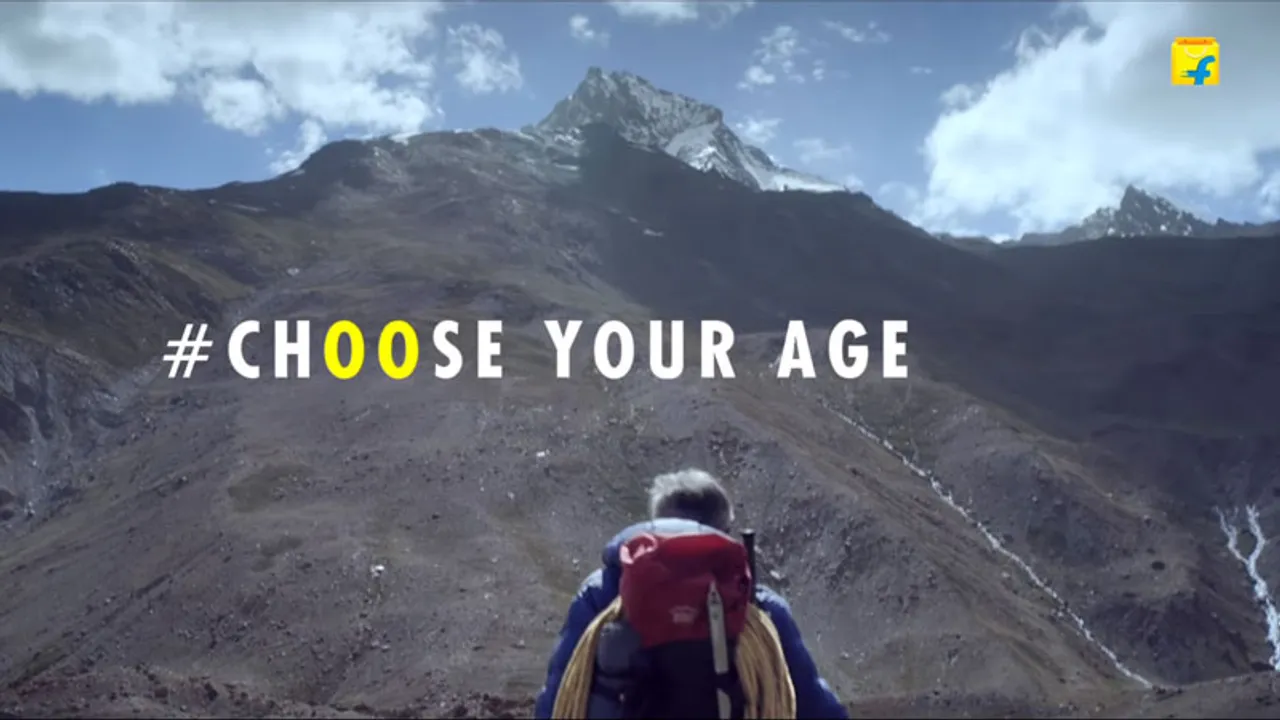 Taking a break from it's favourite 'Kidults', the latest Flipkart digital campaign chose to redefine age through #ChooseYourAge.
Notable for being perhaps the best pitcher in baseball history, Satchel Paige once said- 'How old would you be if you didn't know how old you are', which also formed the base for Flipkart's #ChooseYourAge campaign idea conceived by Lowe Lintas Bangalore. The digital only campaign celebrates the spirit of New India – an India where people are challenging stereotypes and redefining the status quo which puts an interesting spin on how we think about age.
#ChooseYourAge
Flipkart realized that the biggest limiting belief is AGE itself. Very often we are told we are either Too Old or Too Young to do some things. Over a period of time this becomes our behavior and we deny ourselves many experiences and opportunities because of this.
"Taking forward our ethos of being a proud partner of progressive India, Flipkart wanted to change the way people think about age," said Kartikeya Bhandari, Sr. Director, Marketing, Flipkart.
Objective
The core objective of the campaign is to transition from a purely functional connect with our shoppers and build a stronger, more emotive bond with them.
The two and a half minute film unveils 9 inspiring stories of people who have defied age-related stereotypes and pursued what brings them real joy.
Arun Iyer, Chairman and Chief Creative Officer, Lowe Lintas says, "Counting the biological years to tell our age is known to all of us. #ChooseYourAge, in complete antithesis, counts the number of experiences we've had or the times when we have really lived. The film celebrates living life, rightly showcasing that age doesn't need to define what one can do, learn, wear, feel or achieve."
&authuser=0
Social Media Buzz
Flipkart utilized almost every social media platform including Facebook, YouTube, Twitter and Instagram to spread the core message behind the campaign and created engagement activities on all platforms. The video has garnered 14 million views on YouTube.
Further it went onto partnering with content creators like The Better India and Terribly Tiny Tales to create content around the topic which was shared through Facebook and Instagram.
On Twitter as well, the brand went onto promote the campaign thought of not getting restricted by age barriers and going ahead with their choices by roping in celebrities like Boman Irani, Milind Soman reaching out to thousands of people through various platforms.
Supriya Char writes a #Collaboration < short story > 'SOON TO BE 1 GIG OLD AT AGE 58' https://t.co/9nZenRdWCU

With Flipkart (@Flipkart), we encourage you to count the numbers you've lived by the number of life experiences.

Visit https://t.co/XPBE6byu4U to #ChooseYourAge. pic.twitter.com/qDZiBZC7rh

— Terribly Tiny Tales (@terriblytiny) July 26, 2018
Why stay in and age gracefully when you can go out and conquer the world? Don't act your age, #ChooseYourAge! https://t.co/WUlyX6hYsN@Flipkart @WorkAtFlipkart

— Flipkart Stories (@FlipkartStories) July 26, 2018
Live a life that's more than about just counting years. @milindrunning agrees. Do you? Get ready to #ChooseYourAge and share this with someone who inspires you. pic.twitter.com/a1JQs9Otm5

— Flipkart (@Flipkart) July 25, 2018
Grreat idea @Flipkart! Why act your age when you can choose it. I'm only two triathlons old, that's how I define my age :)
I did my first triathlon 'the Ironman' to celebrate my 50th birthday, then Ultraman at 51!
Share with people who say #ChooseYourAge – https://t.co/x1K6gExIPZ

— Milind Usha Soman (@milindrunning) July 25, 2018
Boman Irani has played many roles in his life. But acting as per his age, won't count as one. Tag and share this with someone who inspires you to #ChooseYourAge @bomanirani pic.twitter.com/tfcec7Ehjp

— Satyam Sing Kanaujia (@satyamsofficial) August 2, 2018
These are stories of extraordinary individuals who have broken stereotypes of age, and have achieved something out of the ordinary by believing in themselves! - https://t.co/6nKgkbbT6p #ChooseYourAge @Flipkart pic.twitter.com/NQEa5Om0Bj

— The Better India (@thebetterindia) August 22, 2018
Wonderful idea by @Flipkart! When it comes to following your passion, your age is just a number. Got my first movie at 44 & haven't looked back since. How do I define my age? Well, I am 80 movies old!
Share & tag someone who inspires you to #ChooseYourAge.https://t.co/lwbFtnSVJv

— Boman Irani (@bomanirani) July 27, 2018
If we take a detour and observe Flipkart's advertising pattern, it mostly revolves around occasional marketing including seasonal offerings, shopping festivals and  creating pre-buzz to it. While there have been campaigns like #PenguinDads that conversed with the new age Indian Daddys and the central theme - India Ka Fashion Capital.
Cut to #ChooseYourAge, Flipkart takes a break from it's favourite 'Kidults' and talks about social growth. "Through our new set of brand campaigns, we want to champion the stories of "new India" - of Indians who are forward thinking and not limited by others' beliefs," stated Shoumyan Biswas, Vice President, Marketing, Flipkart.
Flipkart's Social Media Strategy
Digital media is an important platform for a tech company like Flipkart. "Social media enables us to reach a wider audience and allows for sharper targeting -  enabling us to create and customise messaging that is more relevant to our audience," added Bhandari.
The company has already finished 2 Brand Love projects and over the course of the next few months, it plans to do 2 more campaigns to build on emotive connect with the audiences and champion their progressive vision.
While like, share and views can help a brand determine the reach of the campaign, the messaging needs to be acted upon.
Flipkart uses engagement as a lever to increase brand relevance that helps drive consideration. In a largely 2 player market - giving users emotional reasons to identify with the brand helps create a moat around the functional offers it has (selection & price). Social media engagement is one of the biggest building blocks for this moat.
"The ability to contextualize the Flipkart narrative across the multiple audience cohorts on social is one of the biggest drivers of it's social growth. Leveraging the data prowess of social and the storytelling formats that the platforms support it has created narratives that echo with the Indian audiences," Bhandari added. 
From the #ChooseYourAge that talks to every urban Indian to the #PenguinDads campaign that talked to the new-age Indian Dad to the India Ka Fashion Capital campaign that took the aspiration of Bollywood fashion to non-metro India - Flipkart claims to have won at each customer cohort to drive social growth.
Over the next few months, Flipkart will continue to tell stories of this new, progressive India and celebrate the true spirit of how the brand is truly "naye India ke saath".
Experts Speak:
Dhananjay Arora, Founder & CEO, Kwebmaker Digital Agency
The new #
ChooseYourAge
 campaign of Flipkart is truly original and strikes a chord. I think its a perfect campaign that doesn't really speak about the products the company 'sells' but the theme that you are never too old to try something new. Its smart, clear and innovative and should appeal, specially to more older people who are not used to online shopping. A campaign with a heart that drives the brand (rather than the product) right into the hearts of its viewers. Well done!
Saurabh Kapoor, CEO, Hashtag Orange
Flipkart as a brand has always attempted to redefine the status quo in the Indian setup and this campaign has taken their initiative a step further. Indians do not shy away from change and this campaign by Flipkart is an attempt to monetise on this particular phenomenon. Age has been a socially accepted parameter for an individual's capabilities and there has been a lot of passive aggression against this sort of classification globally. It's interesting to see how Flipkart has built a campaign around this insight which is not only relevant to the target audience but also voices their hidden desires.
One can argue that this campaign has a dominant urban angle to it and would primarily appeal to the the masses in Tier 1 cities; but, at the same time, it has the potential to have a mass trickle-down effect in Tier 2 and below markets.
Interestingly, this campaign also highlights the change in Flipkart's messaging and is definitely a bold attempt to bring the audience of 45+ age group under their zone of influence. This group in itself accounts to roughly 25% of the total population and is practically an untapped category as far as new age internet based companies are concerned. - All in all, a good emotional attempt for market expansion.