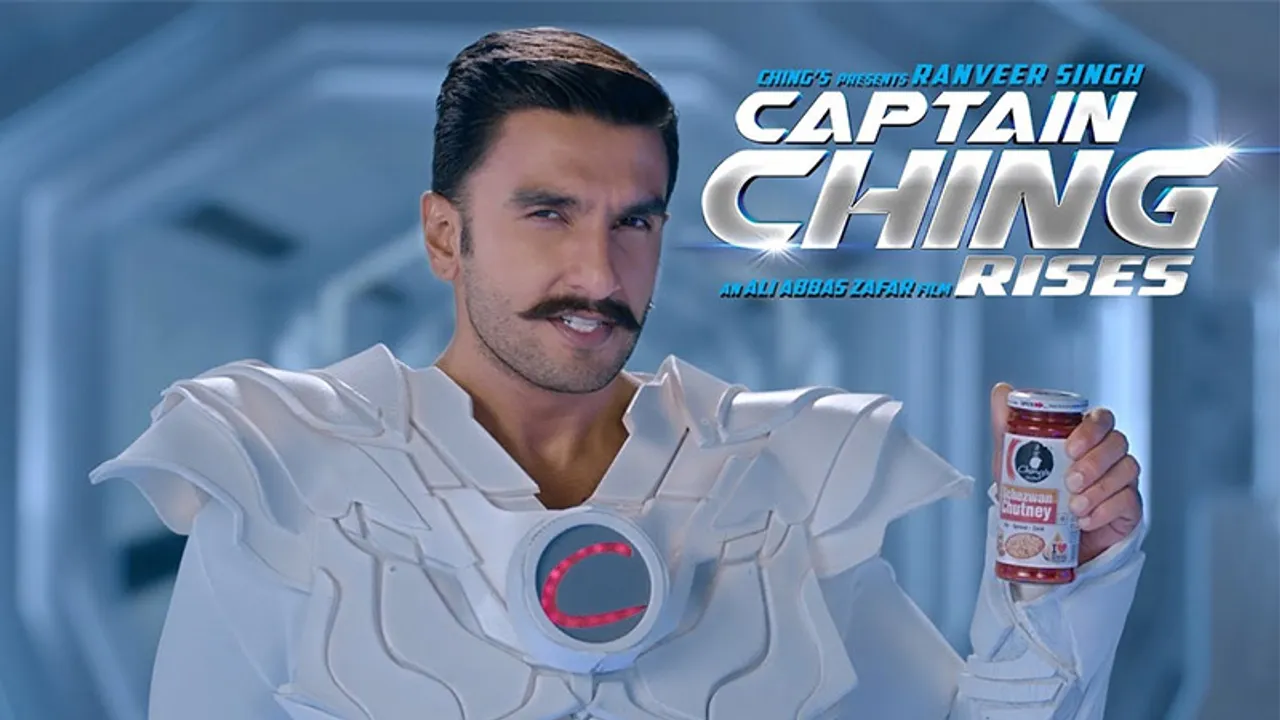 Experts share their take on the recently released 'Captain Ching Rises' ad film by Ching's Secret and discuss why despite being bizarre it works with the consumers.
In 2016, when Ranveer Singh debuted with 'My Name is Ranveer Ching- The War for Desi Chinese' - a film directed by ace-director Rohit Shetty also starring Tamannah, - whole country grooved to its tune. Though the storyline was quite a cliche with a Bollywood twist, the 5 and a half minute ad film did rake millions of views on Youtube.
Prior to this, in 2014- the first time Ranveer Singh got everyone impressed was by his power-packed performance and dance steps for the brand film immediately after he was signed as the ambassador.
Cut to October 2018, Ching's Secret makes a comeback with an almost three-minute long film titled 'Ranveer Ching Rises'. The film stars Karishma Tanna alongside Singh. The thought presented is that the world is under attack and we have to turn to one hero to save us all, none other than Captain Ching played by Ranveer Singh. This out of the world sci-fi adventure is directed by Ali Abbas Zafar of Sultan and Tiger Zinda Hai fame. A superpower that's unlike anything any superhero has ever had courtesy his secret ingredient, Ching's Schezwan Chutney; Captain Ching Rises to the challenge and blows your mind, senses and taste buds.
There was also a lot of buzz created on social media as teasers for the campaign.
The ad was released on October 8 and garnered 303k views in a week's time. But the brand ensured to amp up the rate of curiosity among audiences? From the actors uploading their picture on Instagram in the costumes during the shoot days to logo reveal, Ching's executed the campaign well, although the storyline yet again remains bizarre.
You can only do mad, crazy , whacky stuff with the most maddest , craziest , whackiest @RanveerOfficial , Rise of the hero @Chingssecret https://t.co/ngDakcM5iR ... chatni Nahin rocket ? hai @yrf @patilashish

— ali abbas zafar (@aliabbaszafar) October 9, 2018
When the world is under attack, a hero will rise!
But the clock is ticking.. will he manage? Find out in a film that's sure to blow your mind, senses and taste buds. #CaptainChingRises, film releases on Oct 9 ?@RanveerOfficial @aliabbaszafar @yrftalent

— Ching's Secret (@Chingssecret) October 6, 2018
What happens when the world is under threat & you have only minutes left to save everyone from total extinction? Who can you call?
Hit filmmaker Ali Abbas Zafar directs an out of this world sci-fi adventure.
Trailer out on Oct 5
Film out on Oct 9@RanveerOfficial #CaptainChing pic.twitter.com/O6hAybkuBr

— Ching's Secret (@Chingssecret) October 3, 2018
When the world is under attack, a hero will rise. There's only one man who can save us all.
Watch out for @RanveerOfficial in his first superhero sci-fi action adventure directed by @aliabbaszafar ?
Trailer out on Oct 5
Film out on Oct 9#CaptainChing @yrftalent @KARISHMAK_TANNA pic.twitter.com/IakgzyrJIh

— Ching's Secret (@Chingssecret) October 3, 2018
Finally The teaser is out!!! ? @RanveerOfficial @Chingssecret pic.twitter.com/w8K5Sj3mwU

— Karishma Tanna (@KARISHMAK_TANNA) October 4, 2018
रॉकेट है रॉकेट ! CAPTAIN CHING ?????? @chingssecret @aliabbaszafar @patilashishhttps://t.co/nlowk5xbHh pic.twitter.com/dIuOB4856I

— Ranveer Singh (@RanveerOfficial) October 9, 2018
View this post on Instagram
So finally here are some workin stills of my ad @chingssecret .. made some amazing memories! Hope u all liked the ad.. Thanku @aliabbaszafar for this !! ? hola @ranveersingh #ktians #karishmatanna #yashrajfilms
Expert Review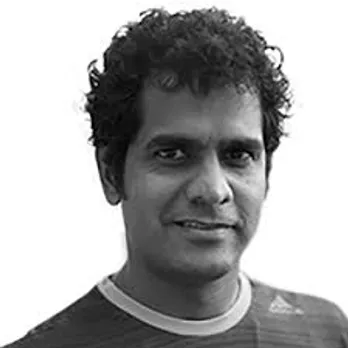 Santosh 

Padhi, 

Chief Creative Officer & Co-Founder, Taproot Dentsu: 
Good to see they have stuck to their belief and done another long format piece of communication like a short film. I'm sure the reason they came out with a new one as the older piece must have worked for them. Frankly, I didn't like either of them, to me, this is crazier than the first one. I'm not saying being crazy is bad, to me being crazy is sticky, mad, memorable and cheeky kind of bizarreness which is over the top, mindless storytelling and there are ones that are bizarre for sake of being crazy/bizarre to me this is the later.
By showing tech set up doesn't  make the film connect with youth, in fact I don't understand why they are trying to be youthful here when they are appealing to the married females who are the decision maker of the kitchen,  I felt the whole treatment of space/superhero plot to be bit childish it's no where in the league of what we see these days.
What I loved about the campaign is spicy hence "bum mein aag hai" to me that's the big idea and if you managed to get Ranveer to do what he has done hats off to the team and also to Ranveer.
Preksha Seth, Cofounder of Utopian Media: 
Brands today are going beyond their basic efforts and trying to find innovative ways to grasp the consumer's attention. The Ching's ad is an exemplary example of how at times a bad advertisement can work out to be a good advertisement. If you look at it from a marketers perspective, you will realize that the TVC is beyond bearable. You're left in a dilemma wondering 'What did I just watch?' and while watching it you're constantly asking yourself 'Why am I watching it?' and that is where this turns out to be a good advertisement, because, even though you found you're bewildered you still continued to watch it.
When you watch it as a consumer, the ad does its job of keeping you glued to the screen for 2 minutes and 52 seconds. It does play in your mind raising a lot of questions but the companies product stays stuck in your head and the brand stickiness immediately kicks in when you see the product in a supermarket or store.