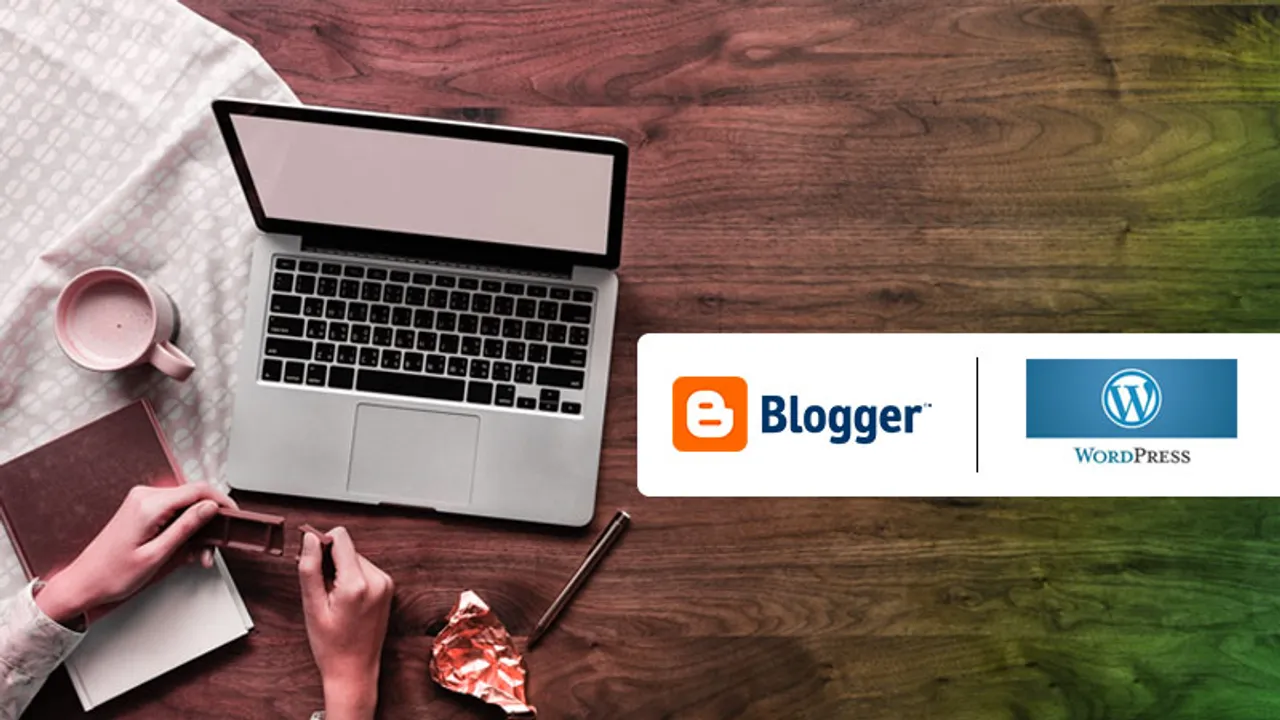 Wordpress or blogger ? Do you know the two main free web publishing services? Here is a useful comparison to help you decide before starting to publish content on the internet. 
According to the history of blogs, a USA based freelance journalist, Justin Hall was the first person to publish a blog in 1994. Since then the blogging industry has come a long way. According to recent statistics, Wordpress has 18.7 million blogs and Blogger has 751k blogs.
Before you start on an adventurous blogging journey, here are a few basic differences you need to know of.
Differences between a blog in Wordpress and one in Blogger
There are several platforms in the network that allow you to have a blog for free, but undoubtedly the main ones are two: WordPress and Blogger.
Blogger, Highlights
Blogger, free web distributing stage from Google. It is the stage favored by beginners with practically zero specialized information, for the simplicity of production of post and distribution.
It is perfect for distributing data, news or news in a snappy and vivid path, accessible to any normal client. Make a blog and design it just takes a couple of minutes.
Before continuing, you have to know that WordPress is divided into 2 - WordPress.com and WordPress .org categories. The first is the free version of WordPress and the second (let's call it the paid version) is where you have to install the WordPress to a payment server. Now, it is very important that before starting your blog define if you only want it for entertainment (which is how we almost all started) or if you want to take it from the beginning to the professional field because this determines whether you have to invest or not in hosting and domain.
What is Blogger and how does it work?
Blogger is the free Google service located in the cloud. You need to register on it through your Gmail account. After having created your site you will have a domain of the type. Of course, this can be changed later when you buy your own domain name and link it.
What is WordPress and how does it work?
WordPress is a content management system or CMS for its acronym in English created for the use of blogs and websites in 2003. WordPress is according to the latest surveys the most popular tool for creating blogs; 51% of blogs use it, while 37% use blogger.
Both are intuitive and easy to use, however, WordPress.org requires a certain level of detail as opposed to blogger since all the code and database are in your hands.
As for plugins, it has more than 50,000 plugins to enhance your blog and adapt it to your style and needs. Since it is a free code you can get creative and modify as many things as you want. With the basic knowledge of HTML and CSS or hire professionals to do it for you.
Knowing which is better depends only on you and your expectations.
Conclusion:
Choosing WordPress or Blogger is based on what you want to do with your website. Both tools work very well for blogs and are very stable, however, WordPress continues to have a vertiginous growth compared to blogger.