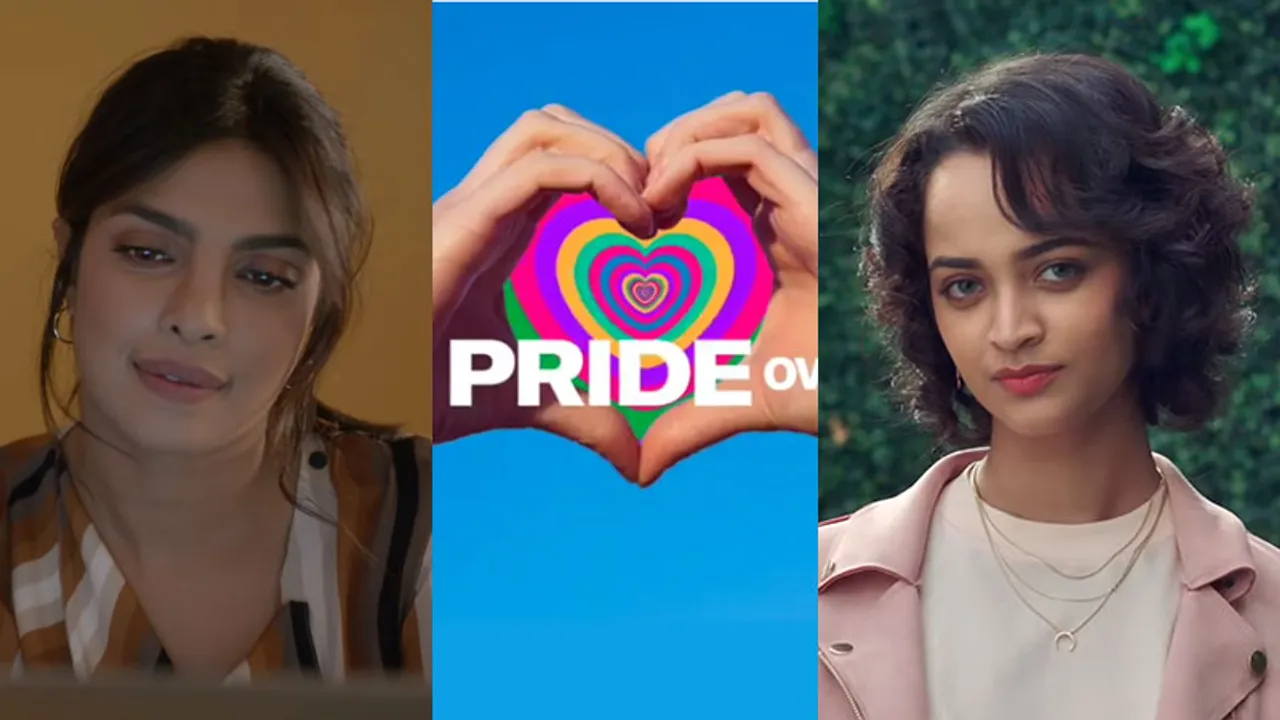 Tis the season of love, we say! Indian Dating Apps Campaigns - Tinder, Bumble and OKCupid battle it out with campaigns of different tone and approach. Which one works the best?.
Bumble's #EqualNotLoose
Just two days post her extravagant wedding to Nick Jonas, Priyanka Chopra was back at work attending the conference for the official launch of Bumble in India. For the unknown, Bumble is a dating app which claims to be 'a social network by women for everyone'. It recently debuted in India while announcing PeeCee as it's partner and investor. Alongside the launch, Bumble released a campaign #EqualNotLoose for the Indian audiences starring Priyanka Chopra as the boss lady.
With a  mission to empower women, Bumble seeks to fight Gender bias and asks women to make the first move.
Apart from being a date-finding platform, Bumble also services friendships with its "BFF mode" and business networking via Bumble Bizz.
Tinder's 'Adulting Can Wait' 
On the other hand, with an altogether different thought process for 'Adulting can Wait' Tinder tells us to enjoy every moment of life tapping into Gen Z's reality. It establishes that the pre-adulting life stage must be cherished and championed and not be underplayed as just transitional.
In popular culture, the term 'Adulting' signifies behaving in a way that is characteristic of a stereotypical adult. The campaign tries to address and break down precisely these stereotypes and the pressures to conform to them while taking a light-hearted view of seeking out and embracing the thrill of new and unexplored experiences. 
OKCupid's #SubstanceOverSelfies
Meanwhile, another online dating app, OKCupid, riding high on the wave of selfies, launched its first digital ad in India titled, #SubstanceOverSelfies. The campaign celebrates every person's story and not just a reflection of his/her phone's front camera. The campaign went live in mid-December 2018 with over 100 leading influencers sharing their 'substance selfies' and campaign messaging, driving home the exact thought. 
The company claims that users followed in their footsteps with posts of their own, generating over a million impressions and an almost 20% engagement rate.
India's Rendezvous with Dating Apps
Online dating in India has evolved dramatically in the last four years. Tinder began its India operations in 2013, in the following year; TrulyMadly, an app that started off for long and meaningful relationships, Woo, focussed on women safety, and Hinge, which shows friends of friends.
Tinder claims to hit 20 billion matches to date with 57 million users around the world; Bumble, 2 years younger to the former, has managed 3 billion sent messages worldwide with 40 million registered user base. Meanwhile, in 113 countries, OkCupid, the oldest of all, claims to facilitate nearly two million connections each week with over 57,000,000 daters.
To understand the India perspective, Statista shares that Indian online dating companies were expected to earn around $13 million in 2018, with nearly half the singles (41 million) from the 2011 census on dating apps by 2022.
A report by Economic Times, shares that Tinder, is the third largest grossing app on Android in India, with industry estimates placing its monthly revenues anywhere between Rs 1-2 crore.
The extensively cluttered, online dating apps space has been battling for downloads to stay relevant among the dynamic GenZ.  While OkCupid and Bumble have been undertaking marketing activities of late, Tinder has been active in the space ever since its entry.
Their first campaign, however, was widely criticized for showing an unrealistic approach towards dating in India. The app then went on to create several campaigns, reaching out to their target audience.
TrulyMadly too had a wide running campaign, #BoyBrowing, as a part of which the app rolled out various videos, and the infamous Creep Qawwali in association with the now defunct, All India Bakchod.
Campaign Face Off - Tinder v/s Bumble v/s OkCupid 
Kaizad Pardiwala, President & Chief Operating Officer, The 120 Media Collective: 
Bumble's approach is interesting because they have opened up the sphere of online dating (which hasn't taken off in India yet) to beyond dating and by putting women at the center they have tried to remove the misconception of women on dating apps.
Tinder, on the other hand, has cleverly drawn the line between the adult world and its social norms and dating on Tinder.
OKCupid's approach of showing your real self as a concept has been done before across categories and lacks freshness. Hence, the ad probably won't strike as much of a chord as Bumble or Tinder.
Given the current 

scenario

, I think 

Bumble's campaign

 may be the most effective approach.
Naresh Gupta, CSO, Managing Partner, Bang In The Middle
Tinder has latched on to an interesting behavioral trend of today's generation not wanting to grow up. This whole bit of live in the moment, keep the responsibilities aside pushing commitments to a later stage of life is not new. I like the way Tinder builds the whole visual story of trying to find a way out of the maze and doing things that are spontaneous.
On the other hand, Bumble seems to be less effervescent and more preachy. I am not sure why they had to constantly allude to 'loose' in the communication. The best way to build the proposition would have been to be non-judgemental and celebrate the choices people make. The whole communication falls flat because of this slightly twisted moralistic view the brand takes.
OkCupid is trying to do this entire woman of substance kind of thing. Maybe the core audience where this ad has been busted know what OkCupid does. Selfies any which way are not something that matter a lot to the audience. It's a playful indulgence that they in that they do because they want to enjoy the moment. The whole Cupid game is not built around selfies. I would've preferred to see a wider take on the brand.
I like the celebratory, unapologetic tone that Tinder has.
Harikrishnan Pillai, Founder- The Small Big Idea 
Tinder doesn't try hard to say anything or bust any myths about the platform. Its non-desperate demeanor, fantastic casting, great music and clear understanding of who they want to talk to has allowed Tinder to narrate a very compelling story. It's eccentricity mirrors it's intended users and it's honestly one of those ads I don't mind seeing a little too frequently.
Bumble's attempt is clear. To help position Bumble not just as a dating app but as a networking app with the key to the console with the women. The use of words tries to make the app sound non-frivolous, kind of giving it the validation that it seeks. The creators have put the family in the reckoning to say it out loud that it isn't a social network you should be embarrassed of being on. Priyanka Chopra's presence, who is also backing the app, increases the affinity. All in all, I think it does the job the creators intended it to do, tell people what it's not and that it's more.
I love Okcupid's proposition, "You are more than just a photo." Do I share the same love with the treatment in the ad, maybe not? I think the copy let the idea down on this one.
Given the current settings and atmosphere, dating apps in India have tried and tested with various approaches. With all the three campaigns receiving mixed reviews, it all boils down to how much these campaigns contribute in attaining their respective objectives.