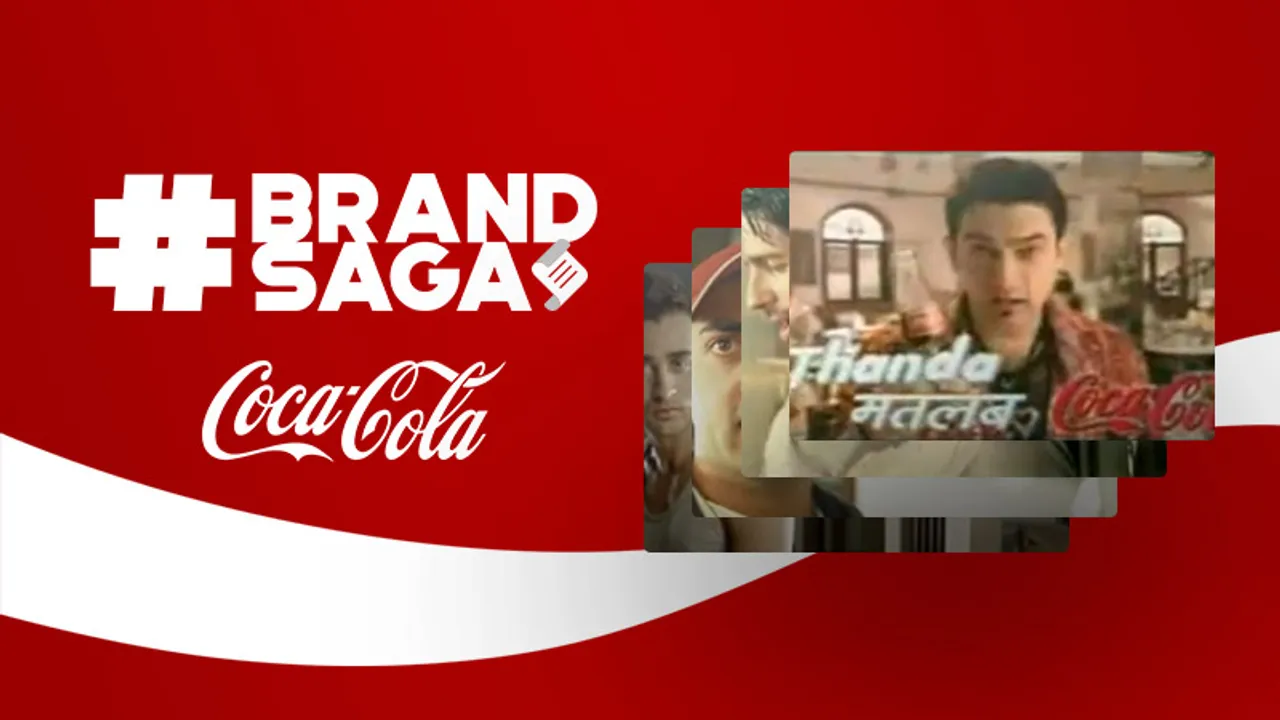 'Filmy'- the one-word description of Coca Cola India advertising journey sums it all up.
Aamir Khan may have been turning older, but the tapori swag of his 'Thanda Matlab Coca Cola' remains young. As we sip some coke of it's 'zero' variant, we trot the journey of your, mine and everyone's coke that never leaves us alone with a burger in hand.
Rising from the soil of Atlanta, Georgia in 1886, Coca Cola has traveled miles. It's India journey started only to take a sabbatical and make a comeback like no other.
From it's quirky slogans and refreshing taglines to the red hot packaging and the super-entertaining ads, Coca Cola's marketing, and advertising strategy has been a wholesome package.
The start which wasn't the start
Coca Cola set foot in India in 1950. For almost a decade it was highly consumed until 1977 when it withdrew its operations following the protest of the legislation limiting the dilution of equity of multinational corporations (Foreign Exchange Regulation Act).
Sensing potential in the cola market in India, with the successful innings of then Parle's Pure Drinks' Campa Cola, Coca Cola decided to re-start its journey by acquiring Thumbs Up from Parle's Chauhan brothers.
The Comeback Challenge
"For the first time in the history of the company, we had two sugar colas in the same market. Coke was a worldly, sophisticated brand that had been gone for 17 years, so it was like an old friend coming back. Thumbs Up, on the other hand, was a grassroots favorite… a true fighter brand with a strong sense of nationalism" shared Nitin Dalvi, who at the time was head of marketing for Coca-Cola's India operations.
The marketing challenge was having both brands co-exist in a way that one plus one equaled three to outflank competitor. 
Dalvi further added, "We couldn't do a lot of national advertising because we didn't yet have a system in place to deliver the product on that scale. We launched one market at a time – approximately 17 cities in 17 months – and went as local as we could with our advertising."
Coke's return was celebrated with a lot of positive PR.  
Advertising in the Print Era
For the initial years, Coca Cola's advertising somewhere failed to resonate with the Indian masses as it carried more of Western influence. After studying the desi culture, Coke started targeting youth through print advertising and positioned itself as a fun drink.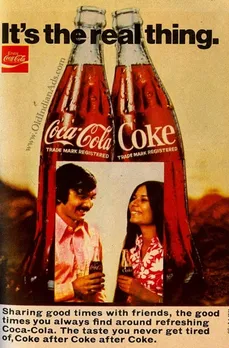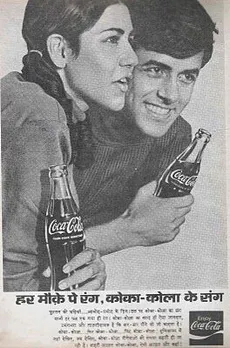 It started off with 'It's the Real Thing' to 'Har Mauke Pe Rang, Coca Cola Ke Sang', the Hindi lingo in print best suited the masses in those times.
The first breakthrough with 'Jo Chaaho Ho Jaaye, Coca Cola Enjoy'
Continuing its focus on the younger lots, Coca Cola rolled out its first advertising campaign featuring Aishwarya Rai and Hrithik Roshan. The advertisement was no less than a film.
While Rai remained constant for the second phase of the campaign, Roshan was replaced by Aamir Khan in 2000 when Internet had just started blooming in India. It must be noted that both, Khan and Rai were associated with Pepsi too for a brief period earlier.
Going the Mass route - 'Thanda Matlab Coca Cola'
After creating quite a stir among youth, Coca Cola took to mass appeal and introduced Aamir Khan as a tapori asking "Thanda Matlab Coca Cola" in 2002. Khan has had a long-standing association spanning a decade with Coca Cola.
The catchphrase which became an instant hit also brought into the limelight its 'karta-dharta', the man who adorns many hats, Prasoon Joshi. Fondly called as the Jingle Man,  Joshi had moved from Ogilvy in 2002 to become the National Creative Director at McCann Erickson.
In an interview to Business Standard in 2013, Joshi denies any claims that the Coke ads worked only because of Aamir Khan- Ashutosh Gowarikar chemistry. "Aamir has been endorsing Coke for nearly six years but none of the ads caught on in the way this series has," he explains.
The tagline gradually took shape of a series wherein in each ad the consumers were introduced to a different Aamir. Sometimes a Nepali babu, a rural contractor endorsing the Rs. 5 Coke bottles or a Bengali babu addressing the cola-pest issue.
The pesticides controversy
Here, the brand made Khan question the quality of Coke after the controversy erupted. "This was a serious step. The ad is in keeping with Coke's tone and manner of communication," informed Joshi.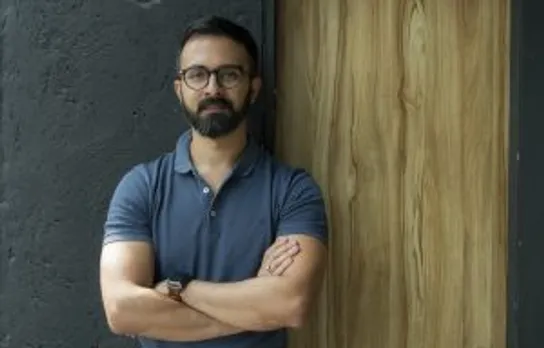 Coca-cola is a unique brand in the beverage space for Varun Duggirala, Co-founder and Content Chief, The Glitch because no matter how wide it's spread. Competitors have grown in the market and even the market share of aerated beverages has taken a hit. "But Coke is Coke! As aspirational and inviting as ever. The eternal happiness meter. Whenever it has been more about the stuff around it coke lost some of its sheen but it has luckily gone back to the essence of happiness it brings in terms of product love every time and that has been it's consistent USP. Hence, a coke is always a coke."
Making Coke India's Pride  
In 2005, it was time for the brand to revive its communication of 'Thanda Matlab Coca Cola' which continued for 5 years and wasn't generating brand affinity further. At a time when Shah Rukh Khan advertised the bubbly PEPSI, Coca Cola rolled it's sleeved to return with a new positioning.
This time the cola major played the pride card in the campaign and had kept aside a budget of whopping Rs 50 crore for the promotion. The company retained Aamir Khan to recreate the magic on screen with a new tagline 'Piyo Sar Utha Ke'. The new positioning was also in line with our observation that Coke is consumed all through the year and not just a particular season.
For some behind the scenes - the idea for these campaigns came with places and time. He came up with 'Thanda Matlab Coca-Cola' while waiting at the Hapur railway station. Thanks to the heat on the station, Coca-Cola got a tagline that the audience won't forget for years to come. 'Piyo Sar Utha Ke' hit him when he saw a truck driver drink water from a pitcher, of course with his head held high.
At this stage, apart from advertising on television and in the print media, the company also undertook a host of marketing initiatives including BTL activities, consumer promotions, Internet marketing, the point of purchase material, and more.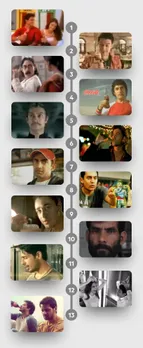 From Mass to the Universe
After having made 'Thanda' synonymous with Coca-Cola, in 2007 Coke launched the "Sabka Thanda Ek" to build Coca-Cola from its refreshment platform to a higher order of emotional benefit. The creative challenge for the agency was to come up with a campaign, which clearly brings out this universal appeal. 
The timing of the campaign upped the high spirits it brought with the successful run of Rang De Basanti where Joshi forayed into screenwriting, dialogues, and lyrics with Khan as the protagonist.
Aaj Tu Jashn Mana Le!
Although Aamir was a prominent face of the brand, Coca Cola did not cut ties with other Hrithik Roshan who was back in the 2007 and 2008 with the brand's 'Jashn Mana Le' series.
Open Happiness
Wearing the Santa hat in its next strategic communication, Coca Cola it took upon itself to spread happiness and bring the world closer. It distributed bottles and cans of Coke, Some goodies to students in a cafeteria, shopping malls in India and Pakistan, or laborers in different parts of the globe.
As a part of the global Coke Side of Life, the Open Happiness campaign was rolled out in India in 2009, right after its successful run in the US. Cricketer Gautam Gambhir was brought on board apart from Khan and Roshan. Leveraging the IPL fever, the company associated itself with two teams, Delhi Daredevils for Coke and Kolkata Knight Riders for Sprite.
&feature=youtu.be
Under the 'Open Happiness' series, the first film featured Gambhir with a messaging 'Coke ke saath dost free' showing how Cricket and Coca-Cola make people realize the joy of coming together. 
Communication for 'Coca-Cola Open Happiness' in India was conceptualized and helmed by Nakul Sharma, creative team leader, Copy, and Tirtha Ghosh creative director, Art, under the supervision of Ashish Chakravarty, executive creative director, McCann Erickson Delhi.
Soon after, Aamir Khan says 'Aap Muskurayenge bulbule gungunayenge' 
Sharing 'Cricket Ki Khushi' with Sachin Tendulkar
For the next leg of the campaign, Lowe Lintas built a strong Indian cultural insight and focused on the nation's love of cricket.' Cricket ki khushi, shows a group of children, coming together in scorching heat to play cricket. Sachin Tendulkar closed the film saying, "Khelte raho, khush raho - keep playing, stay happy". One should know that Tendulkar was also closely associated with Pepsi, one of the most iconic ads being the 'Aila Sachin' TVC.
Opening up possibilities with Coke and Imran Khan, digitally
Apart from its Open Happiness series, 'Shadow' saw the brand collaborating with Imran Khan. The campaign was also the first in the history of Coca-Cola India, which was first released on mobile phones and online media and later on TV.
For Shadow, the ad film used elements of shadow puppetry. In the later communication, Kalki Koechlin too joined the bandwagon with 'Invisible Bottle'
In March 2013, Coca-Cola joined hands with Leo Burnett Chicago & Sydney set out to break down barriers and create a simple moment of connection between two nations -- India and Pakistan. The initiative "Small World Machines" provided a live communications portal between people in India and Pakistan.
Globally too, Coca Cola is known for its vending machine activations, many of which have super-cool innovations.
Taste The Feeling
Cut to 2016, Coca Cola yet again launched the local rendition of its global campaign – "Taste the Feeling". Conceptualized by brand's global agency, Sra Rushmore, the campaign featured Sidharth Malhotra, emphasized on storytelling and celebrating everyday moments. 
When Deepika Padukone 'Coke'd' in the elevator
The ad showcased the significance of Coke in breaking ice between a celebrity and their fan stranded in a stuck elevator.
Social Media plugin
Coca-Cola ran two teasers of the campaign on its social media pages which showcased Padukone getting stuck in a lift. The idea then was to generate curiosity. The campaign was officially released the next day.
https://www.facebook.com/cocacolaindia/videos/1277573852297746/
Share a Coke
In Summer 2018, Coca-Cola re-created the magic of its global hit  'Share A Coke' in India. In line with the campaign's principal idea, Coke cans and bottles are now available with 20 special relationships printed on them, including Bae, Bro, Dude, and more.
The campaign was rolled out at YouTube FanFest. According to reports, the company undertook various activities to keep the excitement alive along with sponsoring IPL. It also collaborated with YouTubers to create buzz.
These slogans, jingles, and advertisements have throughout the years not only evolved but stayed with us through times. From Thanda Matlab Coca Cola to Taste The Feeling' we have all been 'Sharing a Coke'.