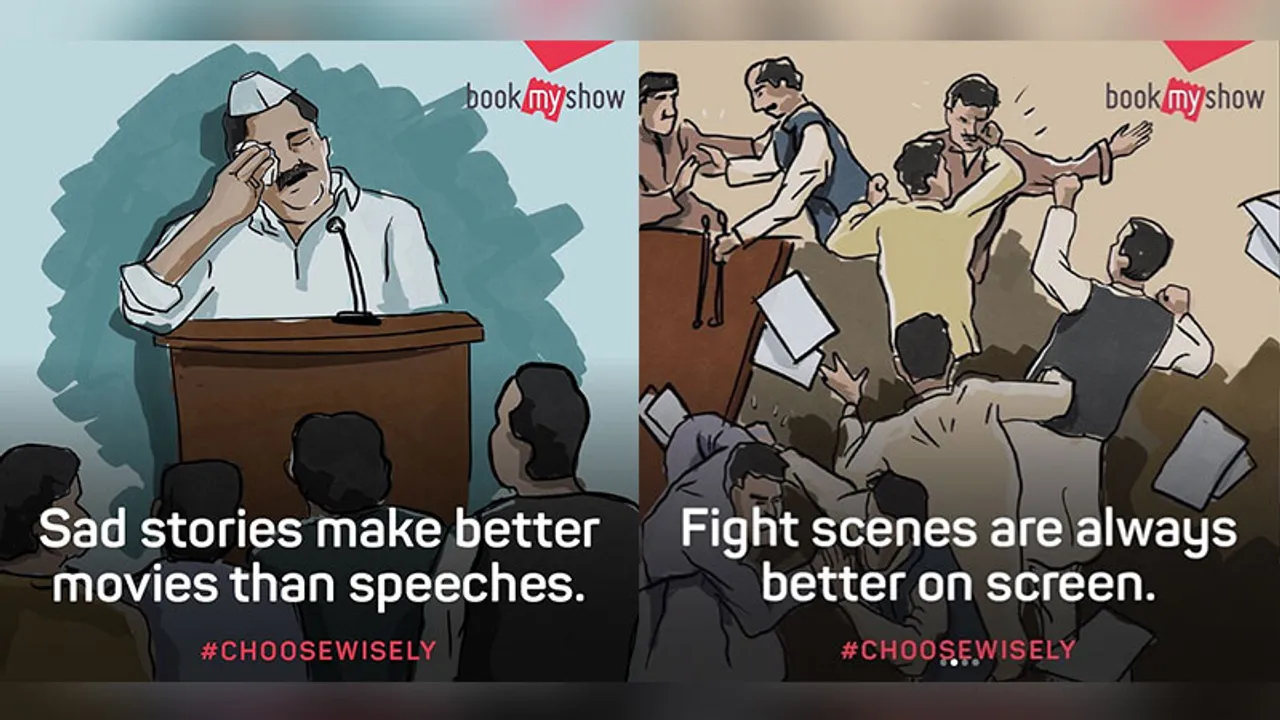 The digital campaign by BookMyShow #ChooseWisely aimed to inform citizens about the significance of voting responsibly.
With the onset of India's biggest festival of democracy- Elections 2019, brands are jumping on the bandwagon to make citizens aware of the significance of voting and make the deserving candidate win. BookMyShow, in its latest campaign titled #ChooseWisely, encourages Indians to vote judiciously.
Conceptualised and executed by BBH, the campaign encourages people to acknowledge the power they possess and the larger role they play in shaping the country's future by choosing to vote wisely.
Insight behind the campaign
The campaign #ChooseWisely is a natural extension of BookMyShow's primary appeal to people to step out of their homes. With the General Election upon us, it wanted people to step out of their homes yet again, but this time to use their power to vote responsibly and choose their government representatives, wisely.

Key objective from the campaign

Marzdi Kalianiwala, Head - Marketing and Business Intelligence, BookMyShow informs, "Through #ChooseWisely, we wanted citizens to make a conscious and informed choice about the crucial years ahead in India's growth graph. As a brand that satiates the OOH entertainment needs of millions of Indians each day, we want to be a significant part of their everyday conversations, including the most important one - the General Election".

Ideation to Execution- The campaign journey

BookMyShow wanted to make the content of the campaign relatable to the brand and what better than entertainment, itself. It took familiar situations that we hear about or witness at election rallies and parliamentary sessions, and spun an entertaining storyline around them to establish a correlation between the real and the reel. The campaign highlights the underlying fact that entertainment is best suited only on screen or during live shows, and not in the parliament.

The campaign is being executed ahead of every election phase on BookMyShow's official social media handles across platforms and through the app as well.
Campaign Performance so far
"The campaign has just been rolled out and the initial response has been very encouraging," exclaimed Kalianiwala. "We will be keeping a close eye on the campaign's reception through the entire polling period and we hope to engage deeper with users and drive home the point of choosing wisely".  

#ChooseWisely is a digital campaign and is being promoted on social media, targeting users across metros as also tier 2 cities.
With India at the forefront of development on various counts globally, the outcome of this election will anchor the next 5 years for the country. BookMyShow, recognised the significance of this event and urges citizens to step out and cast their vote through #ChooseWisely.