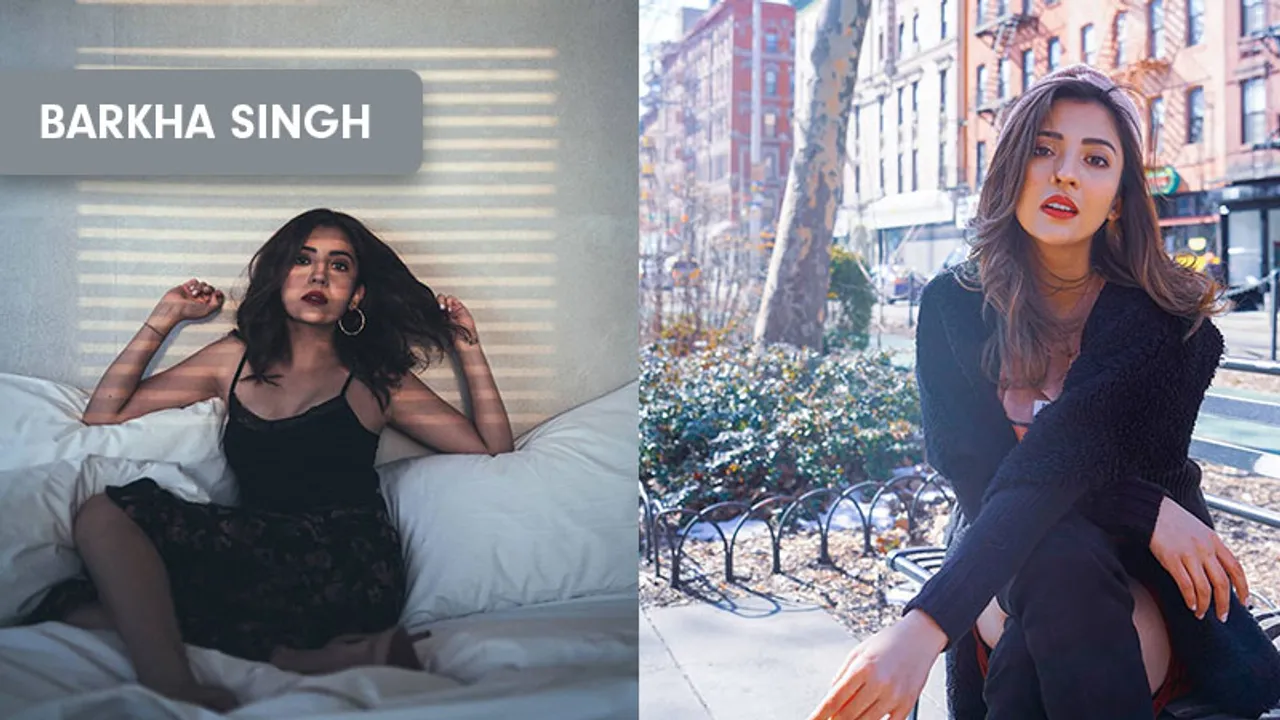 Actor and vlogger Barkha Singh shares that every piece of content that she creates has a "personal touch and a connect" which gives her content an edge.
With over 1 million Youtube subscribers, 730k Instagram followers Barkha Singh dons multiple hats- that of an actor, influencer, content creator and a vlogger. An avid traveler, Singh boasts of Youtube videos that sum up her experience in different cities of the world.
In an interview with Social Samosa, Singh gives us a glimpse of a day in her life, creating content in the digital savvy world and much more.
Looking back, where did it all begin?
Honestly, the first ever campaign I was a part of was back in 2012 when I was in college. It was for Adidas Originals. This is before "Influencing" even became a thing. We were given free Adidas Merchandise worth 25k (which was a HUGE deal as a student) and we did events and made videos. But professionally, this happened as a bi-product of my acting gigs.
What's in the name?
Your own, personal brand.
What is your USP in this cluttered space? How does your content give you an edge?
I keep my content very simple, original and real (keeping it real is of utmost importance). If I don't feel it, I never put it up. That way, every piece of content that does go up has a personal touch and a connect. I think people can relate to that and that's why they keep coming back for more. I don't constantly bombard my audience with serious messages, I guess that is why they show full support when I do bring up something (mostly related to animal welfare) that requires them to take initiative.
How do you make moolah with your efforts?
I am an actor first, hence my bread and butter comes from my acting projects. In the digital space, like everyone else, the moolah comes from branded content and event appearances.
How do you maintain editorial objectivity with the influx of brand briefs?
I am very particular in deciding which brand to associate with. I come from a marketing background, so I pay special attention to the brand image and communication and only then move forward. There is a certain degree of responsibility that comes with such a large reach, and one must always be mindful of that. A part of my audience is also very young, so what I communicate and how I communicate it is very carefully planned. More importantly, I maintain a healthy balance between branded and personal content. Just because I get paid, doesn't mean my audience should have to come to an ad space when they visit my profile! ☺
One instance/experience that made it all worthwhile?
It will be unfair to pick one particular instance. Little gestures, every comment or message of encouragement, every form of support, every time I've been able to help an animal or a person because of my reach makes all efforts worthwhile. When I go out, especially at airports I hear someone scream "hey lovelies" and then come to say hi and take a photo – the smile on their face and knowing that I brought that, is very special to me.
If not creating digital content, you would be?
Acting full time or working on projects for environmental and social sustainability.
A day in your life….
Wake up and hustle! Never without my coffee though! Jokes apart, no two days are similar. I begin everyday by checking emails and planning my day in a way where I can be most productive and still find some personal time for fitness and family.
Message/tips for upcoming bloggers/influencers?
Keep it real! The audience is very smart and there is no room for being pretentious.
Your Favorite Influencer
Oh now that's a toughie! Natasha Shrotri and Larissa D'sa are two incredibly experienced and the most helpful power women I have had the opportunity to work, travel and have real conversations with. They have both been in the scene since the beginning, you could call them my seniors. These two women have really helped in their own way and I have a lot of respect for them.
The Future you foresee for your Personal Brand
I would love for my personal brand to keep growing in reach, reliability, and creditworthiness. At the cost of sounding like a Miss Universe contestant, I really do want to spread kindness and positivity using my personal brand because I believe that a lot can be achieved with a positive outlook, it is the first step towards anything and everything.