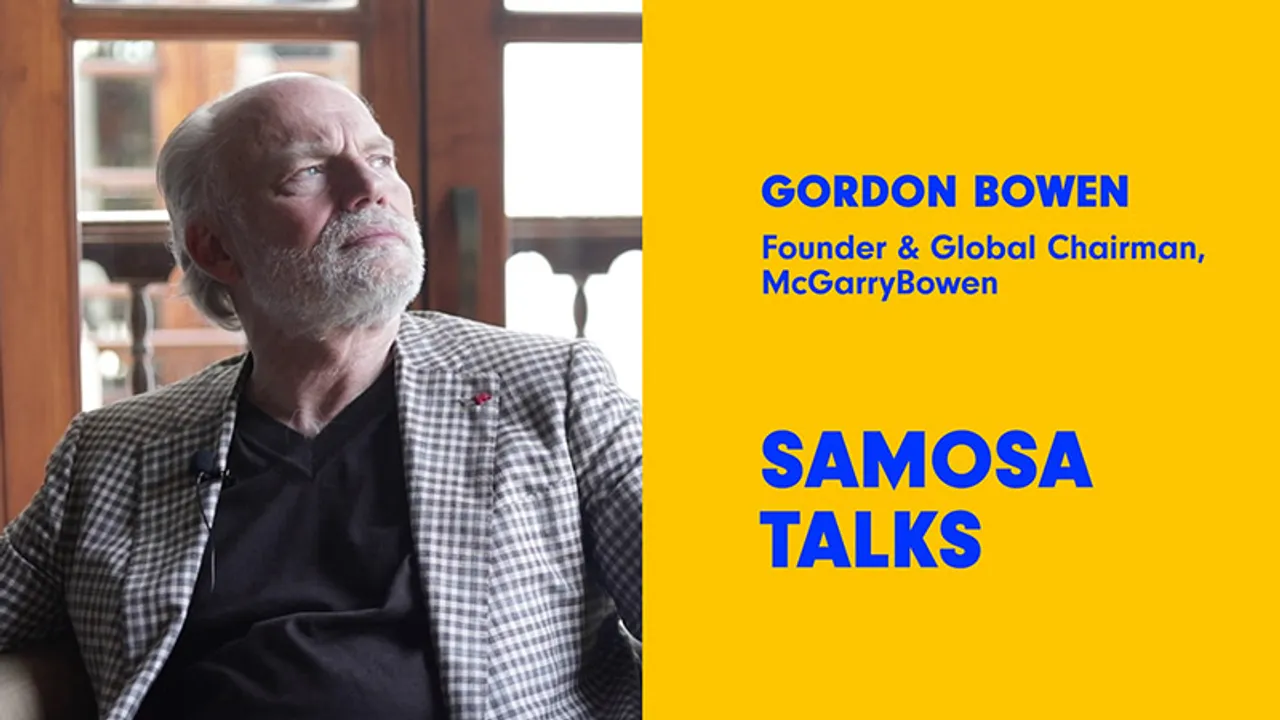 In an exclusive tete-a-tete with Social Samosa, Gordon Bowen, Founder, and Global Chairman, McGarryBowen talks about the cause marketing wave in the Ad-Verse, Indian creative Industry, and the future of independent agencies.

On the sideline for this year's Goafest, Social Samosa caught up with Founder and Global Chairman and Global CCO, Dentsu Aegis Network, Gordon Bowen to know how does he see the Indian creative industry evolving. On which Bowen opined that by the nature of India itself its opportunities lie within the country and outside the country. The largest is the population as such,  the creative industry must increasingly flourish and grow as large companies to capture more of head and heart. He also felt that technology adoption is going to expand more exponentially then geometrically back home.
Watch the entire interview below:
Bowen also shared that clients in the United States seek to have inspiration from different parts of the world for their campaigns and therefore they go out of the boundaries of America. For eg: a package design for any Mondelez product can be inspired by India, China or France.
Further talking about the #MeToo movement and the cause marketing approach of marketers, Bowen thinks that the #MeToo movement has not helped but actually hurt young women.
"That's a very unfortunate outcome. And I suspect a change over time but that's not what was intended by the #MeToo movement certainly. One of the things that happen in general is that many of these movements are driven by people on the edges. We sometimes have a tendency to overreact and overcompensate. So either agencies or clients pick some so conservative and fear-based insight rather than love based. We cannot show our love without passion".
He further exemplified his thoughts by saying that women should not be objectified, but they are essential, sexual and creative beings. And that there is a nuance how you present that. You could end up in a situation where it gets overtalked and suddenly the portrayal of women gets boiled down to being so stereotypical in another way because the clients are afraid of this and that.
"Pretty soon you end up in a situation where you are blind and don't present the head and heart of what we are as human beings," he added.

Bowen's advice to the creative industry is that look at your consumer with love and not fear. We are heart and head driven as human beings and we need to remember that passion is the driver for any business.

When quizzed about the future of independent agencies in light of Droga5's acquisition by Accenture and similar others, Bowen reminisced that just like Droga5, his company was also acquired.
He shared, "We were the fastest growing agency on Madison Avenue. We won agency of the year three times. But we were at the size where we could only do that in the offices we had in the US. We had to join a network so we could serve our clients globally like Intel or Mondelez."

"It really depends on your aspirations. He who has the best idea wins,"- Gordon Bowen.
Watch the full video interview " target="_blank" rel="noreferrer noopener" aria-label="here (opens in a new tab)">here: