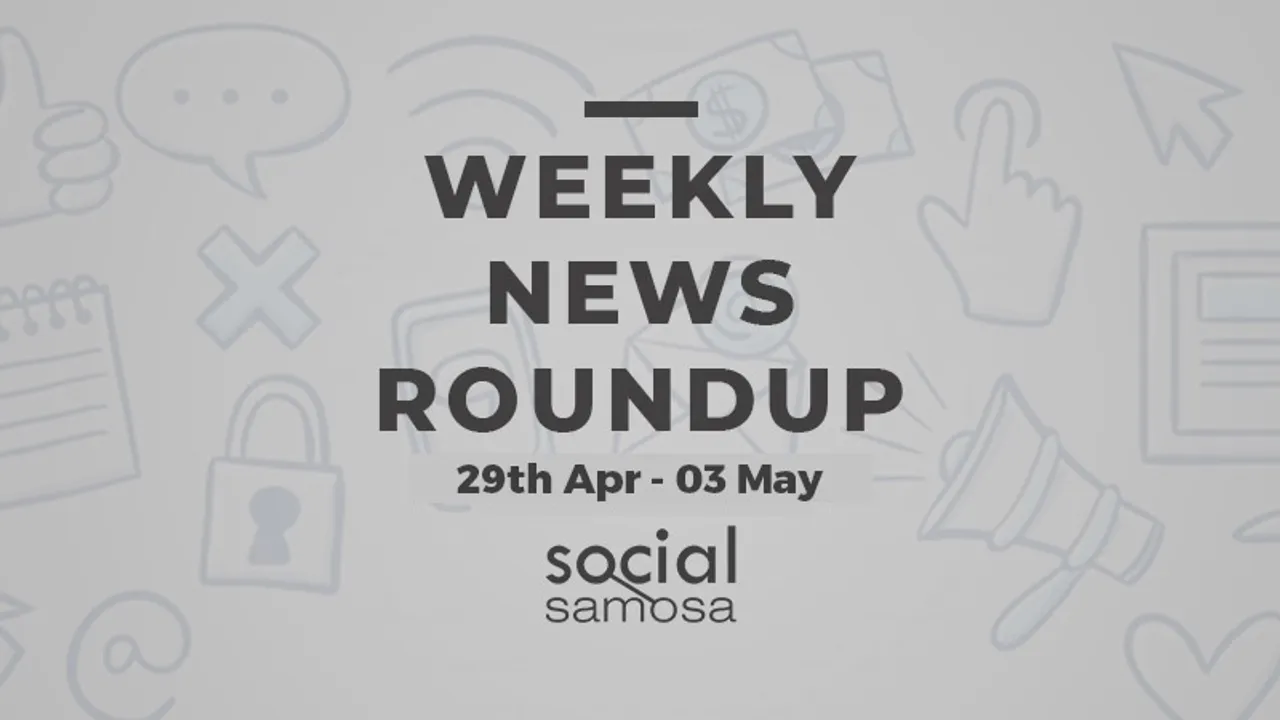 Social Media Platforms are constantly evolving and updating with newer features to increase relevance and stickiness for users, brands, and businesses. Here is our weekly roundup of Social Media News this week.
Social Samosa brings you all the latest news, platform updates and trends dominating the digital ecosystem.
Social Media News this week was dominated by Snapchat's first ever social impact lens challenge, Because Of You, Facebook's announcement of updates for it's family of apps at the F8 Conference and more.
LinkedIn has rolled out photo-tagging and new photo stickers
LinkedIn has launched the option allowing users tag their fellow members on photos and has also introduced stickers for images. Read more here.
Key Takeaways from Twitter's first quarter 2019 earnings release
Twitter says, "Launching something new and connecting with what's happening are resonating with advertisers." Read on to know the key takeaways from Twitter's first quarter. Read more here.
LinkedIn is testing two new updates for Android
LinkedIn is upgrading job alerts and connections with new updates which would help notify recruiters and manage Microsoft Accounts connections, respectively. Read more here.
Facebook is testing a Creator Studio for Instagram
Facebook is planning to launch Creator Studio for Instagram, for creators to manage posts, explore insights and check messages. Read more here.
Instagram is inviting influencers to test Creator Accounts in real-time
In a recent development, Instagram is inviting creators and influencers to test a special Creator Accounts that include features like Flexible Profile Controls, Simplified Messaging, and More Growth Tool. Read more here.
Snapchat launches the first-ever social impact Lens Challenge, Because Of You
Snapchat, in an initiative to support Bullying Prevention Month, has partenered with Ad Council for their campaign, Because Of You. Read more here.
#F8 Instagram is testing to hide the like counts on a post & communal video viewing option 
Instagram is testing a new video viewing option which would allow users to watch video content on the platform with a co-viewer, while also seeing them on the screen, watching their reactions – all in real-time.  Read more here.
#F8 Here is how to use Instagram's new Stories Update
People come to Instagram to be with their close friends. They stay to be inspired by art, fashion, sports, and entertainment — as well as the people behind those crafts. Read more here.
#F8: Instagram now allows you to shop from the Creators
Starting next week, you can shop inspiring looks from the creators you love without leaving Instagram. Read more here.
#F8 Facebook now let's you connect with your Secret Crush
Last year, at F8 Developers Conference, Facebook announced the launch of Dating App that will be built within the app and was soon released in a handful of countries. This year, at the conference, the company showed more light on it's preliminary staged dating app, built over the existing app. Read more here.
#F8 Facebook to redesign the UI, will keep Communities at the centre
As the F8 Developer Conference kicked off on Tuesday, a bunch of new features were announced for Facebook and its-owned platforms and how they are going to address privacy and data security-related issues, at the same time developing the platform to build an engaged community. Read more here.
#F8 Facebook now allows people to watch videos together in real time on Messenger
With the updates that are revealed at F8 Conference this year for Messenger, a few updates are dedicated to building community on the platform and co-watching videos on the platform. Read more here.
#F8: Facebook Messenger can now help businesses book appointments and more
In the series of updates that were announced at Facebook's annual conference for developers, F8, social media giant also revealed a few upcoming features of their messaging platform Messanger that will help Businesses connect with Customers. Read more here.
#F8: Facebook to update Messenger app, create Lite and Desktop version
In the annual conference, F8 held by Facebook, Asha Sharma, Head of Messenger Consumer Products, announced few key updates that are scheduled for their messaging platform. Read more here.