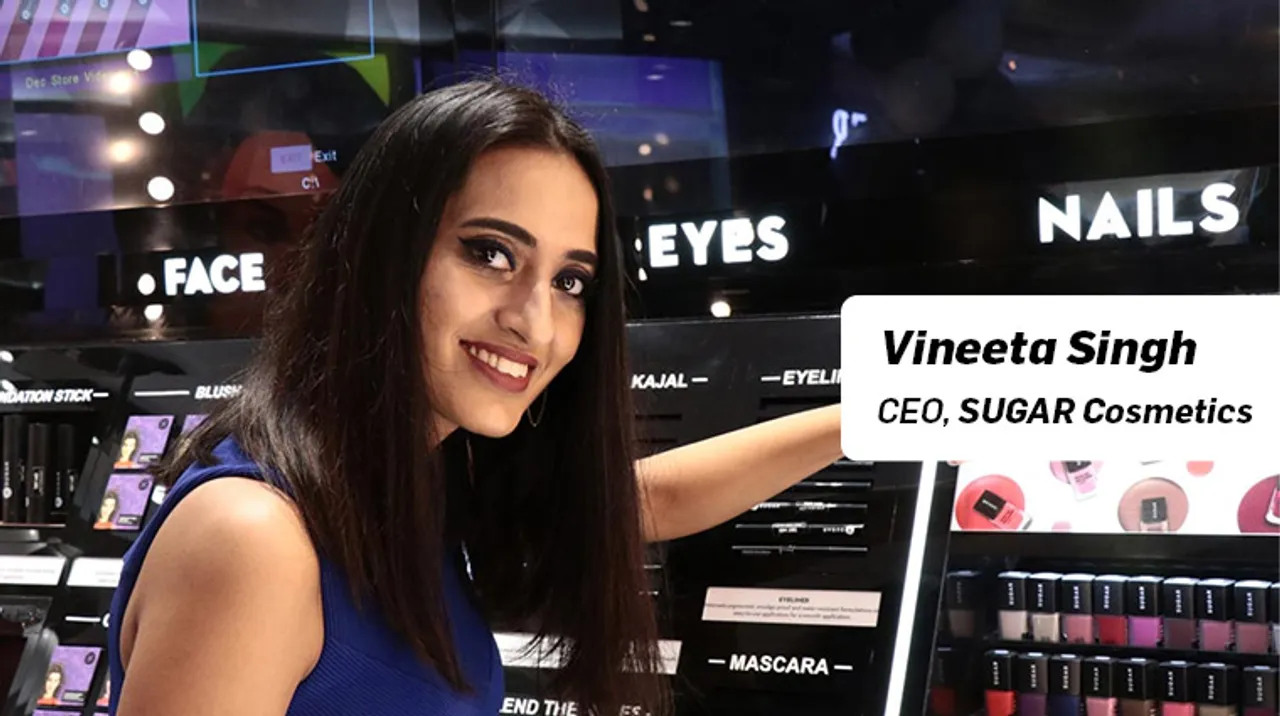 Vineeta Singh, CEO, SUGAR Cosmetics addresses the insights and rationale of their recent campaign and puts the spotlight on the brand's advertising journey.
SUGAR Cosmetics recently launched its Mettle range inspired by and crafted for women who prove their mettle and positioned it as the range for women of grit, substance, women who are bold & fearless, and who get things done.
The launch was followed by the roll-out of a digital campaign titled All That Matters Is Mettle portraying women who have the nerve. SUGAR Cosmetics claims to be a digitally native vertical brand and strives to pioneer the social space.
In conversation with Social Samosa, Vineeta Singh, CEO of SUGAR Cosmetics speaks at length about the campaign, the role of digital media, the brand's advertising journey, competitive strategy, and more.
Excerpts:
What was the insight and rationale behind the campaign?
Through our digital ad film, we want to inspire our community to rise and move forward after every fall because they do have the mettle to chase any dream they set their heart on. We want to erase any thought of self-doubt and uncertainty, hustle your way through to achieve all your goals and dreams – and that's what makes you the woman of Mettle.
How did you ensure that the campaign stands out from the rest and what was the end objective to be achieved?
Where most beauty brands are talking about aspirational beauty, SUGAR is going beyond the traditional definitions and celebrating the beauty of women who have the mettle to dream big and go after their dreams.
This campaign showcases 5 different women and their journey to success, where their Mettle has made them what they are. This is exactly the message that we want to share with all our consumers and inspire them to be so.
How are you leveraging digital to take the messaging forward?
Our ad film has been exclusively released as a digital ad film on our YouTube Channel. Optimizing the power of digital media and viral marketing we have further leveraged the film on strong engagement platforms like Instagram to take our key messaging forward. Keeping the content as key – we are working on letting the message of the campaign hit the wave through its natural course.
This is where our strong 650K+ fan base plays a crucial role, as they have been a strong source of shares in the internet world-building word of mouth publicity for the film and the message behind it. Further rolling out our influencer marketing activities PAN India, we know that we have covered reaching out to all of our audience.
How's India fairing in the beauty sector vis-a-vis its global counterparts? Also what have been the trends that you come across? 
Over the past decade, the beauty industry has evolved and undergone a sequence of changes owing to the close attention brands are now paying to the evolving needs of the consumer. In today's day and age, consumers develop an affinity towards brands that not only sell a product to make them look beautiful but also something that reflects their diverse personality and individuality.
The trend of using makeup by Indians had been only occasionally i.e. only during special events such as weddings and parties – this now becomes passé. There is now a drastic change in the usage of makeup now on a regular day-to-day basis. With a rapid increase in the culture of sharing daily Look-Of-The-Day (LOTD) posts, tagging beauty brands and searching for beauty hacks/reviews online has led to a surge of "beauty influencers" in India as well.
How has SUGAR Cosmetics' advertising journey been? Some of the key highlights of the journey?
SUGAR Cosmetics started off as a digitally native brand where we have seen consumer engagement trends move from Twitter to Facebook and now on Instagram.
SUGAR's advertising strategy has always been led by strong content that resonates with the 'SUGAR Woman'.
As we grew strong on our retail presence we have also been investing in various other ATL and on-ground BTL activities. We have built a property called the "SUGAR Makeup Station" that has traveled to various events like SULA Fest and Indian Makeup Show – where we also showcased different makeup looks on the ramp.
We have also started exploring print and radio advertising and plan to go bigger on traditional advertising in the coming quarter. From just static product images and makeup looks decoded by bloggers, we have also shifted to images that tell a story and built strong video content through our YouTube and Instagram page.
Please brief us about some of the key campaigns that you carried out?
Our first key campaign was #MySkinMyChoice where we wanted to highlight the essence of being comfortable in your own skin. Every woman has faced judgments and taunts with regard to her skin tone at least once in her lifetime. We wanted women to love the skin they are in. For this we launched 11 new shades as an extension to our bestselling Ace of Face Foundation Sticks making it a total of 22 shades that are specifically suited to Indian skin tones and undertones.
What has been your mantra to sustain and be relevant with time?
Constant innovation, building a clutter-breaking persona and creating chart-topping products our customers need! We have always been a brand who wants to enable women to explore, crack the code of and relish the matchless beauty products that are exclusively recommended for them by beauty connoisseurs. This mantra has helped us aggressively grow at a stupendous pace in such a short time as 4 years.
We have kept a close eye on social listening to understand the constant feedback our customers give us for every product that we have launched.
This has been crucial to us to improve and provide what's exactly the need of the hour.
What is your media-mix like? How much of the pie does digital occupy?
We started off SUGAR with our digital website which got a brilliant response, making the website the most-selling brand-owned channel in the country. This is why we have always advertised heavily through the digital medium using effective performance marketing.
Now the brand has grown to have made a mark on the retail front and has noticed that our offline sales are on par with our digital sales. Probably because consumers like to try and test products before they purchase them which is very convenient through an offline channel. Keeping this in mind going forward we plan on entering the outdoor advertising space and collaborating with big events to keep close engagements between the brand and consumers.
What are your thoughts on the influencer marketing wave in the country? Does SUGAR Cosmetics indulge in it? If Yes, how has been the response or the result?
Influencer marketing is a prime source of an effective word of mouth publicity in the digital world, where social media influencers have now become well-followed industry voices.
For SUGAR influencer marketing has played a big part in creating the online & offline popularity the brand has gained.
Churning rich, genuine and engaging content, to an audience who holds great interest in makeup – SUGAR's extended family of digital influencers to date helps create a stir about our new launches and products. Not only in the sense of getting our engagement levels high, but also the direct response from consumers through the sales conversions has seen a spike when we have engaged in influencer marketing strategies.
In the near future, we plan to take our association to the next level, with creating an exclusive community of these mini brand ambassadors and rolling out an exclusive program for them.
What is the roadmap ahead?
While the omnichannel approach though BTL activities and various other digital advertising practices that keep us closer to the consumers, is something we will continue – our focus in the near future is exploring ATL platforms to increase brand awareness and recall. We see OOH, and innovative forms of advertising in traditional media (print & radio) happening soon for the brand. Also, lots of more collaborations with like-minded brands/entities like ours and events are something you can look out for from SUGAR.