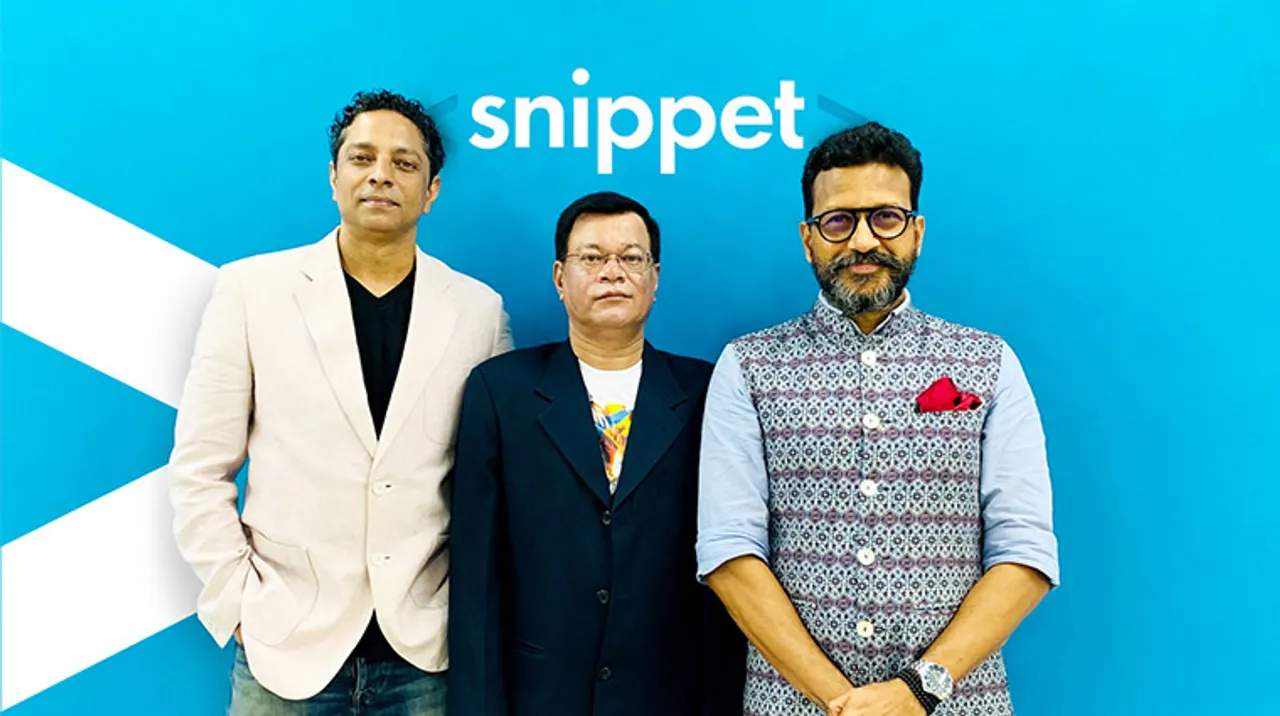 The executive board of Snippet consists of Tarun Mitra, a technology expert, Ram Gudipati, an experienced brand strategist and S Yesudas, a media expert with a collective experience of over 75 years.
Y&A Transformation launched Snippet Digital a full-fledged digital marketing agency, on the premise that digital is technology first, combined with creativity, media science, and brand thinking.
The company will operate under the Y&A collective banner, which will soon be launching other specializations as well. The agency also aims to provide executive education on Digital Business Leadership, particularly to equip the senior management at the clients' end to get much more from their digital investments. 
Tarun Mitra an IIT Delhi alumni comes with a strong background and experience in the technology business, growing internet startups, and marketing services. Ram Gudipati has an in-depth understanding of consumers, brands and marketing communications. S Yesudas brings with him a deep understanding of data, media sciences and how consumers across demographics consume media both offline and online.  All 3 have worked on various brands across different life stages and produced work which has won client trust as well as industry recognition.
Commenting on the launch of Snippet, S Yesudas, Co-founder said "Most clients that I have spoken to are of the opinion that majority of digital agencies do not bring the maturity to consider different perspectives and explain the same to clients through meaningful conversations. The discussion is largely centered around digital execution.  While Google has moved beyond the gate-keeper status to a destination in itself, most agencies haven't moved beyond traditional SEO practices."
He further adds, "Organically engaging with consumers searching for products and services near them is fully owned by the directory services/yellow pages. This not only reduces discoverability but compels a client to even pay for his own data, as the clients' GMB even belong to these service providers.   Our aim is to add some grey-hair perspective to clients' investment and help build curiosity, pride, and purpose for the digital natives in the team so that they start exploring rather than just exploiting".
Tarun Mitra, Co-founder, Snippet Digital, adding to the agency offerings said, the future in digital is changing as we speak and soon the era of augmented creativity will replace the conventional process of digital creative development. Therefore, our efforts are in building a very strong technology orientation, which will get balanced with human wisdom."
He further adds," In addition to our investment in top quality engineering resources, mostly coming from IIT, Mumbai, our resources include creative professionals, storytellers, digital strategy experts, planners, and implementation specialists. We have already forged alliances to deliver programmatic solutions and location-based services integrating mobile technology.  Although nascent, we will even be employing data science, AI and predictive analytics capabilities with a view to ensuring our clients' investments do not end up at click-farms" 
Talking about how brand and creative thinking will heighten the overall customer experience, Ram Gudipati, Co-founder, Snippet Digital  said "Unlike the current practice on digital which is one brand and many stories, more like the spray and pray approach, our focus will be one brand, one core story and different manifestations of the same, platform-specific. We will help our clients spot the signals before they become the trend, rather an adding to the noise on the trends. "
"The snippet has already started working with the Hinduja Group, Hillcart Tales, a premium tea brand, Chitralekha Group, media owner with 70 years of reader engagement, LOL Surprise dolls, Paw patrol and a whole host of brands within the toy's category. We are in the advanced level of conversation with two other large corporates"