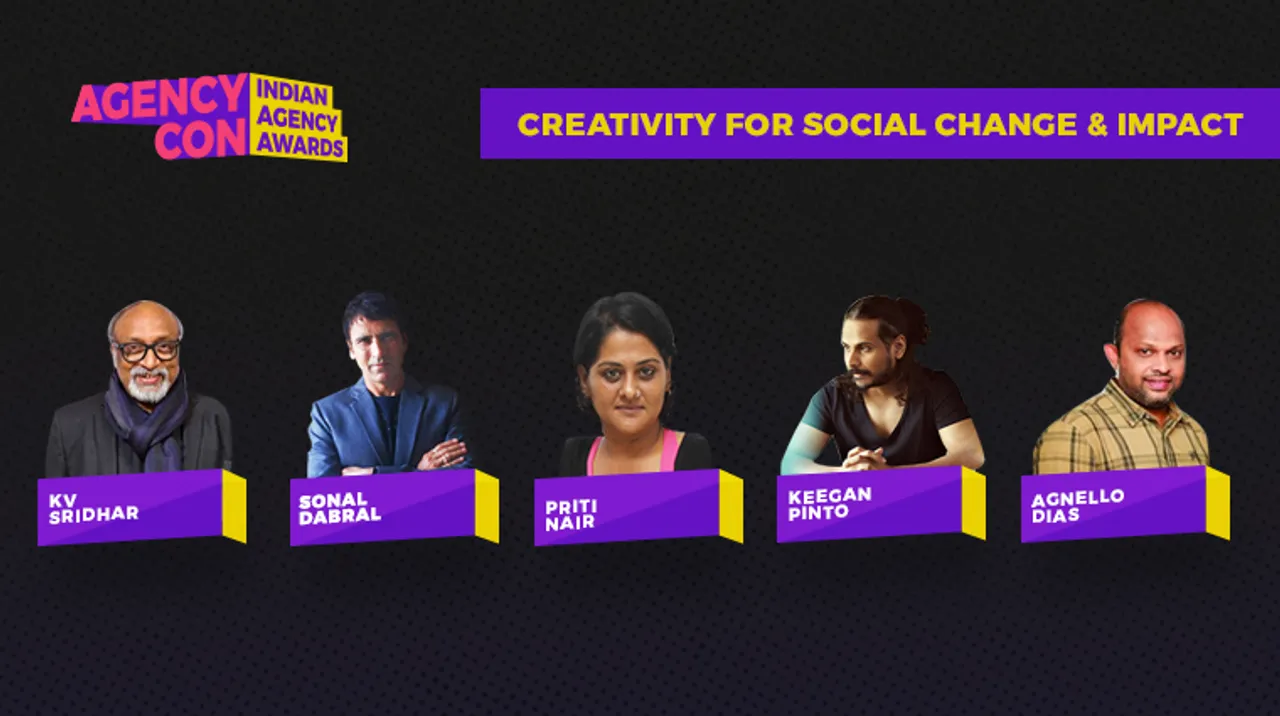 Creative Connoisseurs & Marketing Mavens discuss how creativity can bring about social change and impact during this crisis.
KV Shridhar, Global Chief Creative Officer Nihilent Hypercollective at Nihilent Limited; Sonal Dabral, former Chief Creative Officer South East Asia at Ogilvy; Priti Nair, Director at Curry Nation; Keegan Pinto, National Creative Director at FCB Ulka; Agnello Dias, Creative Chairperson at Dentsu Aegis Network India & Co-Founder, Taproot Dentsu, discuss how creativity has created and can create a social impact.
The experts explore how a few campaigns in the past have brought about social change to all intents and purposes and how can advertisers and marketers bring about a change now.
When people connect with your work, they won't forget your work - KV Shridhar
He believes, "That's how behavioral change will happen". The power to communicate and the power to change or drive an issue is our instrument to make an impact.
He adds, your work shapes you, it is molded by the kind of person you are, the kind of ideas you have, and that reflects on the kind of work you do.
That is why people recognize it when they see the work of a specific person.
Creativity does not mean clever lines, zany things, being crazy, or trying to look like a rebel. Creativity is just to get a powerful insight and communicate it to people when you get the 'Why?' part of it.
KV Shridhar says a lot of campaigns such as Teach India, Sindoor Khela, Gondappa, Share The Load, have managed to change the behavior of a lot of people, but he lists down three campaigns, that have brought about actual social change at scale in the history of Indian Advertising.
I. Hum Do Humare Do
This family planning campaign single-handedly changed an entire generation and family planning. Simple graphic, but amazing power, and it was one of the first to display how the power of communication and human perseverance, can cause behavioral change.
II. Do Boond Zindagi Ke
The complete eradication of Polio can be credited to this Pulse Polio Campaign, the agency, Amitabh Bachchan, and GOI.
III. Balbir Pasha
It has not only changed the behavior of people towards Balbir Pasha but also changed the Balbir Pasha inside the people. People had to change, sex workers changed, truck drivers changed, otherwise AIDS would have been a bigger pandemic in India.
Priti Nair on Balbir Pasha
Priti Nair says the initial phase of the campaign involved extensive research And with this research, they found that all the people they were talking to, everybody had their own reasons of thinking they will never contract HIV. Nobody was willing to wear condoms and Nair and team were brainstorming on how to change this behavioral pattern.
Remarking the initial phase of conceptualizing Balbir Pasha, KV Shridhar said, "Nothing can be done with these truckers".
As the brainstorming continued, ideas kept coming up, such as "Why don't we do an event?", then "Why don't we turn the event into a campaign?", and so on.
Priti Nair says, "In those days pitch campaigns, were to sense agencies", and the same campaign was put out, they were talking to the masses. Pasha was the graphic image, the representation of the whole campaign, and it also involved laying out hand-painted hoardings.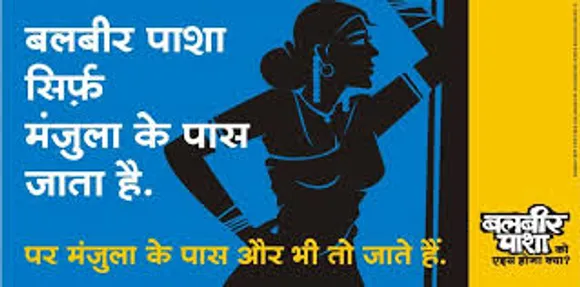 The concept came down to acknowledging what they are doing and not molarizing it. "We know you are doing this, so wear a condom and do it".
This insight of not persuading them and differentiating this is right and this is wrong, and just making them realize what they were doing, worked very well.
Sonal Dabral on Do boond Zindagi Ke
Sonal Dabral shares the campaign was simple and straightforward in nature, with no "high production value and just one line". The campaign turned out to be a "great example of simplicity and usage of celebrity".
The campaign commenced in 1994, based out of New Delhi, with Piyush Pandey leading the campaign with Ajay Gahlaut.
As the focal demographic of this campaign was villages in every corner of India, Sonal Dabral shares this is why the simplicity was necessary, and "The line got the whole ball rolling, along with usage of print, radio, and many channels and how can they be used."
He adds, with the spurt of cases in 2002, and the sudden gush in Rajasthan, the campaign was "needed in this point of time".
Piyush Pandey and the team got in Amitabh Bachchan. He had long been known as the 'angry young man', who fought against the system, and stood up for what's right.
This image was used as a foundation to build on the image of the 'angry old parent', who is like a father figure and is upset about the kids not being taken to get vaccinated, because the dosages were available, but children were not being taken to the vaccination camps.
The disruptive insight, simplicity of the line, and the tonality of Amitabh Bachchan did the trick, according to Dabral. More celebrities such as Shahrukh Khan, Anil Kapoor, and Aamir Khan aboard the ship with Amitabh Bachchan sustaining as the Captain.
The usage of popular TV Soaps, integrations, use of various channels and it's delivery with honesty did the work.
Agnello Dias on Creativity for Social Impact
Agnello Dias breaks it down to two important factors affecting creativity for social impact during the COVID-19 pandemic: the awards pandemic and the prevention for COVID-19 not being simple or being jot down to one insight. That gives one easy answer to this question, "What can we do, and what should be done to change the behavior of the people?"
He shares, "From the time Priti did this campaign (Balbir Pasha), there has been a shift in the power of the communication, (and) how creatively can we communicate this".
The ecosystem has changed to creative people choosing a creative cause, and then the communication is pretty straight forward. They choose "a problem that only affects left-handed children in September" and then their communication is flat. He says that this to lure the global jury to win various awards, which has led to an awards pandemic.
"The whole world is saving the whole world from the whole world".
Remarking the second-factor affecting creativity for social impact during this pandemic, he shares there is a lot of confusion as to what needs to be done to prevent being infected from the virus.
He says, "I don't think we are experts in identifying" that so it has not been able to come down to "one simple insight", and news channels and more mediums are creating a "chaos out there".
So first we need to boil it down to one or two simple acts of prevention, and then advertising should create one simple communication.
Keegan Pinto on Creativity for Social Impact
Keegan Pinto shares there is this instructional side of things, important medical solutions shared by WHO, wear masks & gloves, social distancing, and so on, but there is also this emotional pandemic which has led to mental disorientation of several people. He thinks this is also where the opportunity lies for us to create a social impact.
"There is no real vaccine for how the heart has begun to feel, but the condition is going to persist for a long time".
The destigmatization of this condition, also associated with thoughts such as, "What if I get infected, am I meat to be untouchable, or thrown out of the building?", all of these areas can be touched upon.
Along with this there are also several issues unrelated to the virus that has consequently been growing, such as domestic violence, emotional distress, kids living with nervous tension, not being able to meet friends or attend school.
He believes, "We are heart soldiers, as people in advertising, we go into the heart, that is our strength, and there is a heart in every head, especially in India". The pandemic in the heart needs treatment too.
Keegan Pinto reckons a lot of things can happen form ads and creativity, it could be terrific lyrics from Gulzaar Saab or the shortest format. We should put heart orientation and hope brief together to shut fear-mongering. This should be the help we can offer.