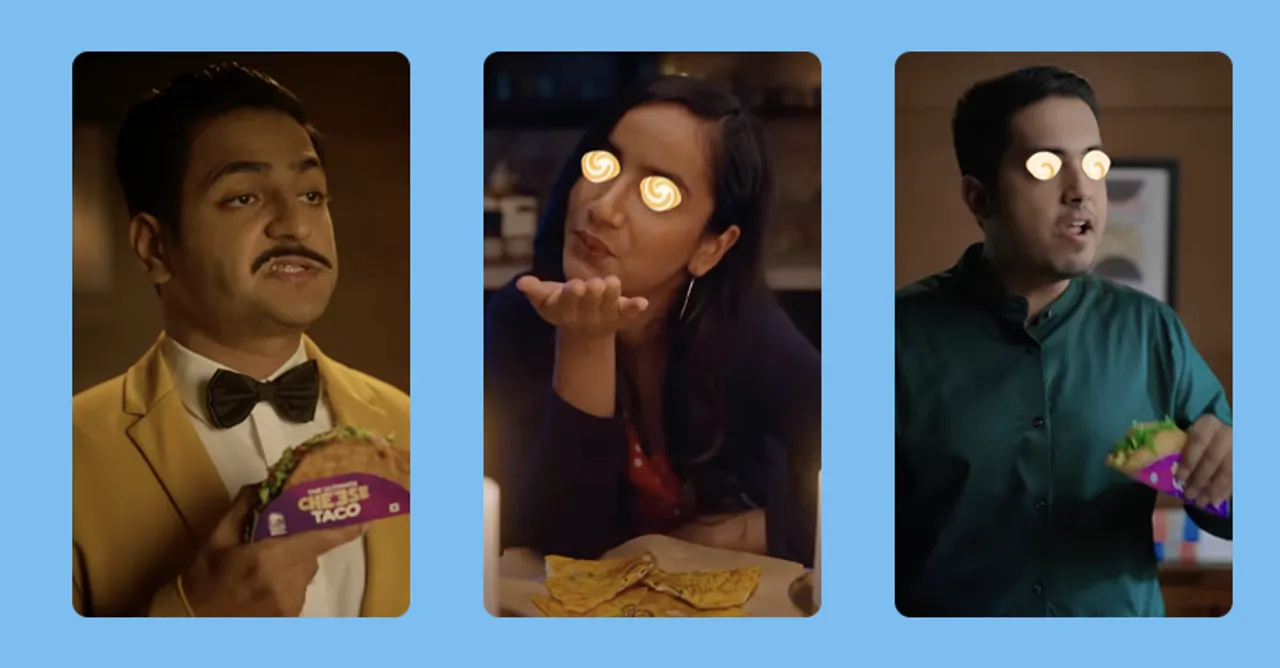 To launch their Grilled Cheese Burrito, Quesadilla, and Ultimate Cheese Taco, Taco Bell created an integrated launch campaign consisting of AR Filter and original content by comedians.
Here's how the Taco Bell launch campaign received 4.8 mn views.
Brand Introduction
Taco Bell entered India in 2010 and, along with Burman Hospitality Private Limited (BHPL) as its Master Franchise Partner, has 76 restaurants to date across. The brand's ambition is where the brand announced its collaboration with BHPL is committed to opening 600 restaurants in the country by 2029. Currently, the brand is present in 11 key cities, including Delhi NCR, Mumbai, Kolkata, Chennai, Chandigarh, Coimbatore, Bangalore, Hyderabad, and Mysore, among others.
Agency
BBH India
Objective
The brand's objective behind this new launch is to provide a satisfying yet unapologetic experience for its fans with every bite of the product.
Brief
The campaign brief was to create intrigue and entice fans to try two new delightful offerings for its consumers with the launch of Grilled Cheese Burrito, Grilled Cheese Quesadilla and the Ultimate Cheese Taco.
These latest innovations offer consumers an opportunity to feel the real cheese experience they deserve.
Creative Idea
BBH, in collaboration with Taco Bell, developed the #LiveForTheCheese campaign to highlight the cheesy goodness in an entertaining and engaging manner - here to satisfy all your cheese cravings.
Taco Bell Launch Campaign - Execution
The campaign started with a four-episode series - Rise of the Chombies (Cheese Zombies) that follows leading comedian and artist, Rohan Joshi, who is inspired to make a movie and release it on social media.
To make his movie on Instagram, we helped Rohan develop the Cheese Zombie Filter - a hyper-realistic Cheese Zombie filter that can be downloaded from the Taco Bell Instagram page. The filter transforms the user into a Cheese Zombie, and with it, he has been able to rope in fellow comedians Urooj Ashfaq, Akash Gupta, and Kenny Sebastian, and Taco Bell fans to play different roles in his movie and act out different scenes.
To launch 3 of India's cheesiest items yet, the Grilled Cheese Burrito & Quesadilla, Taco Bell & It's AOR, BBH India created #LiveForTheCheese - a campaign roping India's top comedians – Rohan Joshi, Kenny Sebastian, Urooj Ashfaq, and Akash Gupta.
With entertaining videos across social media (YouTube, Instagram, Facebook & Twitter) that built intrigue and enticement around the products plus an AR filter, a tribe was created – The Chombies (Cheese Zombies).
Results
With a cumulative viewership of over 4.8 million across all social channels, all organic, Rise of the Chombies has been well received by its target audience. The Chombies filter saw 57K+ impressions featuring celebrities like Nupur Sanon, Sakshi Shivdasani, and Kriti Vij along with Taco Bell superfans.
Some mind-boggling stats -
Total Reach: 65 MN
Total Impressions: 190 MN
Total Views: 12 MN
Quotes
Commenting on the success of the campaign, Tushar Mehta, Assistant Vice President – Marketing, Burman Hospitality Private Limited, Taco Bell's exclusive franchise partner in India, said, "The creative
concept of Cheese Zombies for the #LiveForTheCheese campaign not only strikes the right chord with our Gen Z audience but also spotlights 'cheese' as the key product attribute for two of our latest offerings - The Grilled Cheese Burrito & Quesadilla and The Ultimate Cheese Taco - that extend over five months. At Taco Bell, our endeavor is to build a distinctive brand by that is culturally relevant to the youth, and this fun, light-hearted and relevant campaign is an effort in that direction. The campaign films have resonated well with our audience and we continue to strive to bring content that is relatable and drives traceability for our innovations." genre barriers as it is being created in real-time on social media. It has Romance, Action, Family Drama, Intrigue, and Complex Villains. The magic of the movie is that it never