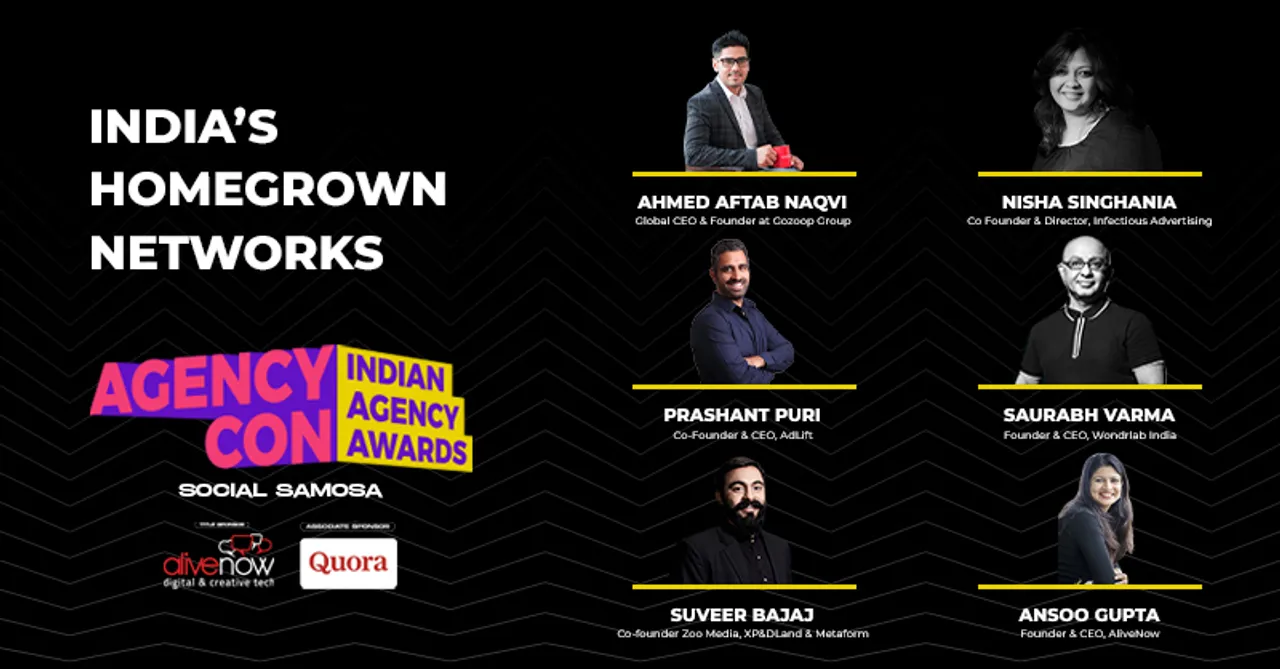 A panel full of experienced thought leaders answer some impending questions surrounding India's Homegrown Networks and what the future has in store for them.
At Social Samosa AgencyCon 2022, a line of panelists joins in pouring in their thoughts on India's Homegrown Networks; how they work & co-ordinate, what they bring to the table, and how their presence and growth will have an effect on the future of agencies in general.  
This thought-provoking panel moderated by Ansoo Gupta, COO, Pinstorm included:
Here's what the experts had to say:  
Global Challenges 
Talking about challenges faced by Indian agencies globally, Prashant Puri points out that when they started out, they were primarily focused on SEO and paid search, which is where they faced the hurdle of global markets thinking of them as a back-office rather than an agency. He also mentioned that after a few hits and misses and letting numbers speak, this too was solved.  
Ansoo Gupta added to this that way back when global markets thought that if an agency was from India, they would charge less. She pointed out that as a Homegrown agency, this was one of the biggest challenges they had to face.  
Prashant further added, "At the end of the day, we are people in smarts – that is what we sell. Most importantly, it's the portfolio". He mentions that to stick out in the market, you have to build a robust portfolio. Because then the person on the other side of the table won't doubt you.  
Suveer Bajaj adds to this by saying, "Historically, India has and still is responsible for a lot of global creationism and creativity". Speaking of standing out in the crowd, especially in the global market, he thinks that it's about how you package the story in terms of being on top of the game.  
Impact of changing digital scenarios of larger networks 
Talking about this phenomenon, Saurabh Varma speaks of now v/s what existed in the past. He thinks that there was a huge advantage in being part of a network five years in the past. As there were multiple possibilities, the industry had a unique culture, the internet wasn't well developed, and people had the time to learn, and lastly, the ability to carry talent. This got the agency's client, which was the biggest advantage. He thinks this big shit – opportunity has changed everything.  
He further adds, "A huge advantage in being independent now and a huge advantage which existed which networks have, is fundamentally gone. One because they are no longer agencies, they've become networks. They've moved from a global model to a country model."  
Adding onto this, Ahmed Aftab Naqvi says, "All the networks are listed; they have shareholders to report – monthly & quarterly. That is why they can't think long-term." He further states that because of this model, it becomes difficult for them to be agile and adopt newer technologies.  
Talking about not making the shift and choosing to stay independent, Ahmed stated that if the company is profitable and the clients love the work, then there is no impeding reason to be a part of the network.  
Independent v/s Network: Candidate's take 
In her vast experience, Nisha Singhania has come to realize the two kinds of talent that exist – one that is extremely and only comfortable with networking agencies, the other being comfortable with risks and the independent sector. She points out that the latter kind of talent is the one independent agencies should look out for.  
Singhania adds, "It's about the culture that you create, and if people love working with you, then they won't go anywhere." 
Next pool of Indian Homegrown Agencies 
Talking about the future of the Indian Homegrown Agencies and what the newer generation looks like, Suveer says that in the past decade or so, a couple of dozen agencies and entrepreneurs have emerged out of their own independent agencies.
He adds, "The idea is if you give the skillful people the right platform, encouragement, mentorship and at times even fundings – then you as a network are doing something right." 
Concluding the panel, Ansoo adds, "With people from our networks coming up and launching their own agencies, it gives me confidence that the whole idea of homegrown network scene is only going to grow and become bigger."  

This discussion happened at the AliveNow presents AgencyCon Indian Agency Awards in association with Quora.