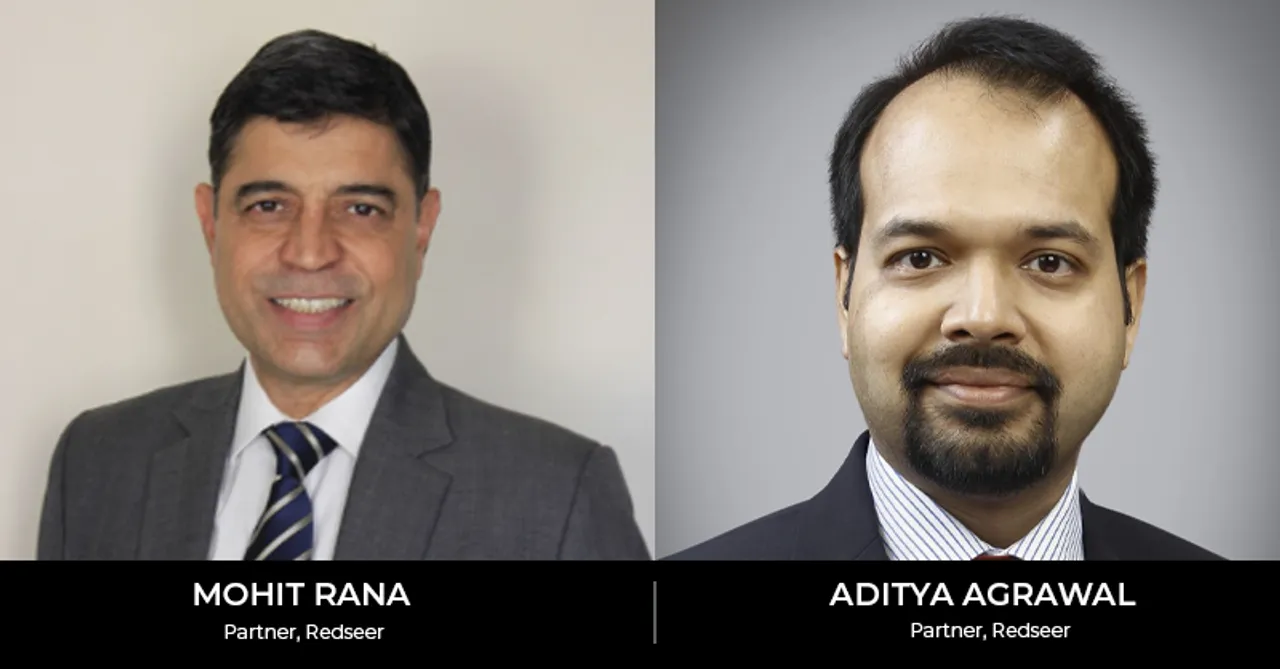 Mohit Rana will be responsible for heading the Enterprise and Digital Enablement practice of Redseer, and Aditya Agrawal will focus on the strategy consulting on emerging sectors
India's most sought-after new-age strategy consulting firm, Redseer, announced the hiring of two new partners, Mohit Rana and Aditya Agrawal.
Former AT Kearney, Mohit Rana will lead the Enterprise and Digital Enablement practice of Redseer, while Aditya Agrawal will focus on the strategy consulting on emerging sectors.
The appointment of the new partners comes at a time of solid growth in Redseer; the company boasts of 90% + market share of new-age IPOs, Delhivery IPO being the latest in the row while Zomato, India's first major consumer tech IPO and GoTo, one of the largest consumer tech IPO are other noted IPO engagements of Redseer. The company also enjoys more than 50%+ market share in the new-age deal advisory and a lion's share in the strategy consulting space. Redseer has been voted as the top strategy consulting firm by independent bodies and consistently appears as the top choice by industry-leading clients and campuses.
Mohit brings over 25 years of experience in management consulting, financial services, enterprises, startups, and digital transformation. Mohit has worked for over 16 years at AT Kearney and was one of the early partners who established and grew the firm in India. Mohit is an IIM Ahmedabad alumnus and has a graduation degree from IIT, Delhi.
When asked about his new role as partner with Redseer, Mohit said, "Redseer has been a leader in advising new-age businesses and investors in India and has played a phenomenal role in the growth of the consumer Internet industry. New companies and business models continue to emerge, unicorns are maturing and looking for profitable growth and large enterprises are adopting some disruptive, technology led startup models. I am looking forward to working with Redseer team to help shape this emerging ecosystem."
Aditya Agrawal, Michigan State University and IIT, Delhi Alumnus, has over 14 years of experience in consulting, marketing, management, and growth strategy. At Redseer, Aditya will steer the consulting business on emerging sectors. He will also be expanding on the role and working closely with the core team to develop the company's market presence and add value to client deliverables in their bid to create a world-class consulting organization.
Commenting on his new role as partner, Aditya said, "Redseer's 13-year journey has been remarkable, and I am excited to be a part of it, going forward. Solving complex problems, working to help clients, and developing individuals to make a world-class team, these are all things that I personally care about and Redseer is a natural fit."
Up until last year, the firm had five partners, Redseer now has a strong leadership of 11 partners, with a wingspan across India, Middle East, and Southeast Asia.
Anil Kumar, Founder and CEO of Redseer Strategy Consultants, said, "The addition of these partners is a great milestone in Redseer's journey in its own way. While Aditya is known for his exceptional team and delivering purpose driven growth, Mohit is an industry leader with a track record of driving impactful businesses. I am confident and excited to see them steer the next phase of growth for Redseer."