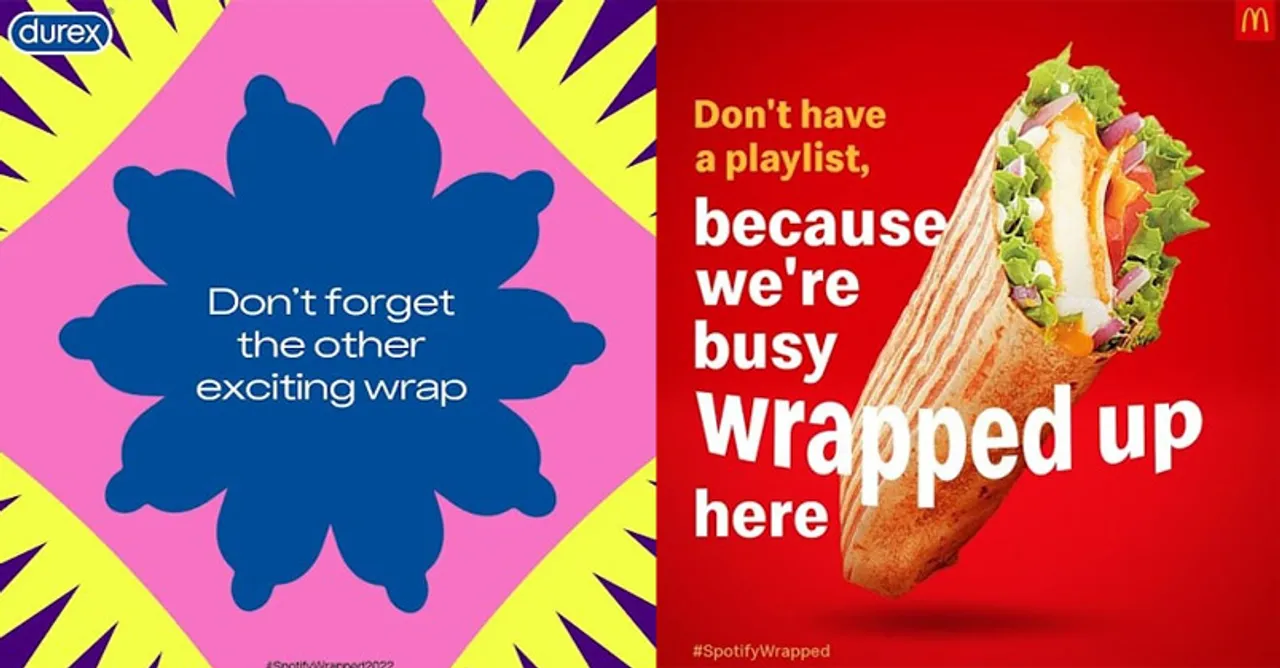 Brands jump on the 'Spotify Wrapped 2022' moment and share their memorable highlights from the year.
As we reach the end of the year, we finally have Spotify Wrapped making its way into our playlists. Instagram is also flooded with users sharing their favourite music that gives insights into their personalities.
Music has a way of connecting people across borders and Spotify Wrapped 2022 has become a trend across countries. For the initiated, Spotify gives a compilation of songs categorized according to the user's listening activity throughout the year.
Brands took this opportunity to bring in their own twist and shared some humorous relatable quips with the audiences. Brands shared their personality traits and common consumer habits with this trend.
While Colgate reminded the audience how many smiles it spreads, Book my show took this opportunity to promote its upcoming music festival. 
Here is a list of Spotify Wrapped creatives made by brands across social media verticals.
Colgate India
Bookmyshow
Myntra
All these outfits in my wrapped, still no wedding invite for wearing them 😏 pic.twitter.com/Eiljhq7Gs4

— Myntra (@myntra)

All these outfits in my wrapped, still no wedding invite for wearing them 😏 pic.twitter.com/Eiljhq7Gs4

— Myntra (@myntra) December 1, 2022
1, 2022
Durex
Dabar Vatika
boAt
You listened to 243 artists this year but not to your mom 🩴 pic.twitter.com/Q5fVhtIPO7

— boAt (@RockWithboAt)

You listened to 243 artists this year but not to your mom 🩴 pic.twitter.com/Q5fVhtIPO7

— boAt (@RockWithboAt) December 1, 2022
1, 2022
Blinkit
McDonald's India
Shaadi.com
For everyone:
🕯 🕯️ 🕯🕯️
🕯 🕯
🕯️Manifesting someone 🕯️
🕯️who doesn't judge your🕯️
🕯 #SpotifyWrapped 🕯
🕯 🕯
🕯 🕯

— Shaadi.com (@ShaadiDotCom)

For everyone:
🕯 🕯️ 🕯🕯️
🕯 🕯
🕯️Manifesting someone 🕯️
🕯️who doesn't judge your🕯️
🕯 #SpotifyWrapped 🕯
🕯 🕯
🕯 🕯

— Shaadi.com (@ShaadiDotCom) December 1, 2022
1, 2022
MakeMyTrip
Swiggy