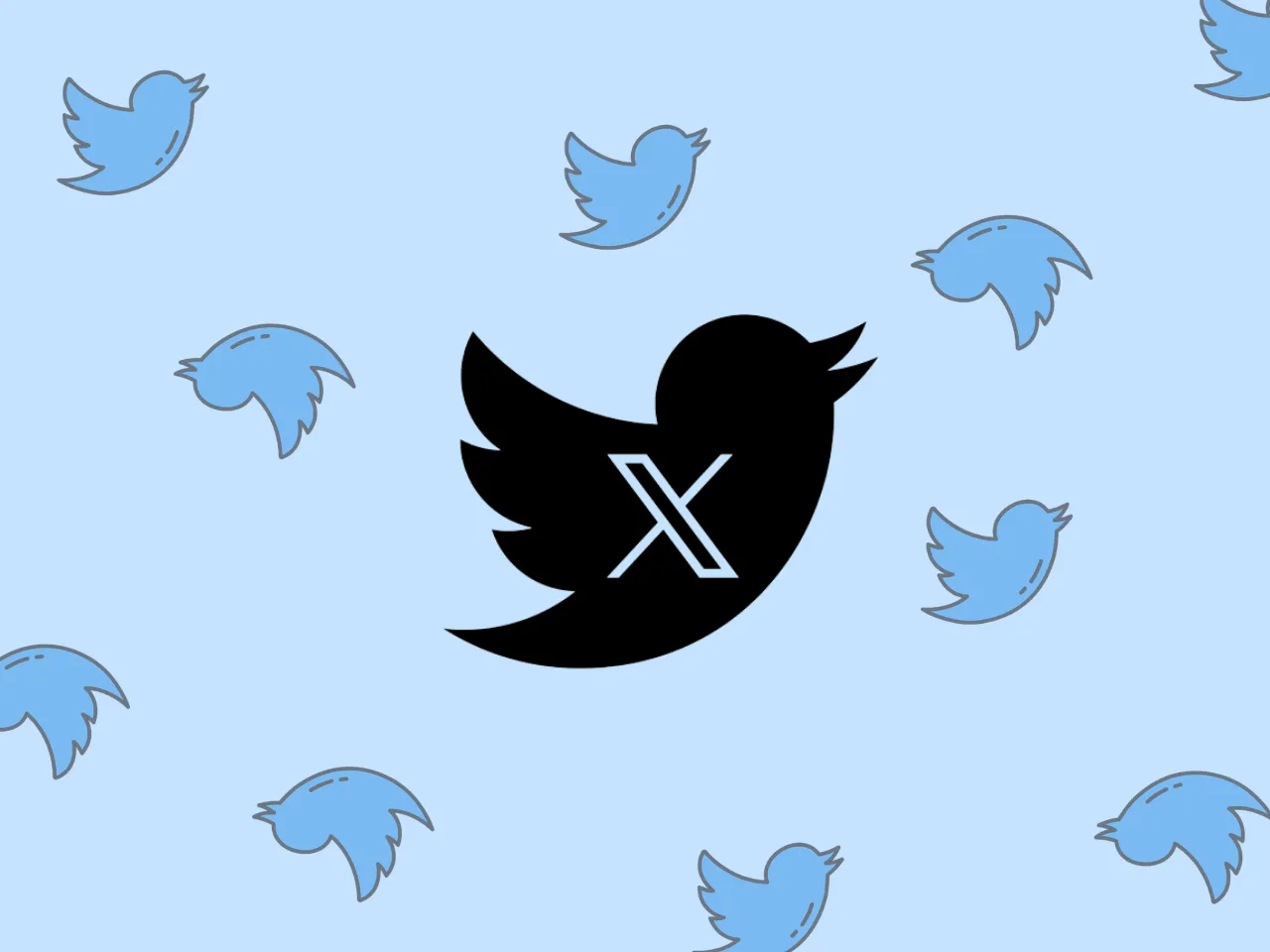 Twitter's bluebird has flown in a new direction since Elon Musk's takeover. The platform has been going through an extensive revamp, with the legacy blue bird being replaced with the letter X. Oh, and the platform is also called X, with all the additional features getting the prefix of the letter. Some of the biggest ad spenders have pulled out as many new features have led to a lot of uncertainty.
The constant developments happening on the platform have led to a 50% drop in advertising revenue and has been confirmed by Elon Musk himself. With the recent logo change, the platform has seen a dramatic decrease in iOS app downloads, according to an analysis from media strategist Eric Seufert.
From July 27 to August 15, it was found that the app's average ranking fell significantly after the rebranding, from 35 to 54.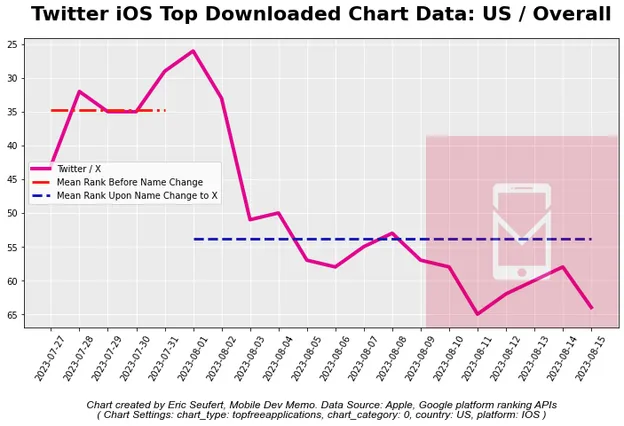 How does this impact advertisers' outlook towards the platform?
Schbang's Vice President, Brand Solutions, Chirag Shah says that the platform's relevance is still being questioned due to numerous changes, and a logo change alone will not significantly impact advertisers positively. 
"Users and advertisers alike expect stability from the platform, but Elon's tendency to make frequent and impulsive changes has left users anticipating further disruptions, making the platform feel unstable."
Vimesh Dedhia, Co-founder, Acadzo has a different outlook on this revamp. He says, "The new logo is more minimalist and modern, and it reflects the company's focus on simplicity and ease of use. This is likely to appeal to advertisers who are looking for a platform that is easy to reach their target audience." 
Musk is on a mission to turn the platform into an everything app with plans to introduce payment features and more. 
While it's difficult to gauge the exact target audience it seems to be going for, it was found that 70% of Gen Z respondents use X to learn about new product drops. What's more, the study also suggests that Gen Z may be more likely than other generations to engage with your campaign conversation. The rebranding exercise might be a tool to engage Gen Z a lot more. 
Viren Sean Noronha, Co-Founder, The New Thing mentions, "X has become more combative than ever. For brands, it is imperative to embrace the un-code of conduct X has demanded for itself. If you're not going to do that, don't get on X." 
Adding to this, Ripal Chopda, CMO, The Sleep Company says, "Advertisers should remain vigilant about monitoring user engagement patterns and be prepared to adapt their strategies to accommodate any shifts prompted by the new identity of X."
He elaborates that this is essential for advertisers to maximize the platform's advertising potential effectively.
What Made Twitter Great?
Before we discuss what lies ahead, let's take a look back to the golden days of Twitter and try to dissect what attracted advertisers to the platform in the first place.  
Prior to the takeover, the platform had a user base of 362.4 million worldwide in 2021 and saw a rise in the user count in 2022 with 368.4 million users.
Sabiha Khan, Head Strategy - Digital Experience, DENTSU CREATIVE India, comments that the platform occupies a pivotal position in the media mix of a brand's marketing strategy, fostering direct connections, audience engagement, and nimble communication strategies, especially for crisis management. 
"However, its placement within the media mix depends on the brand's objectives, target audience behaviour, and the nature of the content being shared. While logo changes may spark interest, advertisers' outlook hinges on enhanced engagement tools and visual storytelling avenues," she further continues. 
As we are halfway through 2023, the platform currently provides an engagement space for 353.9 million users worldwide and brands don't miss the opportunity to communicate with their audience.
Sujai Chandran, Creative Director - Art (South India), at FoxyMoron (Zoo Media) affirms this by saying, "This is the platform where posting 4-5 times a day was not odd, but the norm. It's the way the community functions and hence as advertisers and brands - it's the place where one can have personalised and direct conversations with its consumers."
This is quite evident with brands like Wendy's, Burger King, Zomato, etc., regularly engaging with their community and with people on the platform expecting a reply from their brands when they do engage. The banter on the platform has even managed to create marketing trends like that time when Shubman Gill ended up joining Tinder due to a fan moment. 
Brands tend to make themselves look relatable on the platform by adding that human touch to the engagement. Adding to this, Sanjeev Jasani, COO, Cheil India mentions, "Advertisers were drawn to the platform due to its real-time nature, extensive reach, and ability to foster meaningful conversations with users. Twitter's unique format allowed brands to connect directly with their target audience and participate in trending discussions."
The recent logo change and constant developments on Twitter will undoubtedly have a positive impact on advertisers' and brands' outlook towards the platform, according to him.
Beyond real-time updates, the potential to gain insights and incorporate feedback profoundly influences marketing strategies. Collaborating with influencers further extends the reach and impact of these efforts, according to Karan Anand, SVP – Strategy, Interactive Avenues (the digital arm of IPG Mediabrands India).
Twitter, now X, has deemed X Premium (Twitter Blue) subscribed creators eligible for the ads revenue sharing program. It has kept the minimum payout threshold at $10 and a minimum impressions requirement will at five million views within three months.
Anand highlights, "The utilization of hashtags facilitates discovery, while the concise format encourages impactful messaging. Through conversations, brands offer customer support, run campaigns, and tap into trending topics. This collaborative approach amplifies brand visibility, solidifies customer relationships, and aligns with marketing and communication goals."
Improving the Xperience for Brands 
Hitarth Dadia, CMO and Partner, Nofiltr believes that the real impact on advertisers will depend on if this rebranding comes with improved features that enhance user engagement and ad effectiveness. As per him, a new look can draw attention, but the platform's performance for advertisers will ultimately decide how we perceive this change.
Talking about what can be improved on the platform, he says, "With this new chapter, Twitter could improve by offering more comprehensive analytics, better ad placement options, and improved algorithms for ad targeting. Additionally, more interactive ad formats and opportunities for brands to engage directly with consumers could also make the platform even more attractive for advertisers."
Acadzo's Vimesh Dedhia adds to this by saying there could be an increase in the number of users who are not native English speakers, as well as an increase in the number of users who are older or less tech-savvy. These changes are likely to influence ad-targeting strategies in several ways. However, some features, including adding a label to all ads that identify them as ads, could lead to ad transparency.
Interactive Avenues' Karan Anand highlights that adjustments will be necessary for changes like restricted tweets, where maintaining reach and engagement might be challenging. Advertisers will need to focus more on crafting engaging, shareable content to augment organic reach. 
The incorporation of AI for tasks like auto creative/copy generation, A/B testing, and influencer collaboration integration would enhance the advertiser's experience.
The New Thing's Viren Noronha, former Swiggy's social head, on the other hand, says that he doesn't want more advertisers on X. Instead, he believes more brands should come to the channel as 'native users'. 
"If your brand isn't doubling down on showcasing personality on X, you're not going to get much out of it. X is where a brand finds its tribe and talks to them. You have infinite opportunities to create moments based on genuine and fun interactions. So if you're coming to X as an 'advertiser', that's the wrong approach."
While X has observed a decline in ad sales, social media giant Meta saw an increase in its ad impressions delivered across its Family of Apps by 34% year-over-year and the average price per ad decreased by 16% year-over-year, as highlighted in its Q2 2023 Earnings Report.
Is this the End of Text-based Platforms? 
X has been working on becoming a global marketplace for ideas, goods, services, and opportunities, as per CEO Linda Yaccarino and it can be seen through its recent updates turning it into an audio, video and photo-friendly platform. 
With massive social media platforms like Meta already existing, especially with the introduction and slow fall of Meta's Threads, it remains to be seen how the platform will fair. 
As Twitter transforms and fully embraces its dark mode as X, will the future have a void of text-based social media platforms?
Meet Jatakia, Director of Branding and Marketing, Cossouq believes that it is unlikely to be the end of them entirely. 
"While X's focus on multimedia content could gain traction among certain user demographics, there will still be a demand for text-based platforms that provide a different kind of communication and interaction. People's preferences vary, and some users may still prefer the simplicity and clarity of text-based communication over more visually oriented platforms like X."
As X's transformation reaches fruition, he continues that its ripple effects will extend beyond Meta and permeate other social media platforms, shaping how we engage with them. 
Schbang's Chirag Shah comparing Threads' performance with X says that Threads will also introduce a variety of changes over time but may still stay true to micro-blogging as it already has Instagram that focuses on photos and videos. 
"There is definitely a need for a text-based platform in a user's digital routine, but there is space for only one. Which one wins the race for that space is still to be seen and definitely something most advertisers would be keeping an eye on."
As the experts suggest, whether this is the end of text-based platforms remains to be seen. But, Hitarth Dadia signs off by saying that the future of social media will likely continue to be a blend of various content types to cater to diverse user preferences.