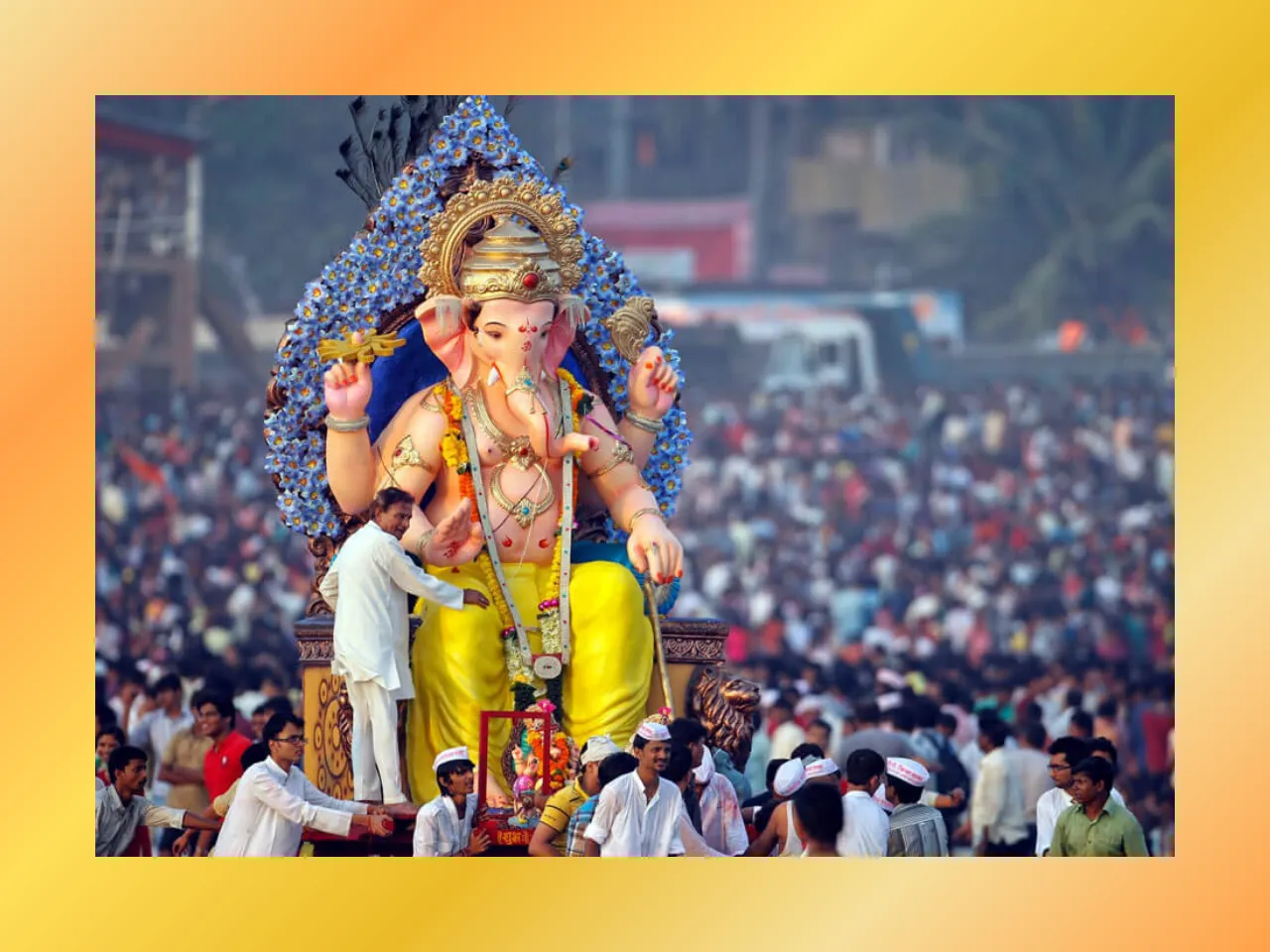 Ganesh Chaturthi embodies a unique blend of devotion and the joy of coming together with loved ones to celebrate the beloved Hindu deity, Lord Ganesha. Families adorn their homes with colorful decorations, prepare modaks, and participate in processions filled with the beats of traditional music during Ganesha aagman and visarjan. The streets are transformed into a visual spectacle. Mandaps featuring grand deities and towering billboards trumpet their presence on every other street, creating a mesmerizing atmosphere.
Brands across categories recognize the festival as an opportunity to reach its audience and channel all efforts into optimizing the media mix with full gusto. This year, according to experts, advertising spends are expected to rise by 10-15%. 
Namrata Soni, Associate Director – Media Planning & Buying, DENTSU CREATIVE India, said, "Adspends are expected to rise by 5%-10% around the festive season this year, starting with Ganesh Chaturthi all up the way till Diwali. This rise is expected to be led by brands in the FMCG, home & furnishing, personalized gifting, consumer durables, and electronic categories."
As the economy gradually emerges from the turbulence it faced, Sri Harsha Chilakamarri, Associate Vice President & Cluster Head, DDB Mudra Group, foresees an increase in advertising expenditures (AdEx) compared to the previous year.
He said, "There is a good 15% growth anticipated in Adex over last year and the growth is expected to come from Consumer Electronics, E-commerce and Retail, Automotive (Cars/Two wheelers), Properties/real Estates, Jewellery and Apparel, Retail Outlets-electronics/durables, Consumer Durables/home Appliances as these categories have a seasonal advantage through offers.
Amyn Ghadiali, President - Business & Integration, GOZOOP Group, highlighted that Ganesh Chaturthi is followed by a wave of enthusiastic festive seasons in India that span until the end of November, encompassing Diwali and a brief period in mid-December for Christmas and New Year. 
He said, "With the increased caliber of ad spend by brands, we can expect the surge in growth to range from 8% to 11%, with a further increase in October. Consumer durables and automobiles will witness peak sales during this time, along with home décor, fashion, and food."
Tapping into consumer sentiment
Beyond the cultural and spiritual significance, Ganesh Chaturthi also has a positive impact on consumer sentiment, uplifting it for a period of 10-11 days.
According to Deepa Bhatia, General Manager at YouGov India, despite the rising cost of living, people eagerly anticipate the festive season. 
She said, "This year's data shows a slight increase (from 94.45 in 2022 to 96.43 in 2023), suggesting that spending may be similar to last year. Having said that, the rising cost of living has had an unfavorable effect on discretionary spending, and although people look forward to the festive season, they are likely to be cautious about their spending on non-essential items."
This indicates that brands need to strike a balance between capturing the festive spirit and addressing economic concerns.
As per Axis My India's Consumer Sentiment Index (CSI) report, 44% of people anticipating an increase in shopping activities during the upcoming festive season will be participating in e-commerce festive sales this year and plan to spend more compared to the previous year.
Pradeep Gupta, Chairman and MD, Axis My India, highlighted that Ganesh Chaturthi is Maharashtra's biggest festival, and brands, both national & regional, spend a significant proportion of their budgets during this period, rolling out new products, offers, and marketing campaigns. He believes that some mass-segment products would still be impacted because of restricted rural demand, but overall, he anticipates a vibrant festive shopping spree ahead, reflecting a positive and forward-looking season.
He said, "As we approach the festive season, our insights paint an encouraging consumer sentiment. Sentiments show that 23% of people plan to shop more during the festive period compared to last year. Additionally, 28% of participants in our study revealed their intention to maintain their spending habits at the same level as before."
Anticipated Media Mix for Ganesh Chaturthi
During the festive season, brands leave no opportunity untapped to connect with their audience. Besides utilizing traditional mediums like TV, print, and digital advertising, Out of Home (OOH) advertising takes center stage. OOH during Ganesh Chaturthi is not merely about placing ads in public spaces; it encapsulates the cultural significance of Ganesh Chaturthi, making it an integral part of the festivities and celebrations.
Soni highlighted the opportunities this year's festival brings, including a long weekend and consumers are expected to plan extended celebrations, longer travel, and multiple pandal hopping across their cities. 
She said, "This opens up opportunities for advertisers across platforms and mediums. Outdoor, digital and TV ads would eat up a larger share of the pie."
Rishabh Mahendru, VP, Client Success at AdLift, highlighted the significance of the combination of social media campaigns and outdoor advertising. 
He said, "Engaging social media campaigns along with the leasing of OOH spaces would be the perfect mix to reach out to audiences during the 10-day festival." 
Ghadiali predicts that television will continue to dominate the advertising budget in Maharashtra. 
We anticipate that television will capture the lion's share, approximately 41-43% of the total advertising spend. In places like Maharashtra, especially Mumbai, television plays a significant role as it reaches a vast audience and has a strong emotional impact.

-Amyn Ghadiali
Digital marketing, Ghadiali believes, will account for about 33-36% of the budget, primarily focusing on connecting with the younger, tech-savvy audience. 
Ghadiali said, "With anticipation this year, brands can make substantial investments in above-the-line (ATL) activities, primarily television. Digital ecosystems, including influencer marketing, are expected to peak for brands in the coming month. Additionally, as AI continues to be a topic of conversation, one can anticipate brands innovating on the ground to maximize footfalls during this period."
Citing a TGI report, Chilakamarri highlighted that TV has the highest reach (88%) followed by digital (83%) and outdoor (74.5%). 
He said, "Maharashtra continues to have a large print readership; You can deliver geo-targeted tactical messages and reach a wide audience by placing ads on various print media. Additionally, during those 10 days, the Ganesha Pandals will be quite active; therefore, on such days, the scope of BTL and outdoor activities will be more noticeable."
Apart from Maharashtra, Ganesh Chaturthi is celebrated in multiple other regions.
Soni highlighted that apart from Maharashtra, Gujarat is a leading state when it comes to celebrating Ganesh Chaturthi and Print, Outdoor and Digital are some of the leading media channels preferred to reach consumers in this location effectively. 
Furthermore, she underlined the importance of localized approaches for advertisers and believes that it is crucial to see how advertisers use regional communication strategies to connect with the audience. 
"While this festival is celebrated in different parts of the country, each region has its own unique way. Thus, advertisers will need to go local with their approach and media mix strategy rather than a blanket Pan India strategy," added Soni.
Mahendru highlighted that people do celebrate the festival in cities like New Delhi, Hyderabad, Bengaluru, Kolkata, etc. Talking about the media mix in different regions, Mahendru said, "The media mix is the same with more digital and less traditional advertising."
Chilakamarri mentioned that Ganesh Chaturthi is also celebrated in Goa, Andhra Pradesh & Telangana, Karnataka, and Tamil Nadu.
Emphasizing the importance of understanding regional variations, Chilakamarri said, "Depending on the locale, target demographic, and cultural customs, the media mix for advertising during Ganesh Chaturthi will change. TV, Digital & Outdoor are popular during these periods." 
Trends, themes and topicality
Ganesh Chaturthi is not just about religious devotion; it's about tradition, unity, abundance, and joy. With consumer sentiment being at its peak, the festival serves as a perfect emotional backdrop for brands to make a lasting impact and to seize this opportunity, brands align their messaging with the festival's core values.
Soni highlighted that topical marketing and moment marketing are the key themes around this festival, which will be featured in ads across brands. Brand efforts will be to build a positive emotional connect with the TG at a wider scale.
In order to differentiate, brands must utilize different media channels to build different stories. Each platform can be leveraged for its USP by differentiating the creative, targeting, CTA, or campaign objective, rather than having a single communication across all channels.

-Namrata Soni
According to Mahendru, India has witnessed a slew of remarkable achievements in 2023, which could be the common themes, ranging from Neeraj Chopra's gold medal at the World Athletic Championship to successful space missions like reaching the moon and exploring the sun. Additionally, the country has hosted the G20 summit, showcasing its growing global influence. The ICC Men's Cricket World Cup 2023 is scheduled to be hosted in India from 5 October to 19 November 2023.
These themes evoke a sense of national pride, scientific achievement, and sporting excellence. Naturally, these themes have captured the attention of advertisers and marketers. However, amidst these contemporary themes, there's a timeless allure to traditional festivals.
"When it comes to festivals, going the traditional nostalgic route hits the mark as well," said Mahendru.
It's going to be an interesting advertising season with brands trying to outdo each other – but what is going to make a brand stand apart is how well it knows its audience. When a brand has its finger on the pulse of its audience sentiment, a knockout campaign is guaranteed. 

- Rishabh Mahendru