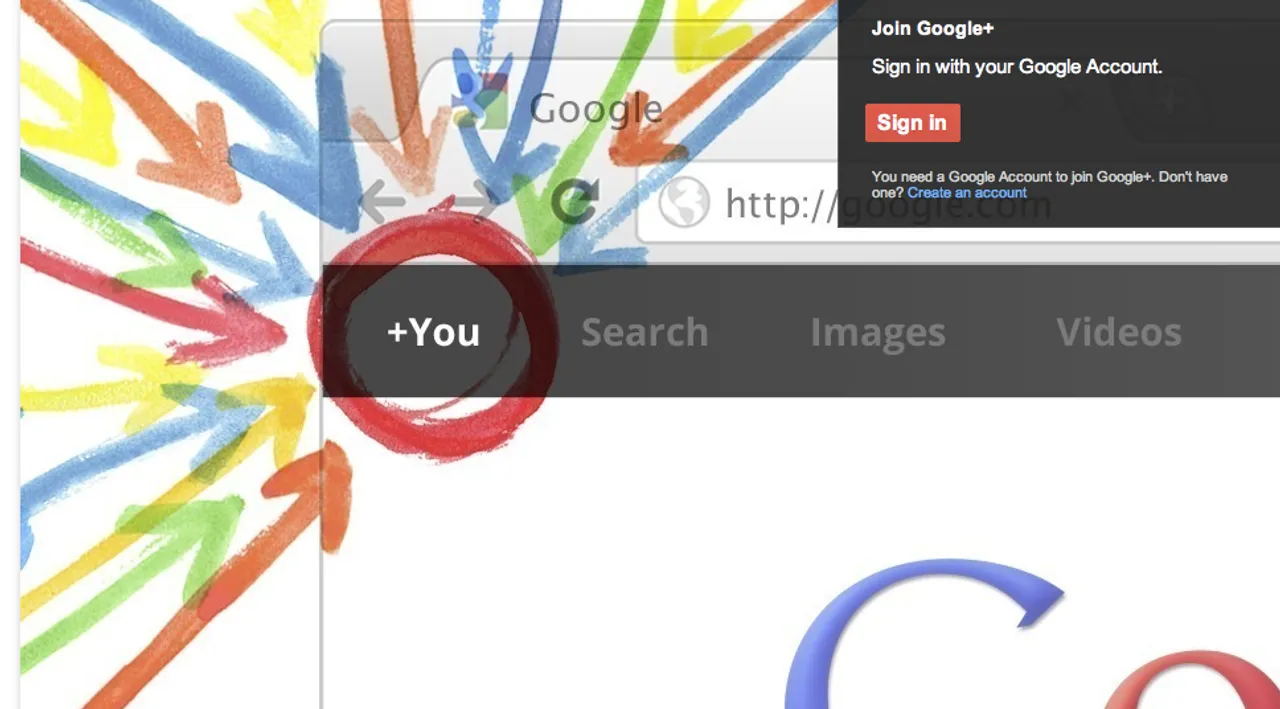 Well, Vic Gundotra did post yesterday that Britney Spears was the first person to pass 1 million followers on Google+.
This piece of information is one of those snippets that means the same as news like- "One more contestant is kicked out of Big Boss season 5" which is:  precisely nothing; adds nothing to your everyday morning idly-sambhar; doesn't start your car without you adding petrol at Rs. 72 for every liter nor does it help you drive the car through the maelstrom that is Indian traffic honking and snarling at everyone.  For those who dont know him yet, Mr. Gundotra is the Senior Vice President,  Engineering at Google.
However, I am sure Cheeky Vic knew exactly what he was doing with that little post. The post had all the necessary ingredients for success.  In the world of trending topics, Britney Spears is pretty much gold right now, what with her uber-successful Femme Fatale Tour coupled with her engagement to her manager on his birthday :).
Juggling Stats...
As Facebook charges ahead crossing 800 million users worldwide, brands already on Facebook are reaping the rewards of a platform that allows such a personal and focused connection with their clientele.
India currently ranks 3rd in the world in number of Facebook users with 41 million users according to Social baker.  That is 3.5% of the population but 51% of all Indian internet users.
Google+ is pretty far behind in the race.  It is like a runner who started the marathon when the others were crossing the 15th mile marker.  However, Google+ does have a few tricks up its sleeve.  The user count on Google+ is speculative but an extrapolation study by Circle Count puts the current number for today at 82 million.  This may not be very accurate but should suffice to provide us with a working number for now.
The stunning statistic here is not the number of G+ users overall but the number of users per country.  Surprisingly, (but then again maybe not), India ranks second in the list with around 20 million users.  Correcting for inaccuracies in extrapolation and to be practical, let us put the number at a far lower count of 12 million users.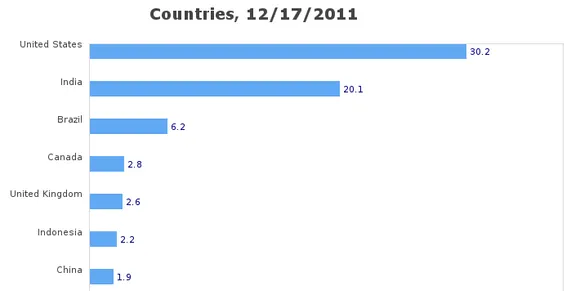 Current Google+ Adoption by Country (Millions), http://www.circlecount.com/statistic/country/
This is interesting because since inception in February 2004, Facebook, to date has around 41 million Indian users. Compare that with the number G+ has notched up within a span of six months.
12 million!!
What does this mean?
More specifically, what does this mean to Indian brands and companies?
It means only one thing-
"Small and Medium sized Indian Brands should get onto the G+ bandwagon and hold on for dear life!"
Here is a social medium that is brand new, connects you to people who almost certainly are 99% of your client base, in an environment that is user friendly and simple to use, as yet not completely encroached upon and dominated by the big guns.  If this is not a good recipe for marketing your product, I don't know what is!
We can mull over the reasons for the increased adoption of G+ by Indian people some other day. It may be a combination of the Orkut like interface and our innate attraction to anything new, shiny looking and free, but the fact of the matter is that we have the base. Now, what are we going to do about it?
How Businesses can use Google+ ...
I would like to list here a few pointers or ideas for small/medium companies to look at and incorporate into their business models. Many may already be in use but it never hurts to reiterate something good, does it?
Create a Page
Firstly, and most obviously, create a Google+ Page for your brand or product. This does many things.  It puts you on the map, allows discovery, forges a link between you and the end user, and finally, allows information transfer both ways.
Fill in related and lively information
This is a little more difficult.  You need to write up descriptions of your brand and promote it.  However you need to be able to do it in a fun and engaging manner.  People will not return to your page unless there is something that continues to interest them.
Keep content current
This is extremely important in the scheme of things.  If your end user learns about the new model washing machine you released to the market a week late on your page then he will lose trust in it as a medium for communication.
Circle of circles
Use the G+ search bar to find brands similar to yours and add them to your circles.  This will do two things. One, it will allow you to look at what the other brands are talking about on your stream and, two,  it will  promote your brand to them by giving them the notion (if nothing else) that you exist.  So there is a good likelihood that they will add you back to their circle.
You can take this one step further if you need to by adding brands that circled the ones similar to yours.
Your lively participation in conversation on threads/posts on these brand pages will direct traffic to your page.
Emulate Cheeky Vic
You can write about stuff that are currently trending.  Writing about things that are hot and buzzing in the web world right now will direct lot more interest towards your page.  How the 2012 doomsday events will be made more comfortable with your brand new massage tables or why Ishant Sharma could not grip the cricket ball properly in the last test match because he did not use your brand new nail cutter.. well.. you get my drift :)
Using powerful new features
Being different has become an old adage now but it is still effective.  Using the new features on G+, most specifically the Hangout is really important.  It shows tremendous vision and skill if a brand is able to leverage new technology hot from the social media factory. Here are a few samples in effective use of the Hangout Feature:
Hangouts can be used in a variety of ways like
1. Introducing a potential customer to a product (Product Demos upon request)
2. Allowing the user to interact with a member of your technical team to answer questions regarding the usage of the product.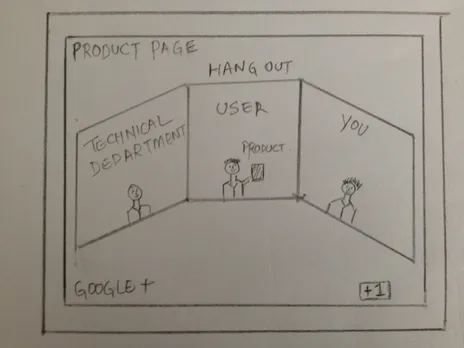 Hangout Representation of Troubleshooting
3. Remote troubleshooting of the product as shown in the figure above.  You can include a link on your product page to request a Hangout.  Once the cause is determined then appropriate solution to the problem can be discussed.  In future, purchases can be envisioned within G+ (like music right now).  Where if the customer is not satisfied, he can order a replacement from within G+.
4. Recruitment Interviews can be conducted via Hangouts.  You can recruit talent right from G+ by starting a Hangout with the prospective employee and your team or board of directors.
Sharing and Directing Viewers
Once you have established a proper G+ Page you will need to send out invitations to prospective clients and friends who are with you in the field.  Currently one does not have a custom URL to send out but you can always link to it on your website and then use that as the URL.  You can also post G+ links to your page on your blogs and in the signature of your emails that you send out.  All this will increase viewer count and boost exposure to your page.  Do you have a Google+ page for your business yet? If not you can set one up here.
Features Added Recently...
In addition to the ones we have already discussed there are features that are being added every week.  I list a few here to further increase your ability to showcase your brand.
1. Google Apps Integration:  This has allowed for some serious improvement in the way brands can use Google+ -  from scheduling projects to interacting with other employers on a daily basis and planning meetings
2. Youtube Hangout Integration:  This feature will help you post your hangouts to your youtube profile thus allowing you to create a video forum where customers can refer things from product ideas to troubleshooting tips.
3. Triggering Hangouts within a post/ in the comments section:  This will be really useful in discussions where the group members suddenly feel that typing doesn't seem to be helping in the general discussion.
4. Hangouts on Air and Phoning in Hangouts: These features are pretty new and they haven't yet been released to everyone just yet. Large corporations and celebrities have gotten them for now and Google is slowly pushing it out to everyone.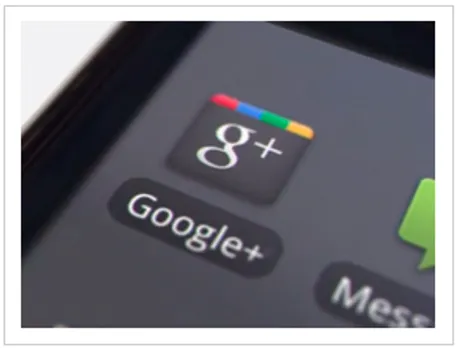 5. Mobile apps for both Iphone and Android have been updated with many of these new features.
Finally some SEO talk..
Will your Google+ Page help you go higher up in Search Rankings on Google?
Well, this is a question that cannot be answered accurately right now.  The +1 button is the most important resource to get your page more personalized recommendations on Google.  However whether it will help you move up in rankings is not yet clear.
A lot depends on the success of the +1 button itself.  It is still not as pervasive as the Facebook Like button and it has not been integrated into web pages themselves.  They are currently sitting at the ends of every search result on Google. Which I find is a bit strange, since if you like a link, would you then go back and like it on the results page?   I don't think so.  Therefore, once the button is spread over the web as it is supposed to, then a Google+ page will certainly have a better personalized ranking on search results.
Conclusion..
To wrap up we just need to ask the question:  will Google+ live up to the expectations?
The answer lies in what those expectations are.  Will it be the next Facebook?   I don't think so.  Google+ is fundamentally different from Facebook, even though many parts of the user interface are similar.  Facebook concentrates on person to person interaction in the sense that brands are seen as advertisers.  It is like a really good cricket match that you are watching with commercials thrown in in the guise of Brands.  However Google+ allows brands to merge into the fabric of social networking.  The design is such that you get much more than just brand recognition.  You get user participation and the user gets direct contact with the brand.
I feel both Facebook and Google+ can coexist peacefully with each other.  Very strangely, whether by design or by accident, Google+ has carved a niche for itself in realms of Social networking that Facebook has not yet breached.
Is this the calm before the storm?
I certainly think so!
Update..
Well, Looks like the Google+ team has been pretty busy before Christmas. They have rolled out many new features yesterday that help make your business page even more manageable. Here is a look at some of them:
Multiple Managers
You, as an admin can delegate up to 50 managers as admins for your business page. This rectifies a serious flaw where if an employee had been let go from a company the Google+ brand page then would have to be closed and opened anew by the person replacing the previous admin.
New Notification Flow
This allows the managers to more easily navigate the page and better interact with the content. This in effect means that managers will be tuned into all activities on the page.
Combined +1 and Circling count
The combined number of people interacting with your page by either circling it or +1'ing it will be reflected under your page picture. This allows you to ascertain all positive impressions among the junta regarding your page.
Individual Improvements...
There have been a couple of improvements to the way a casual user uses G+ as well
Fine Tune your stream
An equalizer bar has been introduced at the top of your posts which allows you to fine tune the amount of content you want to see from a source.
New Notifications
Notifications have been made shinier and more detailed. You can now see a small summary of what the notification directs you to and also the number of +1's and shares since last viewing.