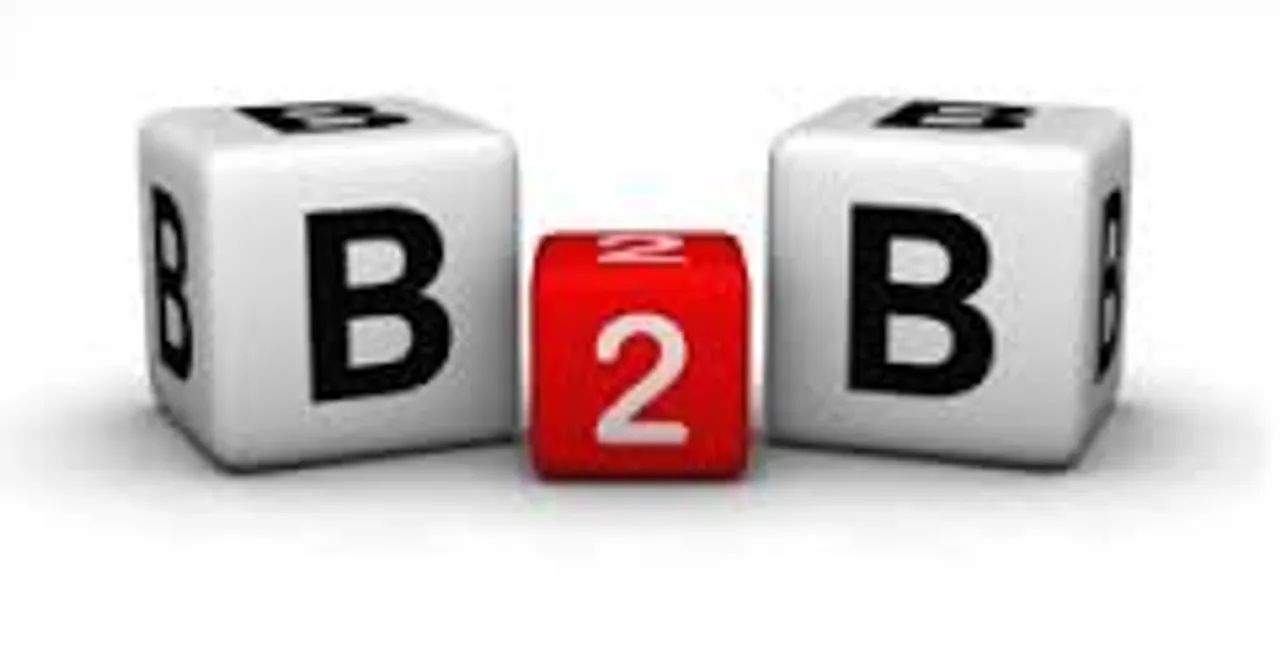 A lot has been said and written about how FMCG companies, designers, companies dealing in products and services are all using social media. In this milieu of brands, something that must be looked at is how B2B brands and companies are using social media.
Many B2B biggies are making a very innovative use of social media.  Here is a look at the who, what and how of some of the top B2B brands on social media…
Simplifying Business the GoDaddy Way
In May this year, GoDaddy launched its 'Cup of Coffee' campaign in India. The endeavour aimed at getting a simple message across to SMBs in India: "setting up a site takes as much time as a cup of coffee".  The campaign ran in Hyderabad, Mumbai and New Delhi for a period of one month.
The "Cup of Coffee" campaign offered small businesses a .COM domain, 1GB email and Google AdWords credits credit worth Rs 2,500 so that they could have their business appear on Google – the entire package for Rs 580 only.
The campaign had good offline integration with trained GoDaddy experts who went door-to-door in select areas of the three cities to demonstrate how simple it is to create a website using its tools. Advertising on radio and outdoor billboards were also undertaken.
All in all, India with its growing entrepreneurial class represents a big market for GoDaddy. The main objective behind using mass media is to drive the brand while using the opportunity to tell the customers why they should bring their business online.
Insights the Dell Way

Dell's social media strategy first took shape in 2006. Conversations about Dell encouraged the company to learn how to engage with customers and "embed social into the fabric of the company".
Dell won an award for its focused campaign on LinkedIn. The endeavour included creating a close network of IT professionals that it wanted to target for its core products. This activity by Dell focused on using a native functionality of LinkedIn – through custom groups. A part of a continued social media b2b effort by Dell subsequent to its campaign on Twitter earlier which was undertaken to promote the Dell Vostro, where you shared your trade secrets via a hashtag.
Dell is well known for being experimental with its social strategy, and you can see this from the huge number of popular B2B Twitter feeds it operates.
Some deal with company news and announcements, while others are dedicated to answering customer service queries. Dell Cares PRO provides 24x7 global support and Dell for Business answers questions from small and medium size businesses.
Different feeds also communicate with one another to ensure that customer queries are dealt with through the proper channels.To make sure it stays on top of things, Dell's social media command centre aggregates customer conversations around the web.  This enables the company to identify problems, address complaints, collect feedback and respond to it.
Cashing in on Opportunities the Infosys Way
Bangalore-based Infosys Technologies is keeping its eye on emerging opportunities for IT service providers. India's second-largest IT company by employee numbers had previously launched Flypp, a platform for mobile service providers.
Actively looking to tap social media marketing, Infosys has even devised a platform named iEngage for this purpose. iEngage uses some of the currently popular social media applications and makes them available as enterprise applications.
Features of the iEngage platform include support for e-commerce for immediate purchases, sales and marketing by gathering the right online information via social media to and from customers, customer care and employee collaborations.
Battling Attrition the Cognizant and TCS Way
Cognizant's Facebook-like platform called Cognizant 2.0, or C2, allows employees to connect with thousands of others and share ideas without any intervention or mandate from the project managers.
Starting from when a new customer project is kicked off till it's actually delivered, Cognizant 2.0 glues the entire workflow together.  This is done irregardless of skill sets, geographies and business units making workflow dynamic and refreshing.   Built like Google search—it feeds in the skill set required, and this throws up different project teams and individuals with prior experience in dealing with such situations.  For Cognizant as an organisation, the system helps build a closely knit organization structure and reduces the time taken to identify who can do a particular project better than the rest.
At TCS, nearly one third of it's over 1, 50,000-strong workforce actively participates on the company's social media platforms. TCS uses wikis (personalised, websites) that bring together specialised communities, apart from other tools like Jusatask and Ideamax to help its employees collaborate better. While Justask enables employees to ask questions openly, Ideamax encourages employees to share their ideas about a particular technology or a process.
Online Project Collaboration the DeskAway Way

DeskAway is an online project collaboration Web app by Indian entrepreneurial couple Sahil and Sitanshi Parikh. A lightweight application that allows small and large teams to work together on projects, it boasts of built-in features like file-sharing time tracking, delegation, and to-do list management.
It also has a new feature that combines internal project management with social networking on sites like Facebook and Twitter. Since its target market is big and includes all kinds of companies, DeskAway chose Twitter over Facebook, Adwords and paid media for B2B marketing.
Participating in social media to connect with people who might be looking for something that they sell, is a very cost-effective way to connect with a tech savvy audience.  Hence Twitter became their springboard.
Their weekly plan on Twitter includes setting up search terms on Twitter and monitoring what others are talking about, connecting with users and gently letting them know what the company has to offer.  They also share news, messages, company culture, thought leadership on Cloud/SaaS, product announcements, and blog articles on their Twitter stream.  In addition to this, DeskAway follows some competitors to see how they handle customer support, server issues, feature requests, feedback, etc.
Powering Community Initiatives the Suzlon Way
Suzlon launched P.A.L.S.to generate awareness about air quality and with the objective of converting this awareness into action by empowering the audience with tools and the means to be a part of the solution. The idea was not just to highlight a problem, but to provide solutions as well.
The pals.in website was floated as a platform for people to come together. People used the site to register and learn about simple things that can result in cleaner air. Registered users regularly received emails with updates on ongoing and proposed P.A.L.S. events.
The initiative was not limited only to the website but extended to other media such as TV, print, PR, radio and outdoor.  Apart from this P.A.L.S. used Facebook,  Twitter and YouTube to garner attention.