The e-commerce industry has significantly swelled in the last couple of years. Belonging to the e-world, these companies have efficiently expanded their reach on social networking platforms. One of the key roles includes tapping the potential use of Social Media for Customer Support
Based on the popularity, I have assessed six leading e-commerce portals and analyzed how competently they are using customer support on different platforms in the last couple of months. Flipkart, Myntra, Homeshop18, Jabong, Snapdeal, Ebay India, Make my Trip, Yatra and Naaptol have a sizeable crowd within their social communities. Facebook and Twitter tend to be the virtual social hangouts for these brands, more often than not, encountering various complaints and queries.
Social Media has acquired the reputation of being a swift customer service channel and brands are now beginning to acknowledge this fact.
The kind of queries brands get
The brands usually have more complaints than queries on both Facebook and Twitter. The most common complaints of all the e-commerce portals are related to unfulfilled orders. Usually, customers are frustrated due to untimely shipping routines of these companies, demanding an explanation to justify delayed response from the brands customer support on mail or phone. Their next move is to turn to social media in a hope that their redressals will be addressed.
Other than product complaints, queries such as shipping limitations, shipping time, exchange policy and website technical errors are raised. Jabong however is one brand which does not allow customer posting on the wall. It has specially created a tab and named it Feedback, where users can leave their queries. The brand manages this application in a very haphazardly fashion. The response timings are vary and the responses to the queries too have a standard reply.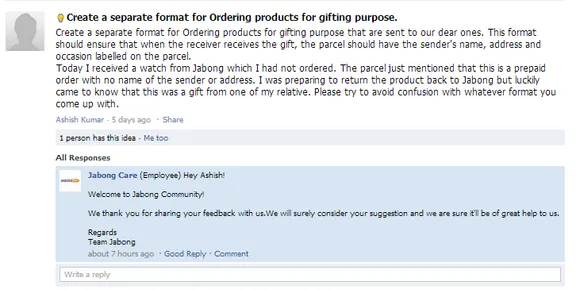 A few days back, a customer posted a very valuable suggestion on the application which was replied to after 5 days in a template sentence format. The brand could have certainly received more interaction, had this been on Twitter or the Facebook wall. The response too could have been more welcoming and interactive. However, since the team handling gifting might not be connected with social media, it is uncertain whether this message will even make it to the department.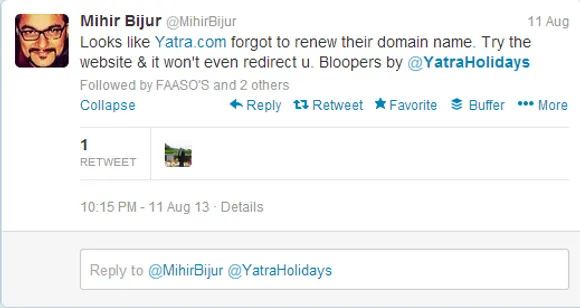 Some days back, Yatra website had some technical gliches. A user posted a statement on Twitter, that could be damaging to the brands reputation.Though Yatra was tweeting about the technical error, it failed to respond to this particular user. In future if people come across this tweet, it will put the website authenticity to doubt.
How often they respond and their response time
E-commerce brands tend to be selective while choosing to respond to incoming complaints on Facebook and Twitter. While Flipkart, being the market leader responds the most to complaints and queries, Snapdeal and Homeshop18 do not bother, both on Facebook and Twitter. Although responding is definitely the first step towards successful customer support, the response time is a very important metric too.
Flipkart uses a separate twitter handle @flipkartsupport to deal with customer service. Though it responds most, it takes the longest time to reply. The average response time (ART) of the brand is 12 hours, which is detriment to the brand value. For instance, a user complained about late arrival of products and Flipkart worsened the effect by delaying the response by a whole day.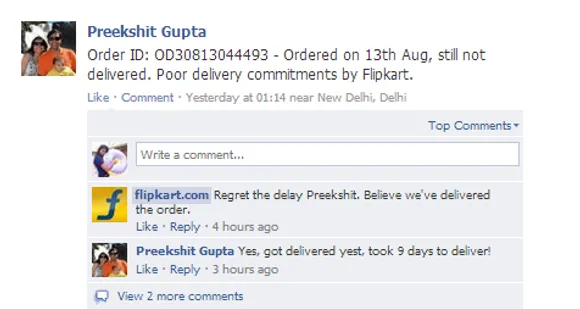 However, there are times, when the brand has conveniently chosen to ignore complaints, posted on the Facebook wall.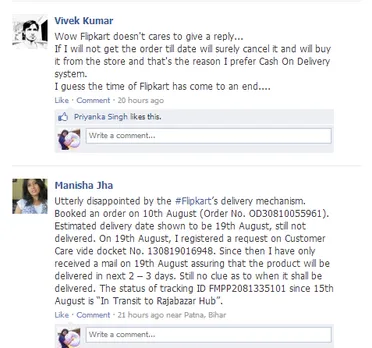 What is their first response
Most brands begin the conversation by conveying an apology to pacify the troubled customer. After this, they usually ask for the order number which can be sent to the concerned department. Apart from Flipkart and Myntra, e-commerce brands stop at the first response and do not encourage public discussion of the same. HomeShop18 has maximum unsolved complaints which are limited to the first response. Though the customer has provided all the details that are needed to solve the query, the brand has failed to respond with helpful data.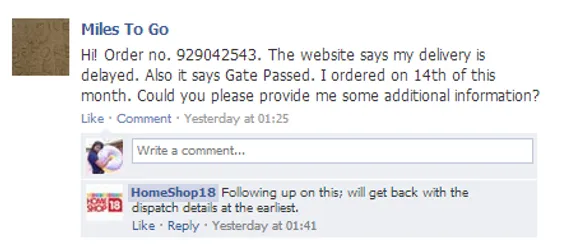 Myntra on the other hand begins with apologizing, follows it up with a number for assistance and successfully closes the complaint.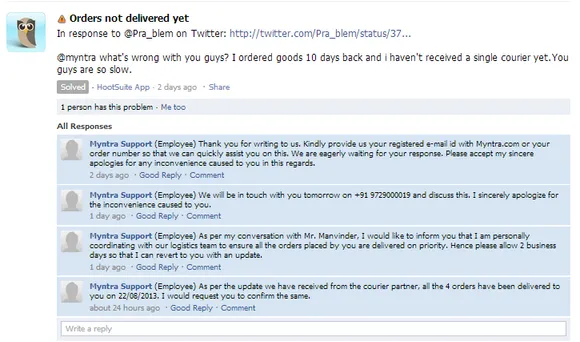 MakemyTrip.com has a separate Twitter handle @MakeMyTripCare which addresses complaints on Twitter. However, their response is almost robotic with no sympathy for the customer. For example in the below posts, the customer is clearly defining his complaint, however, the brand is further frustrating the customer by delaying any definite response. If the department handling the Payback partnership with Make My Trip was roped in, the issue could have been solved on Twitter itself.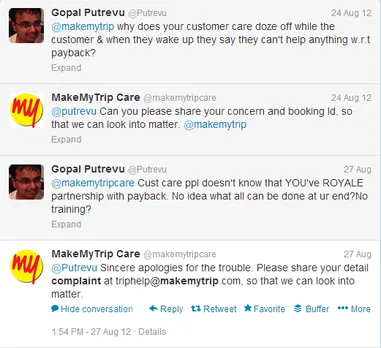 Naaptol too for instance has standard template lines which give rise to distrust in a brand. A user has posted a complaint where another user has posted the same complaint. The brand has failed to close the complaints. Everytime a user looks at this post, it will give rise to distrust and spoils the brand image. Its almost like an incomplete story.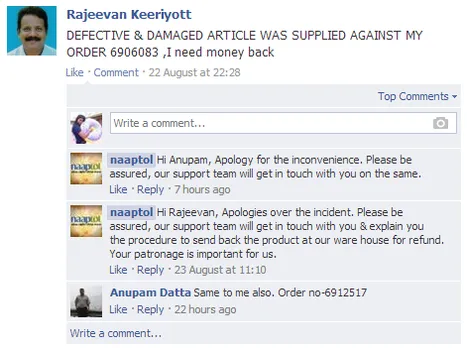 On Social Media, innovation is all it takes to achieve successful results. E-commerce brands should use a tool that links their regular customer's social ids to the registered email ids. This will enable the customer support team to identify the order number immediately by looking at the Facebook id or Twitter handle, making the tracking process one step simpler, at least for all the repeat buyers. This fastens the response and resolving time.
Their overall approach to customer support on social media
Creating separate Twitter handles, has helped Flipkart, MakemyTrip and Myntra to let a team of customer support executives lead the supervision of complaints and queries. This is a smart strategy since their main Twitter handle can be conversational with other users. The main Twitter handle is usually led by an agency or an in house social media team. It is important for brands to understand that customer support on social media is completely different from creating social conversations. Therefore, it is easier to allocate 2 different Twitter handles to different set of teams.
On Facebook, Jabong and Myntra have adopted the use of customer support through an application. However, Jabong has closed its wall for user posting which is unacceptable. I also came across complaints from users where they had accused Jabong from deleting grievance posts.
Overall, the brands do not have a customer support strategy tying it back to the contact centre. While some issues are solved, most of them are ignored due to lack of integration between the two sides.
Snapdeal for instance ignored tweets after tweets, where a user demanded for explanation related to a certain order.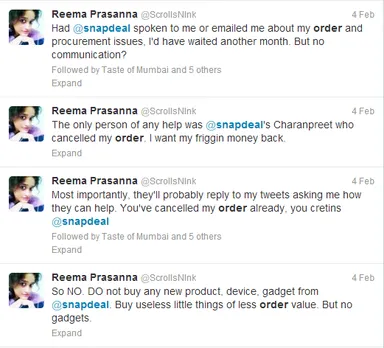 Their average turnaround time in resolving an issue
The average turnaround time of most brands in resolving an issue is 2 days, though this is applicable only to Flipkart and Myntra. Jabong and HomeShop18 as mentioned use standard lines and leave it at that. The worst turnaround time in resolving an issue is taken by Ebay India. It is clearly visible that the customer support on social media platforms has no links to the offline departments. Since, they repeatedly enquire about order ids and never take the conversation ahead from there.
How to improve customer support strategy over social medium
Customer Support Strategy should aim at complete satisfaction of the customer. It should ensure that an unhappy customer turns into a loyal customer, hence activating a brand endorser. Three imperative points need to be put to action in any customer support strategy.
A lot of queries surround product information, sales, events and website policies. Today it is a best practice to provide contact centres the ability to automatically identify, prioritize and route targeted customer service-related social media to the right contact centre agent and measure the effectiveness of their response. Measures that help reduce turnaround time in resolving an issue.
Some conversations are not basic and need process/vertical/product specific expertise. Your contact centre agents should be empowered to handle such conversations depending on agent skill set thus ensuring continuity of discussion as well fast response thereby reducing the average response time.
One individual should be appointed to continuously track brand mentions on popular social networking sites. Many times, complaints are not directly aimed at brands by tweeting their handle or posting on the wall. It could also be in the form of a status update.
To make the whole process simpler and well-organized, using technology is apt. A tool that helps you put in order every step starting from tracking and monitoring complaints, swiftly responding to them, closing complaints, coordinating between departments as well as tracking the performance of the team can be extremely useful and increase the productivity of the company.
Lastly, embed your customer support policy via social medium into your overall contact centre will complete the formation of a customer support strategy.
Expert View by Jayanta Bhattacharjee, Marketing Manager, India, SAARC and Middle East at Aspect Software – A leading provider of fully-integrated customer interaction management, workforce optimization, and back-office solutions.
As contact centre become the center of the multi-channel customer contact activity organizations need to have the discipline to be able to solve customer's issues over social sphere by extending the contact centre into the social medium. Today customer support strategy can't be restricted to simply monitoring social media conversations on marketing campaigns or promotions on the social web, and sometimes responding to them. However, as customers increasingly turn to social networks for customer service response interaction, organizations need to embrace social media as a vital, two-way channel that can amplify their ability to deliver a differentiated customer experience by converting unhappy customer turns into a loyal customer, thereby activating a brand endorser.
Integration with the contact centre as well as CRM systems, knowledge bases and communities gives a more comprehensive view into the customer and provide contact centre agents with necessary information to provide a faster and smarter response. Additionally providing specific tools and capabilities by empowering contact centre agents and supervisors to not only identify and track changes in sentiment but also the ability to answer customer requests and proactively inform social consumers of events, issues, promotions or even changes (i.e. new service number or email) when they need it through their channel of choice, minimizing repetitive requests.
Disclaimer: The views of the expert are his own views and not of the company.