Don't you love playing pranks or having a chuckle on someone else's expense? What's more hilarious is when brands commit bloopers online either on Twitter or Facebook. One simple mistake is enough to get them trending on Twitter. Although they say any publicity is good publicity, you certainly don't want your brand to be remembered for basic mistakes.
Bloopers, as they call it, can range from automation disasters to simple mix-ups. So what lessons do we take from these bloopers? Here is a list!
1. An automated response does not work in every situation
An influencer on Twittter, @reviewero got a whiff of Vodafone's automated response when he enquired about marrying the owner's daughter. Vodafone very promptly replied "Please DM us your contact number, also brief us your concern and we will surely help you out". Really? Is it that simple to get rich alliances?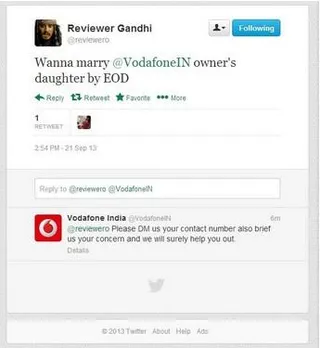 Jokes aside, such simple mistakes put the brand in a negative light and lowers their online brand value. Why would consumers approach your brand with feedback and queries when all they get in return is an automated response? Vodafone is so certain of getting complaints and negative feedback for its services, that it has placed an automated response service.
Who else messed it up due to automation? Goibibo.
On the 21st of November, the most epic of all twitter conversations began with MakeMyTrip's following tweet:
Clearly, plagiarism isn't restricted on twitter, but that's a completely different topic. Couple of hours later, they followed it with a tweet saying "@makemytrip is much faster than goibibo. Lagta hai goibibo ka starter thoda slow hai. LOL" which they later deleted.
The trip down the laughter lane began when a strong influencer on Twitter, Harshdeep Singh a.k.a @_harshdeep got involved in this conversation. The following screenshots are quite explanatory and will have you laughing out loud.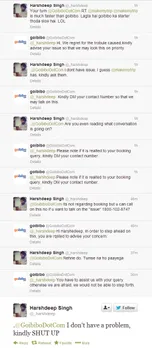 2. Our account was "compromised"
Star Sports' major Social Media blunder went viral shortly after an abusive tweet was posted from its Twitter handle.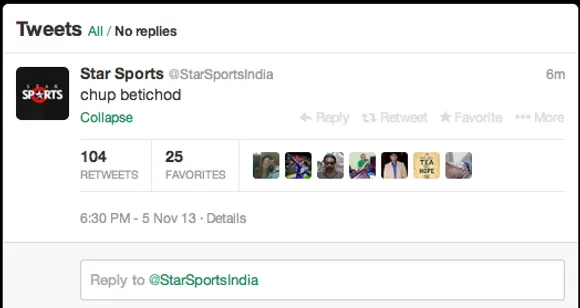 In such situations, what is of utmost importance is acknowledgement - which should be done immediately. Only Star Sports' apology went out four hours after the initial tweet with the sports channel sending out the following tweets.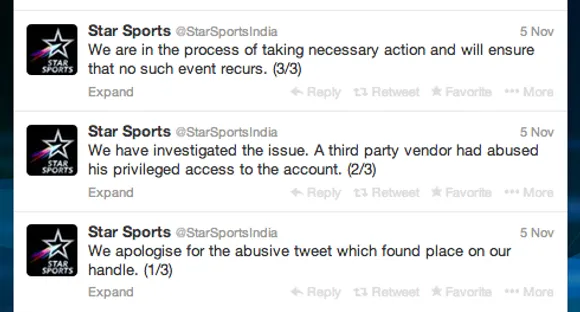 Well, looks like eBay India has been on the same stage.

And so has Pepsi. Yes, this is what was posted from Pepsi India's Twitter handle after the Supreme Court verdict on Section 377.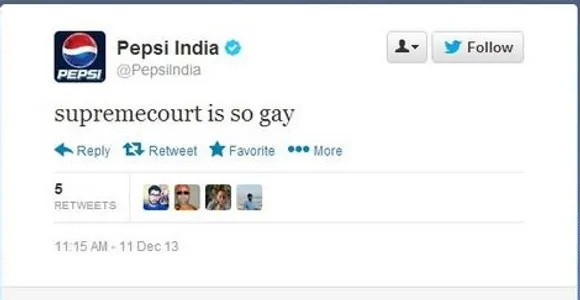 When questioned about such situations, most brands usually get away by saying that their account had been compromised. Twitterati is busy putting it on interns. But the bottomline is that such situations impact the brand image and credibility, with the audiences clearly questioning the people handling their social media.
So dear brands, please keep your accounts secure and make sure they are in the right hands. *gulp*
3. Always check whom you are talking to
Hello, Docomo?
This is clearly an open ended conversation.
Before sending out a tweet, check whether the person you wanted to address is mentioned. If not, it is like having a conversation with a wall.
4. Bad Copy-Paste Job
A job listing by Jabong on LinkedIn wanted a Brand Head to "Drive awareness for the flipkart brand". Oops.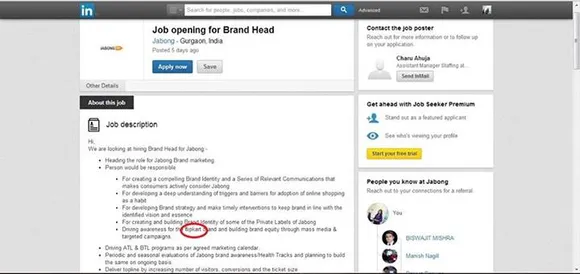 No matter how great you think Flipkart's job description is, please customise it for yourself. And the same goes out as a lesson for all. Check twice before posting anything and add an extra check if it is copied from some place. Make sure you don't end up promoting your competitor directly or indirectly.
5. Save yourself from spam
Here is a post from L'Oreal Paris India's Facebook page.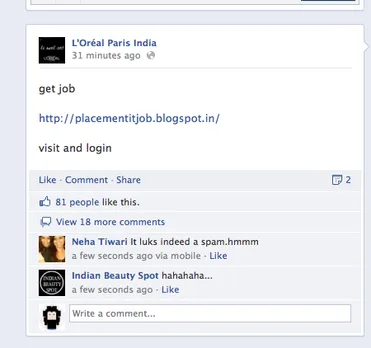 First off, such a blooper makes you a butt of internet jokes. And secondly, do remember that no one likes spam. EVER.
6. Grammar Nazis... Attack!
For Sun Risers, 'The Sun has just Rised in Twitter'. Dear brand, usually it is 'The Sun has just risen'. Grammar 101.
Zovi, a popular online store, reported an 'outrage' at their call centre. We are pretty sure, it was supposed to be an 'outage'. Wordplay my friend, wordplay.
Brands need to remember that there are grammar nazis everywhere and such bloopers usually don't go unnoticed. Again, proofread and double check before making a post/tweet. You don't want to jeopardise your credibility because of such incidents. If you don't give your grammar enough importance, the audience might not give enough importance to you.
7. Check the account you are tweeting from
And lastly, when Social Samosa got a taste of its own medicine. *Lesson Learnt*
(Editor's Note: Haha! We're glad the person responsible was just emo and not angry.)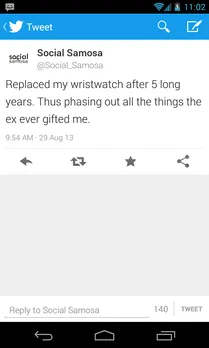 In the age of smartphones and Tweetdeck, multiple accounts are something we all thrive on. So, between your personal account and the brand, always check which account are your posting from. Pretty sure, your brand can never wear a wrist watch.