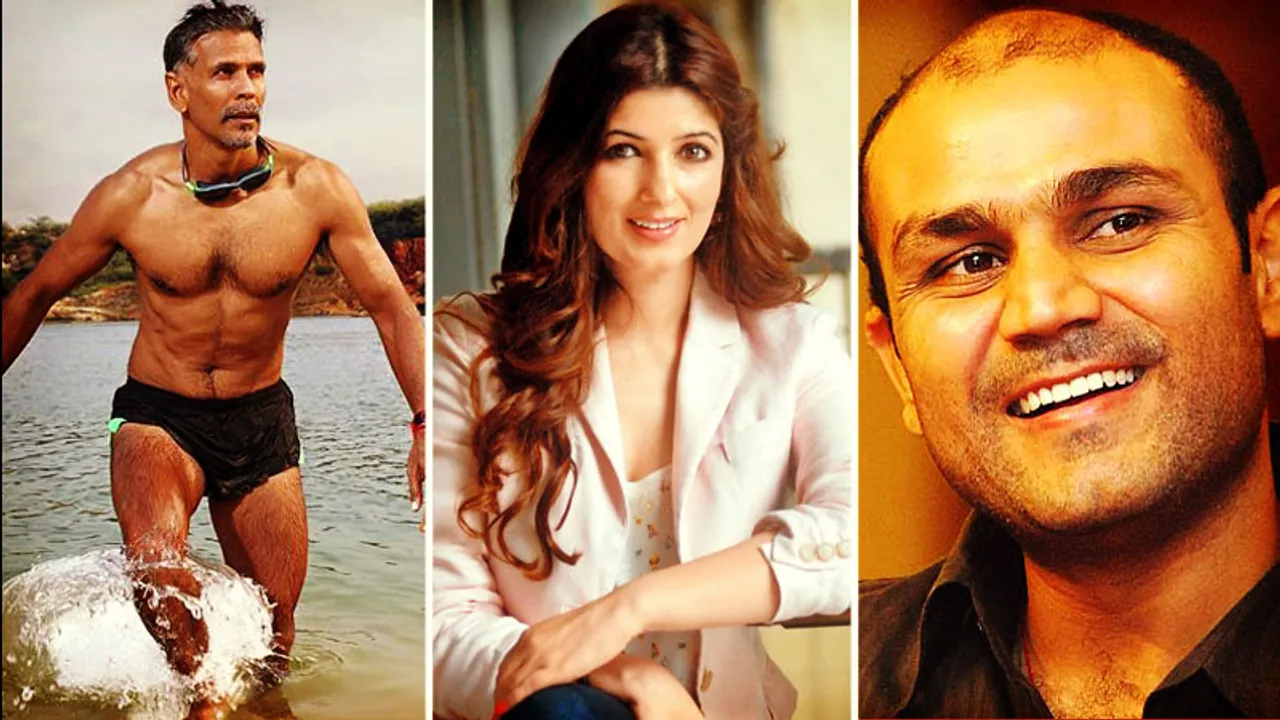 Right from tweeting sneak peeks of their daily lives to having a one-on-one conversation with their followers, celebrities on Twitter use the virtual bridge that connects one and all. Yet, there are some Indian celebrities on Twitter who utilize the microblogging platform so well, it works wonders for their popularity.
Twitter is the most open social media platform where anyone can initiate a conversation with anyone! Celebrities on Twitter use it in a number of ways.
Interacting with their fans with Q&A sessions to using their influence for social causes, humour, or just have something to follow, these are some of the most vocal and active Indian celebrities with impeccable social media skills.
1. Shashi Tharoor
One of the most well read and experienced politicians in the country, a mix that is hard to come by, Shashi Tharoor utilizes his social media handles to speak up on national and international matters with gusto.
China defends globalizn: XiJinping's advice to Trump: when you lock yourself in a room, wind&rain may be kept outside, but so are light&air!

— Shashi Tharoor (@ShashiTharoor) February 19, 2017
A highly active Twitter user, Shashi Tharoor has more than 4.86m followers.
2. Milind Soman
The modern day torchbearer for fitness in the country, Milind Soman is the man who has aged gracefully on the outside, and has not aged a day on the inside. Winner of the Iron Man Challenge, and most recently completed the UltraMan Challenge, he urges his followers on Twitter to run, run, and run.
Anybody would like to cycle 100k in Bengaluru tomorrow? :)

— Milind Usha Soman (@milindrunning) January 5, 2017
A challenge and invitation at the same time?
3. Akshay Kumar
A highly active Twitter user, Akshay Kumar wields a powerful influence on social media with more than 16.2 million followers, speaking up on a number of issues and choosing to act too. He is known to donate to various causes, and condemn shameful incidents.
The Bangalore incident makes me feel we r evolving backwards,from humans to animals,rather beasts coz even animals are better!Truly shameful pic.twitter.com/FJwJ80Mkby

— Akshay Kumar (@akshaykumar) January 5, 2017
Akshay Kumar condemns the shameful Bangalore Mass Molestation incident.
4. Suresh Prabhu
The Hon' Railway Minister remains a popular Central Govt. Official on Twitter, and alongside Sushma Swaraj is one of the most interactive users. Often assisting grievances and requests for help by railway passengers, he is putting the microblogging platform to wonderful use.
MR @sureshpprabhu wil soon unveil a plan 2allow passengers 2rate railway stations 2help prepare der ranking https://t.co/pIOgfWBSly @SV99999

— Mumbai Railway Users (@mumbairailusers) February 21, 2017
Suresh Prabhu has undertaken a number of reforms under his tenure, and one of the popular incidents when he was quick to help out a passenger was when actress Renuka Shahane's sister in law was experiencing a medical emergency, and her tweet received a prompt reply, and the passenger received assistance.
5. Twinkle Khanna
Columnist. Interior Designer. Homemaker. Comeback Generator. Troll Neutralizer. Proud author of two bestselling books. It is possible to go on and on when it comes to describing Twinkle Khanna aka @mrsfunnybones. She certainly lives up to that name. Not one to get bogged down by trolls, her tweets reflect her thoughts and we love her for it.
Oh no! Both my favourites have movies coming out tomorrow! Confused which one should I cheer for because both are Jolly good fellows:) pic.twitter.com/DuAoLlb7Mg

— Twinkle Khanna (@mrsfunnybones) February 9, 2017
*not even saying anything*
6. Virender Sehwag
By now, Virender Sehwag's Twitter shenanigans need no introduction. The man is famous for his trademark birthday wishes to friends and acquaintances in ways that most of us could never imagine. With more than 8.68 million followers, he has simply traded a bat for a smartphone.
Happy Birthday @glennmcgrath11 , a man whose ability to hit his spot and target was incredible.#AustralianArjun pic.twitter.com/KPOOWMDTMe

— Virender Sehwag (@virendersehwag) February 9, 2017
#AustralianArjun is just too damn brilliant and accurate.
7. Farhan Akhtar
His biography is extensive, and his talents much more. Farhan Akhtar is a man who does his 100% for what he believes in. His Twitter account is testament to that fact. Not afraid to speak his mind, @FarOutAkhtar not only talks the talk, but also walks the talk.
My fellow film folk, if we do not unite now against these recurring incidents of bullying, it's going to get much worse. #IstandbySLB

— Farhan Akhtar (@FarOutAkhtar) January 27, 2017
He is the United Nations Women Goodwill Ambassador for South Asia and the Founder of MARD (Men Against Rape and Discrimination).
8. Amitabh Bachchan
Badumbaaaa!! The second most followed Indian account on Twitter practices casual narcissism and we don't even have a problem with it! It is now well known that Amitabh Bachchan can't stop tweeting his own pictures, whatever the tweet may be about. His tweets range from poetry to birthday wishes and everything in between.
BAAADDDUUUUUMMMMBAAAAAAAAAAAAAAA ... 25 MILLION !!! https://t.co/gxvVt0b5Qf

— Amitabh Bachchan (@SrBachchan) February 15, 2017
9. Shah Rukh Khan
The King of Bollywood offers an alternative to the hundreds of people who wait outside his bungalow to catch a glimpse of Shah Rukh Khan, and the alternative exists on Twitter. His #AskSRK sessions are highly popular among fans, and his replies are clever and witty too.
Go on eat me https://t.co/4aQEABdr4n

— Shah Rukh Khan (@iamsrk) February 2, 2017
"Go on eat me."
Like these celebrities have managed to crack the Twitter code, some brands too have managed to crack the Twitter code. As an attempt to honour these brands, Social Samosa is all set for Best Social Media Brands, India's first exclusive brand awards for social media marketing. Stay tuned, online voting for #BestSoMeBrands start soon.