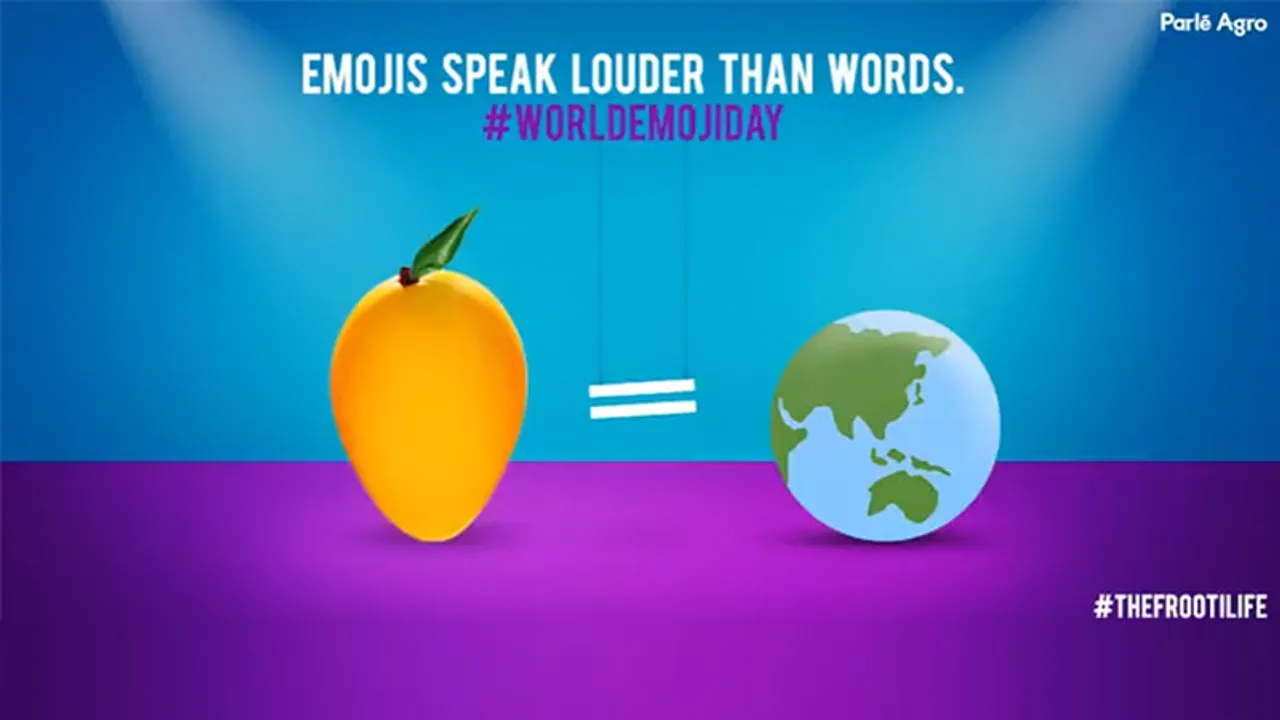 World Emoji Day Creatives dominate as brands use the day to express and re-connect with their audiences. 
Emojis just say it all, don't they? In this world of 'texting' where verbal communication has taken a backseat, emojis play an important role when it comes to expressing certain emotions which cannot be expressed in simple words. 
Emojis have gained such a significance in our lives that like Mother's and Father's Day, it also has a day dedicated to it and that is today. Since 2014, July 17th is celebrated as World Emoji Day annually which is also considered as an unofficial holiday by many. The day is deemed a "global celebration of emoji' where everyone flocks onto social media to show some quirky takes on their favourite emojis or weave stories around them. Brainchild of a London based entrepreneur Jeremy Burge, World Emoji Day is created by Emojipedia, a emoji reference website.
From production houses to FMCG and clothing brands and political parties -  everyone is pumped up to leverage this day and play on the emoji factor to create some engagement with their followers on social media while the hashtag #WorldEmojiDay trends globally. Behold as you are about to witnessed some really creative and lively World Emoji Day Creatives. 
Mango Frooti
Screenshot the emoji that best describes your juicy feelings for Frooti and share it in the comments below! #WorldEmojiDay pic.twitter.com/hC0U2qnCEm

— Mango Frooti (@Frooti) July 17, 2018
Congress
This is our go-to Emoji every-time PM Modi takes the stage - '??‍♀️??‍♂️'
Whats yours? #WorldEmojiDay

— Congress (@INCIndia) July 17, 2018
Flipkart
We're all about those happy deliveries this #WorldEmojiDay! pic.twitter.com/sbwxkLaImW

— Flipkart (@Flipkart) July 17, 2018
Acko Insurance
Letting your emojis take control over you isn't a very good idea. While driving, maintain safe distance between you and your phone. #WorldEmojiDay pic.twitter.com/7av5aDiZbT

— Acko General Insurance (@AckoInsurance) July 17, 2018
Fevikwik
Which item have you fixed with Fevikwik? Tell us with an emoji! #WorldEmojiDay #EmojiDay pic.twitter.com/vpcvvdrI02

— Fevikwik (@Fevikwik_tweets) July 17, 2018
Kolkata Knight Riders 
Emoji Level - Andre Russell ?#EmojiDay #WorldEmojiDay pic.twitter.com/HxgU20kx6N

— KolkataKnightRiders (@KKRiders) July 17, 2018
Caprese India
Follow these simple steps to participate in our ##Capresemoji contest. @Contest_Alert #WorldEmojiDay pic.twitter.com/MfDXPrSoVz

— Caprese India (@CapreseGirl) July 17, 2018
CSIA Mumbai
Let your emojis flow like never before! Describe how you feel when you're excited about travelling to your favourite destinations! Use emojis only and stand a chance to win* some amazing goodies from @CSIAMumbai.#WorldEmojiDay pic.twitter.com/SVTlfk6qFI

— CSIA (@CSIAMumbai) July 17, 2018
Reliance Jio 
There is always more to an Emoji than you can see. Happy #WorldEmojiDay #WithLoveFromJio pic.twitter.com/cbVInJ1vi4

— Reliance Jio (@reliancejio) July 17, 2018
Goldilocks PH 
Show your ???, it's #WorldEmojiDay! Time to ??? with a slice of ?! Tara na sa Goldilocks! ????‍♂️ pic.twitter.com/ifKj5f7KV0

— Goldilocks PH (@GoldilocksPH) July 17, 2018
FreeCharge 
Emoji's are pretty cool, but do you know what's cooler? That's right, Freecharge cashback! Comment below what you do when you receive Freecharge cashback using ONLY EMOJIS and 5 lucky winners could win ₹200 cashback! #WorldEmojiDay pic.twitter.com/qXGyqQIzVA

— FreeCharge (@FreeCharge) July 17, 2018
Zee TV
It's #WorldEmojiDay and we have a challenge for you. ⚡️
Guess the Zee TV show from their emoji story in the image and share your version with us! pic.twitter.com/OQpcBzWtnV

— Zee TV (@ZeeTV) July 17, 2018
Reliance Trends
Yahoo Mail
Phantom Films
Franklin Templeton Investments 
Fox Star Studios India
PETA India 
Incredible India 
Wagh Bakri
HDFC Ergo 
Odisha Police Organisation

SF Watches 
Nature's Basket
Indiabull's Dhani
Do you think we have missed out any World Emoji Day Creatives? Do let us know in the comments below or write to us on team@socialsamosa.com.