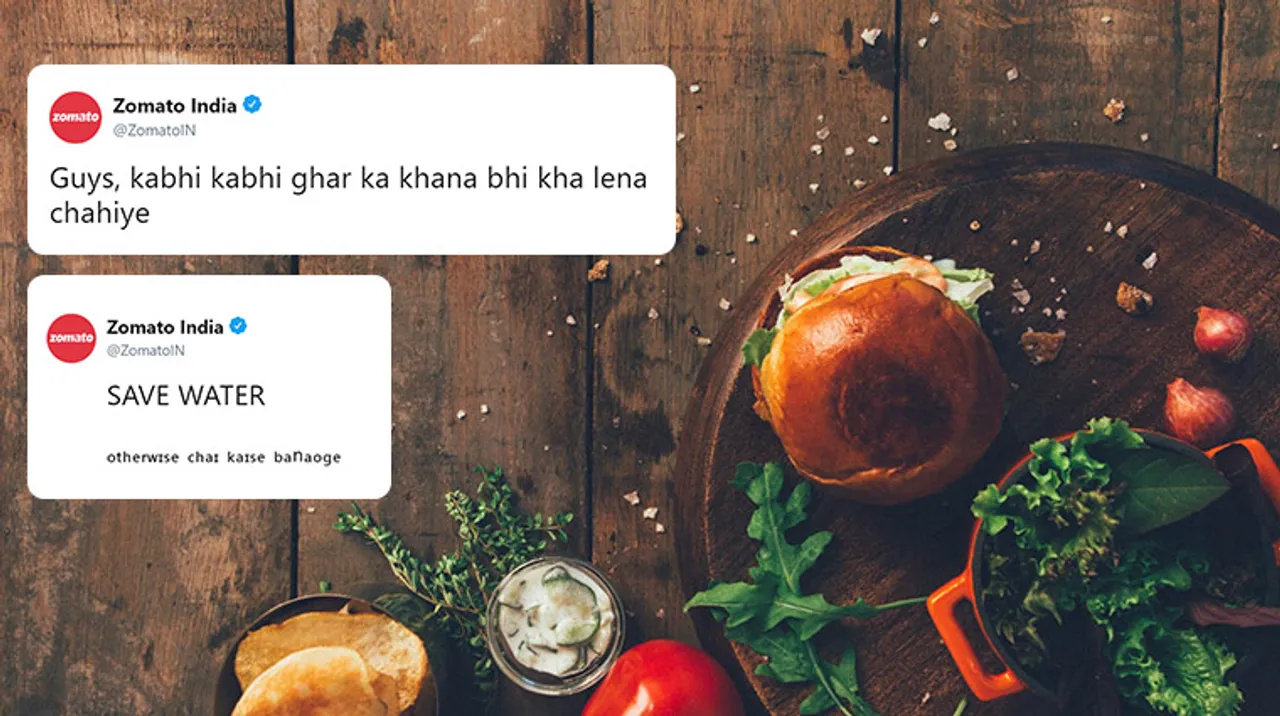 Of late the bizarre (to say the least) Zomato Twitter strategy is attracting the attention of the advertising world and we could not stop from penning down two bits about it.
"Guys, kabhi kabhi ghar ka khana bhi kha lena chaiye', expect that to come from a food delivery app and we would assume Zomato India has gone nuts. But it turned out it was just the brand's clutter-breaking approach. A look at Zomato Twitter Strategy.
Until we came across a quote from author and writer John Morgan who once said - "People respond to those who challenge the status quo where he also mentioned that the future of branding is marketing with people and not at them". Seems like Zomato has been doing just that and bringing the quote into reality by making not only its consumers but the whole ad world take notice of its antic tactics on social media.
In a world where most of the brands are seen living in the moment and constantly keeping an eye on the up and coming trends, Zomato India is creating its own.
Zomato Twitter strategy & why we think it's bizarre?
If you scroll through its social media profiles, you will see Zomato adopting a counter-intuitive marketing strategy by asking people to do something against what they stand for. The brand has been going against the tide and challenging itself to walk on this not so normal path of marketing, evidently seen in the Zomato Twitter strategy.
When we saw Zomato recommending 'Ghar ka khana' to people we, like others were amazed and wondered what the brand is up to. Soon the tweet went viral, spread like wildfire and  Zomato – while a few took to trolling the others praised this reverse psychology adapted by the app.
Zomato's Founder  Deepinder Goyal too took part in the activity by tweeting back to the handle asking - Who did this? and later appreciated it by saying 'good tweet' with a smiling emoji.
The effect of 'kabhi kabhi' was so much that it caught the attention of brands like Amazon Prime Video, ixigo, YouTube, Mobikwik, Smirnoff, Behrouz Biryani, TVF, and more where they were soon enough seen joining the bandwagon and recommending people to do the opposite of what their services stand for.
Zomato India meanwhile was quick to respond in a hilarious manner asking them to be original and creative on their own, "Guys, kabhi kabhi khud ke acche tweet bhi soch lene chahiye".  
It all came when the whole of India was busy watching world cup matches in the comfort of their home and do nothing but order food than to cook, thereby leveraging the trend and frequency of food ordering during ICC World Cup 2019,  also simultaneously offering consumers with great discounts.
This isn't the only instance where Zomato paved its own way of creating a conversation and keeping the engagement going. Earlier when it raised concerns about Saving water in its tweet, people went berserk because all it was talking about was If you don't save water how will you make chai.
As usual, Twitter-verse was ready with its hilarious inputs and comebacks for the tweet highlighting the necessity to save trees and more. To be noticed, here too the app tried its best to put the spotlight on the trending issue of water when cities like Chennai are reeling under water scarcity. As they say- being socially responsible is the inevitable quality for a brand to possess.
 Zomato's Jalebi tweet, and other symbols signifying dishes such as biryani and other food items in a 'semiotic manner was just another example of its bizarre tactic which gained attention.
Quick Takeaways
Take risks to stand out: With woke-washing becoming a legit threat, the brand managed to stand out with their "Save Water" tweet, taking a quirky and risky (for anything can backfire in this socially sensitive era) approach towards a serious issue.
Leverage your community: Brands with a massive social media following isn't rare; however, leveraging this community is a rare sight. Zomato starts trends such as "Kabhi Kabhi ghar pe kha lena chiye" on the back of their engaged, loyal community with a certainty of at least some engagement.
To sum it all up, Zomato India, though being weird and bizarre as we call it, is creating bonds through conversations like these, making it's brand recall value go a notch up one tweet a time.