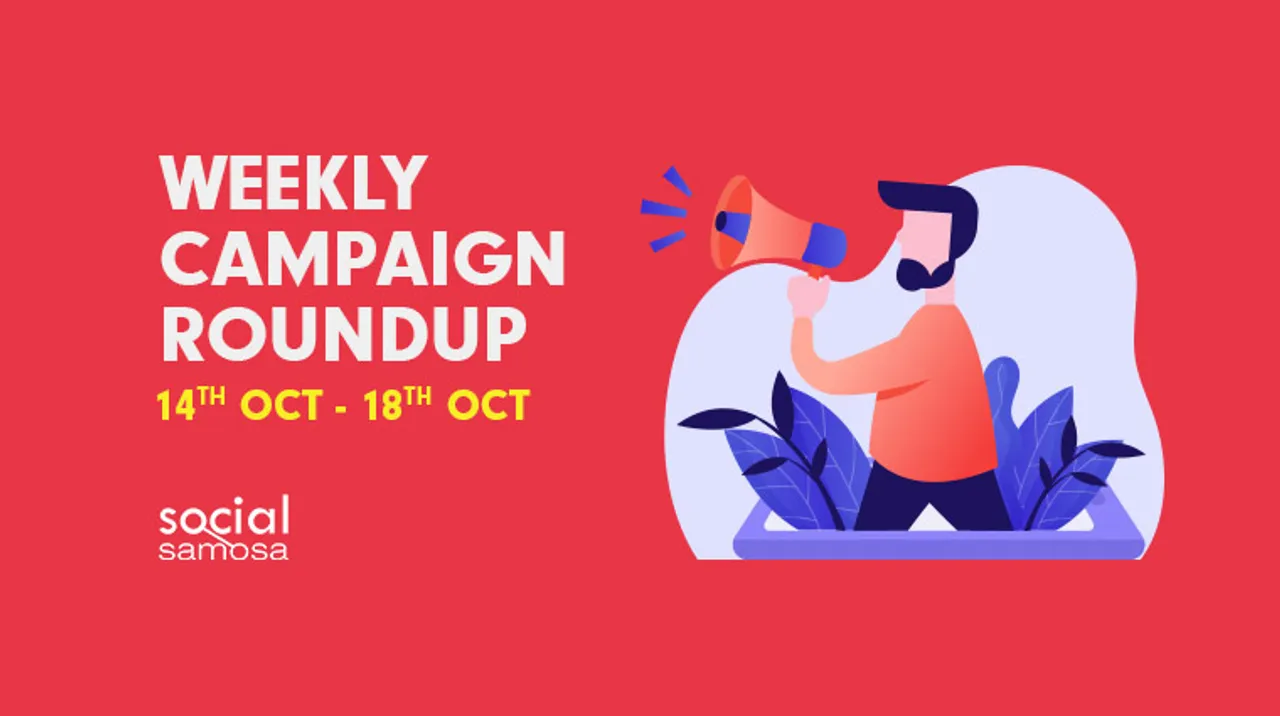 Here's to another week of some impressive work from brands and agencies all over the world. Check out some of the social media campaigns that were rolled out this week.
Social Samosa's weekly digital marketing and social media campaigns roundup this week features a compilation of Tanishq Diwali Campaigns, new Milton film, Big Bazaar's #BrandSaga, and more.
Hindustan encourages equality in marriage with a new campaign
Dentsu Impact has released its campaign for the Hindi daily – Hindustan, titled 'Aathwa Phera' this festive season. Read more here.
New Milton film features young couple, music, and bright-hued flasks
In a recently released digital film, a young couple flirts in a metro train over bottles from the new Milton flask range. Read more here.
Karva Chauth brand posts shine across the social world
Karva Chauth brand posts across social media comprise of fun messages and witty creatives. Read more here.
IGP.com Diwali campaign speaks about the rising recession
IGP.com Diwali Campaign by The Womb attempts to lift the mood of the nation this festive season, despite the sombre economic environment. Read more here.
Making Diwali, Tanishqwali Diwali one campaign at a time
Tanishq Diwali Campaigns have not just made jewelry a part of our lifestyle but they have also tied traditional values with a modern outlook. Read more here.
#TopicalSpot: Jennifer Aniston brand posts show we never stopped loving her
Jennifer Aniston brand posts welcome the latest Instagram record-breaker with creatives that are so pretty, we want to cry. Read more here.
World Food Day brand posts cultivate a healthy lifestyle
World Food Day brand posts urge users to strengthen their habits, helping them grow out of food wastage tendencies and shed malnourishment. Read more here.
Fullerton's festive campaign takes insights from real-life instances
The recently launched festive season themed Fullerton campaign, Rishta Sammaan Ka, will be rolled out in nine Indian languages. Read more here.
Reebok ropes in women influencers for It's Not a Man's World Campaign
As Reebok launches a campaign inspired by a 2001 ad, Reebok India ropes in women influencer to support 'It's Not a Man's World'. Read more here.
#BrandWars: Telecom players engage in virtual banter over prices
After the recent announcement, the internet witnessed telecom players' brand war over the increased price that Jio users have to pay. Read more here.
Budweiser partners with Sergio Ramos in their latest 'Be A King' Campaign
Budweiser launches a new campaign – Be A King, with Sergio Ramos, current captain of Real Madrid and the Spanish national team. Read more here.
Brands optimize Instagram reactions interface for posts
Armed with #MyReactions, brands tweaked the reactions interface that is akin to the comments section on Instagram, optimising it for posts. Read more here.
Brands use seven hues to communicate through the #PrismOfHappiness
Blending science with brand communication, several on Instagram highlight relevant features using the seven hues of the #PrismOfHappiness. Read more here.
Brand Saga: Big Bazaar's odyssey redefining retail
From 'Isse Sasta Aur Acha Kahin Nahi' to 'Naye India Ka Bazaar', Big Bazaar has become one of our own and how. Big Bazaar advertising journey is here to dazzle. Read more here.