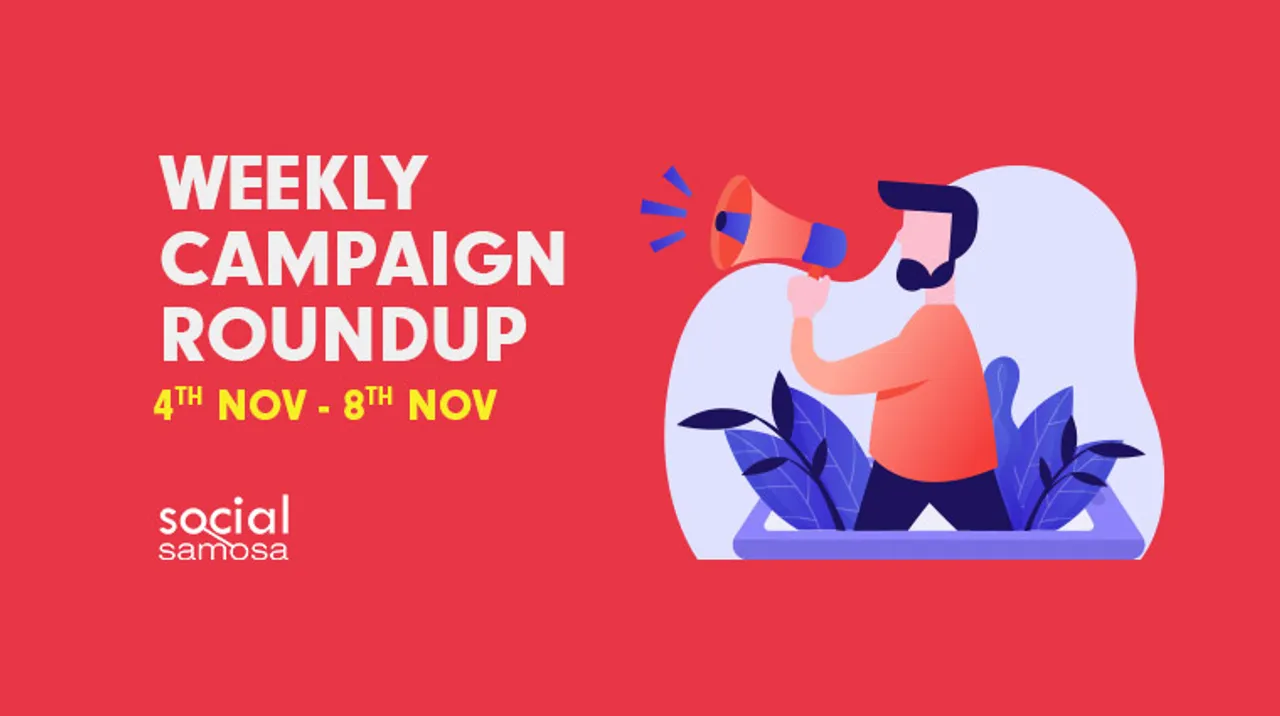 Here's to another week of some
impressive work from brands and agencies all over the world. Check out some of
the social media campaigns that were rolled out this week.
Social Samosa's weekly digital marketing and social media campaigns roundup this week features a compilation of campaign spots, reviews, and features where we deep-dived into the making of Asian Paints' Where The Heart Is season3, brands; creative takes on cancer awareness and Delhi's odd-even tactic to curb pollution.
The list also comprises of Ayushmaan Khurrana starrer Bala movie marketing, the grand saga of 'Incredible India, Ranveer Singh ft Kotak's 811 #DreamsInvited and more.
Inside: Google Pay Diwali Campaign: Beg, Borrow, Gift, Splurge
They made people pay bills via Google Pay and go on a wild chase for
Diwali stamps. Mohit Gosain explores the Rangoli obsession that ensued with the
Google Pay Diwali Campaign. Read more here
Brands create awareness with Delhi pollution creatives
Brand Delhi pollution creatives attempt to make people aware of the emergent situation in the city. They did so with dark humor, to engage. Read more here
Brands trace car peripherals with Odd-Even creatives
Quite a few brands participated in the trend to put forth Odd-Even creatives after the rule got implemented in the city again. Read more here
How Faasos' digital sales grew 2.87x with #SacredWraps
Faasos Sacred Games Case Study explores how the brand leveraged the
madness around the show to increase sales. Read more here
Why Sabhyata's 'Celebrating a Change' approach clicks
Sabhyata Diwali campaign titled, Celebrate A Change took a step towards redefining relationships this Diwali and aimed to revel into the spirit of an Indian household in its true essence. Read more here
Inside: Uber's approach towards Delhi pollution crisis
This week, Delhites woke up to smog and a new Uber campaign on the front
page of a national daily. Social Samosa digs deeper. Read more here
Inside: Asian Paints' recurring original property -Where The Heart Is
With the launch of season 3 of 'Asian Paints Where The Heart Is', Social
Samosa analyses the making of the new installment and what it entails. Read more
here
Brand Saga: Of making India Incredible
Boasting off rich cultural heritage and a mosaic of remarkable art and architecture, Incredible India advertising journey depicts a snowball of serious endeavors to market India to the globe. Read more here
Kotak's 811 #DreamsInvited-An ode to audacious dreamers
811 #DreamInvited, the sequel to 811 #IndiaInvited Campaign of Kotak
Mahindra Bank urges dreamers to chase their dreams, featuring Ranveer Singh as
the protagonist. Read more here
Brands go causal with cancer awareness creatives
Armed with cancer awareness creatives, brands try to initiate as well as
join conversations on National Cancer Awareness Day. Read more here
#MovieMarketing: Bala makes a 'bald' move with quirky campaigns
"Bold is definitely beautiful, but what about bald?". While Maddock
Films' 'Bala' compels you to pose such pertinent questions, we take a look at
its movie marketing tactics. Read more here
FabAlley's #IMeanBusiness aims to move beyond soft talk
FabAlley – that is by and for modern millennial multitasking, women have
launched a new campaign to empower women in leadership. Read more here